Named for its generous donors, Bob and Marty Christopher, the Christopher Art Gallery is located on the main campus of Prairie State College. The gallery hosts six to eight shows per year, featuring local, regional and national artists, as well as student works. Gallery Director, Beth Shadur, recommends programming and often acts as curator for shows.
Beth Shadur
Christopher Art Gallery Director
Prairie State College
---
Annual Photographer of the Year and
Student Exhibition
Featured works by Kacey Culbreth, Photographer of the Year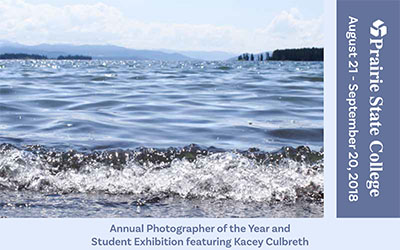 Photograph by Kacey Culbreth, Photographer of the Year

Exhibiting:
Aug. 21 - Sept. 20, 2018
(Closed Sept. 5, Labor Day)

Artists' Reception:
Wednesday, Aug. 29
11 a.m. - 1 p.m.
---
Upcoming Exhibitions
Materiality
Works by Ragnhildur Stefansdottir,
Nnenna Okore, Marjorie Woodruff,
Mille Guldbeck, Margi Weir and Ann Rosen
Oct. 1-25, 2018

Visiting Artist Talk: Nnenna Okore,
Oct. 3, 10:30 a.m.

Reception:
Wednesday, Oct. 3, 11:30 a.m.-2 p.m.
This exhibition focuses on how these artists use unusual materials as inspiration for their creative practice, both in terms of content and form in the art work.
Service
Works by US veterans borrowed from
both the Pritzker Military Museum and
the National Veterans Art Museum
Nov. 5-Dec. 6, 2018

Reception:
Friday, Nov. 9, 12-2 p.m.
This exhibition features works in all media that express both the experiences and emotions of veterans during various military engagements.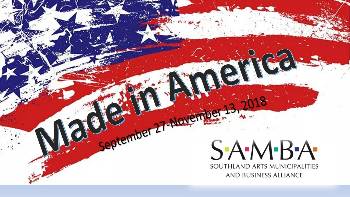 PSC is featured in the SAMBA Made in America Festival
See the Schedule of Events.

Christopher Art Gallery Regular Hours:
Monday through Thursday: 9 a.m. - 3 p.m.
Wednesday and Thursday: Evening 5 - 7 p.m.
By appointment, phone (708) 709-3636