David Cronan Named Executive Director of Human Resources at Prairie State College
DAVID CRONAN NAMED EXECUTIVE DIRECTOR OF HUMAN RESOURCES AT PRAIRIE STATE COLLEGE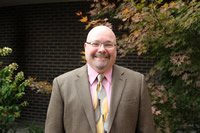 [Released 10/03/12] Prairie State College (PSC) recently named David Cronan executive director of human resources for the college.
In his new role, Cronan provides leadership in the implementation and evaluation of personnel services. He is responsible for the overall strategic planning, administration, organization, and day-to-day operation of the college's human resource functions including, but not limited to, employee benefits, compensation, recruitment, employment, labor relations, employee orientation, staff training and development, recognition programs, and employee relations.
"Human resource leadership is a critical function within the college, and we welcome David to this vital role," said PSC President Dr. Eric Radtke.
Cronan joins PSC after serving for five years as regional director of human resources for Victory Education Partners in Chicago. He also has served as senior trainer for Resurrection Retreat and Conference Center in Woodstock, Ill., director of personnel, college counselor, and teacher for Marmion Academy in Aurora, Ill., and fringe benefits coordinator, assistant head of payroll, managing legal analyst, and finally employee relations and external affairs officer for NYC Office of Management and Budget in New York, N.Y.
Cronan has a J.D. degree from New York Law School, a Master of Arts in Theology from St. John's University in Collegeville Minn., and a Bachelor of Arts degree in English from St. Anselm College in Manchester, N.H.
He is a member of the Society of Human Resources Management and the Association for Supervision and Curriculum Development. He also is a founding member of the alumni board for St. John's University School of Theology.