Nadia Crawley
A Single Degree Can Change the World. Watch and See.
---
Michelle Winters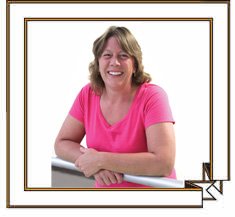 After working over 30 years in the restaurant business, Michelle Winters decided she needed a change. She always wanted to work with computers, and she wanted to work in a new environment.
With her daughter just starting high school, she decided it was the perfect time for her to start school as well. The medical field offered the change she wanted, but she needed a way to get a foot in the door.
"Getting my Medical Billing/Coding Specialist Certificate from PSC was a way for me to get into the medical field," she said. "With certificate programs you get what you put into them, and if you put in a lot of work, it will pay off. For me, it paid off with a job."
When a doctor contacted PSC looking for a recent graduate to work for him, Winters' name was given, proving that hard work really does pay off. A week after graduating, she started this new job.
Now, she is managing that doctor's office which allows her to work with computers. Her job also offers more stable hours, less manual labor, and a different clientele. Winters' could not be happier about the changes to her life. She is even considering coming back to PSC to pursue her associate degree.
"I love PSC. They offer students so much guidance navigating through their programs and help students plan and succeed in getting their degrees and certificates," she said.
---
Graduating PSC Student Turns College Experience into a Family Thing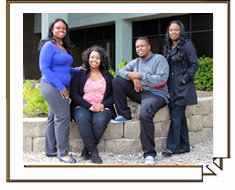 When she walks across the stage to receive her diploma during the commencement ceremony May 19, associate degree recipient Radiance Walker can be proud of the legacy she is leaving behind at Prairie State College (PSC). And, that legacy will likely be in the audience cheering her on.
While a student at PSC, Walker convinced her sister, brother, and even her mother to pursue their studies at PSC. Now, all four have brighter futures because of their decision to attend PSC.
"PSC provided me opportunities to meet people and become involved and I have loved my time here. Now, I'm ready to move on to the next step," Radiance said.
She says her experience at PSC was so positive, she wanted her family to have the same chance at success. She first approached her mother, Linda, who had tried once to attend college more than five years before.
---
Christianah Aluko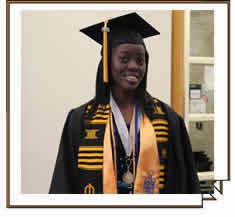 Nigerian native Christianah Aluko thought she wanted to go away to college her first year, but she says she is glad her parents convinced her to attend Prairie State College (PSC) first. She says that the decision not only saved money, but she also was able to take classes from great professors who really wanted to see her succeed.
And, succeed she has. Earning an Associate in Science degree in pre-pharmacy, Aluko already has been accepted into the Doctor of Pharmacy (PharmD) program at the University of Illinois at Chicago, where she plans to finish the program in 2016, at the age of 23. She is one of very few students accepted into the PharmD program without a bachelor's degree.
---
Radiance Walker
Radiance Walker started at Prairie State College (PSC) in fall 2008. She only stayed a semester before taking some time off and then transferring to a different college. She quickly regretted her decision to leave PSC and decided to come back; a decision that has worked out well for her.
When Walker returned to PSC, she got involved in school activities. During her first year, she was a copy editor for the Student Review, the college newspaper. Next, she served as vice president of the Student Government Association. She also was involved with the Campus Activities Programming Board. Her work with student organizations helped her understand that planning activities and seeing the results gave her an immense sense of pride. 
---
Aslener Taylor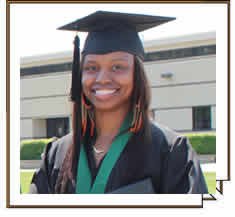 Aslener Taylor is earning her associate degree from Prairie State College (PSC) in May 2012.The Rich East High School graduate is a mother of four, who returned to college after working for several years as a retail manager. Her main motivation in returning to school was her belief that, while there are many options to make money without a degree, those options don't always fit into a person's life plan. She thinks you should love what you do for a living, and if you don't, you can change that by going back to school.
Working and attending school full time did not keep Taylor from being involved in extracurricular activities at PSC. In her first year, she was a staff writer for the Student Review. The next year, she was treasurer of the Student Government Association.