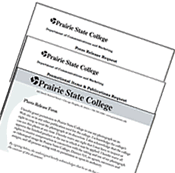 ---
Forms are in PDF format. Adobe Reader is required. Download the latest version free.
Business Card
To request a business card, fill out the Business Card Request Form and obtain the appropriate signatures. Note: It takes approximately seven to ten business days after Public Relations and Marketing receives the completed form to get your business cards.
Feature Story
If you have an idea for a feature story, please send information to Andrea Small, public relations specialist, (708) 709-2948.
Home Page Announcement
Requests for home page changes or a new home page listing is to go to the Director, Institutional Support Services. See the Brand Guidelines for more information.
Marketing Request Form
To request new marketing assistance, please complete the online marketing job request form. Once the request is received, a timeline is established and the job is completed either in the Public Relations and Marketing Department or in Institutional Support Services.
Events/Press Release
Any time there is a event, please fill out the event/press release form. Please submit time-sensitive requests at least four weeks before events to accommodate calendar and newspaper deadlines, as well as Public Relations and Marketing writing and interview time. If the event/press release needs to be canceled, please complete the cancellation form.
All photo requests need to be made in advance using the photo/video request form . We want to honor all photo requests and making your request in advance will help us make sure a photographer is available. For individual shots, or group shots where the subjects are identifiable, a photo release must be signed. These forms are available in the Public Relations and Marketing department or you may fill this form out online or print this pdf file.
Promotional Items
Public Relations and Marketing has promotional items such as pens, folders, and brochures available for request. Complete the Promotional Item Request Form to request your items. Please give 72 hours notice, especially for large quantities.
Web Site Pages
Use the Web Site Request Form to contact the Web Content/Site Coordinator for an appointment.
Table Top Display
The Table Top Display is available for your use for recruiting or business events. The display can be personalized with your department's marketing materials. It is lightweight with a carrying case and very easy to set up.