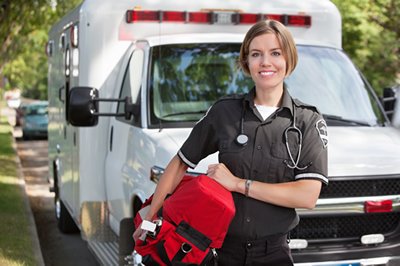 EMT and First Responder
The EMT and First Responder programs are presented in conjunction with St. James Hospitals and Health Centers, where you'll learn from Illinois Department of Public Health lead instructors. These individuals have passed a 40-hour course in teaching EMT and have at least three years of experience as both instructors and professionals in the field.
Emergency Medical Technician Certificate
The EMT program provides students with the knowledge and skill needed to handle the critically ill and injured in a pre-hospital care environment. Areas covered include cardiac arrests, fractures, injuries, and childbirth. Students are prepared for the certification exam, which requires them to be at least 18 years of age. Students may obtain an information packet about prerequisite physical examination and immunizations from the Nursing Department at Prairie State College prior to the start of the course. Students must score a 78 or better on the reading portion of the COMPASS Placement Test to enroll in the course.
First Responder Certificate
This program trains citizens, fire fighters, police officers and others to respond to emergency situations in the home, community, or workplace. Students will obtain CPR certification upon successful completion of this course.
Degrees and Certificates
View the curriculum for these programs in the current Academic Catalog. You can also access the entire PDF of the catalog (1.63 MB). Since the printing of this catalog, there have been some additions and deletions. View the addendum for more information.
Please visit the Career and Transfer Programs Web page, where you will find advising guides with the most recent PSC catalog updates. The advising guides describe the requirements needed to complete a degree or certificate.
Courses
A listing of course descriptions is available in the current Academic Catalog. For a listing of when courses are offered, consult the current course schedule or WebAdvisor.
Contact Us
For more information about the Paramedicine A.A.S. or the EMT and First Responder certificates, contact:
Patty Zuccarello
Dean, Health Professions and Industrial Technology
Phone: (708) 709-3648
email: pzuccarello@prairiestate.edu
Office: 2241