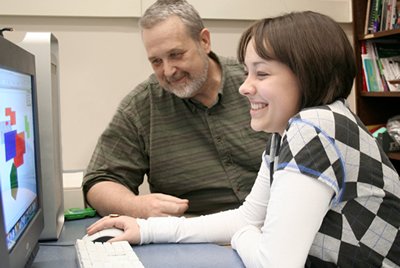 Businesses of all kinds rely on graphic artists and designers to create visually appealing concepts for use in communications, advertising, marketing, package design, publications, and television and video production. The PSC Multimedia Arts Program prepares students by teaching cutting-edge technical skills backed by a solid foundation in art and design.
You'll also find the latest in interactive design training that will translate into a career as a multimedia or Web site designer. PSC understands that just as buildings require architects and films require directors, new computer applications require interactive designers. Whether you're seeking a salaried position with a private firm or looking for the independence of freelance work, PSC is the place to start.
Degrees and Certificates
View the curriculum for these programs in the current Academic Catalog. You can also access the entire PDF of the catalog (1.63 MB). Since the printing of this catalog, there have been some additions and deletions. View the addendum for more information.
Please visit the Career and Transfer Programs Web page, where you will find advising guides with the most recent PSC catalog updates. The advising guides describe the requirements needed to complete a degree or certificate.
Courses
A listing of course descriptions is available in the current Academic Catalog. For a listing of when courses are offered, consult the current course schedule or WebAdvisor.
Faculty
For more information about the Multimedia Arts program, contact:
Michael Maddox
Professor/Coordinator, Graphic Communications
email: mmaddox@prairiestate.edu
Office: 4165
Lab 4164
---
Rebecca Slagle
Assistant Professor, Visual Communications and Multimedia Arts
email: rslagle@prairiestate.edu
Office: 4263
Lab 4164