The math department at Prairie State College offers a variety of math courses ranging from basic mathematics to differential equations and linear algebra. With 8 full-time faculty and nearly 30 part-time faculty, the math department staffs more than 60 classes each semester. For more information about the Department of Mathematics, contact the department chairperson or the coordinator.
Degrees and Certificates
View the curriculum for these programs in the current Academic Catalog. You can also access the entire PDF of the catalog (1.63 MB). Since the printing of this catalog, there have been some additions and deletions. View the addendum for more information.
Please visit the Career and Transfer Programs Web page, where you will find advising guides with the most recent PSC catalog updates. The advising guides describe the requirements needed to complete a degree or certificate.
Courses
A listing of course descriptions is available in the current Academic Catalog. For a listing of when courses are offered, consult the current course schedule or WebAdvisor.
Class information will vary from section to section. For information regarding a specific section, see the individual classroom instructor. Some general information pertaining to certain sections is posted below:
Contact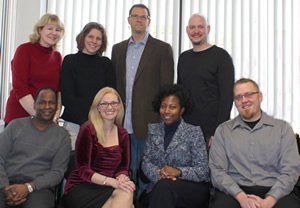 Back row, left to right: Professors Sue Ecsi,
Kate Sims-Drew, Steve Kifowit, Brian Garant
Front row, left to right:Professors James Beard,
Terra Stamps, Melanie Eddins-Spencer,
Kevin Marks