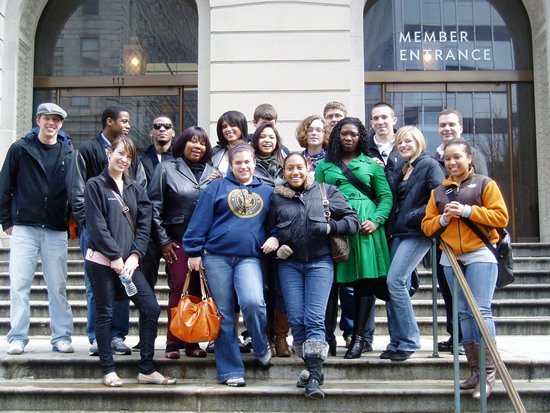 Honors History class visiting the Art Institute
Students who qualify may register for one or more Honors courses, as their schedules allow.
---
Honors Program
Spring 2014
---
Honors Learning Community:
We Can Be Heroes
Unique Honors Opportunity
The following sections have been scheduled to fit together into units of six credit hours constituting a Learning Community. The double-course framework will enhance the honors experience and will allow some individual assignments to be counted for credit in both courses
NOTE: All students enrolled in a Learning Community must register for both three-hour courses.
CLASS
DAY
TIME
INSTRUCTOR
ENG 102-HLC1
Composition II
Dual enrollment required with HUMAN 201-HLC1

TTH
11 a.m.-12:15 p.m.
Thomas Nicholas
tnicholas@prairiestate.edu
HUMAN 201-HLC1
Humanities Themes: Myth, Reason, and God
Dual enrollment required with ENG 101-HLC1
TTH
9:30-10:45 a.m.
George Streeter
gstreeter@prairiestate.edu
New Honors Opportunity!
Honors credit may be available for individual students in some math and science courses. Students desiring honors credit will be assigned an individual project. Contact your math or science instructor to find out whether this option is available in your class.
Contact
Interested? Don't wait. Honors sections are only available in general education courses.
If you qualify for the program, you can register for any of the honors courses listed on the back of this sheet. If you are a new student at the college, you can get help and advice from any of these contacts:
Enrollment Advisor for Honors, Sarah Hein
(708) 709-3508 or shein@prairiestate.edu
Enrollment Advisor for Honors, Shelley Tekeste
(708) 709-3641 or stekeste@prairiestate.edu
Dean, Liberal Arts, Susan Solberg
(708) 709-3758 or ssolberg@prairiestate.edu