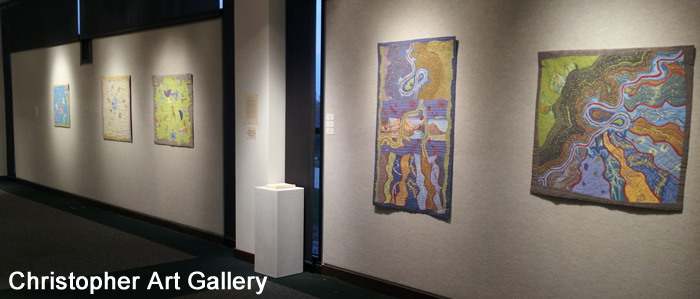 Named for its generous donors, Bob and Marty Christopher, the Christopher Art Gallery is located on the main campus of Prairie State College. The gallery hosts six to eight shows per year, featuring local, regional and national artists, as well as student works.  Gallery Director, Beth Shadur, recommends programming and often acts as curator for shows.
Beth Shadur
Christopher Art Gallery Director
Prairie State College
---
The Discerning Eye
Photography Masters Dawoud Bey, Terry Evans,
and Joseph Jachna Exhibiting Oct. 6 - Nov. 6
Reception: Thursday, Oct. 9, 4:30-7 p.m.
Regular hours during exhibition:
Mon. through Thurs.: 9 a.m. - 3 p.m.
Weds. and Thurs. evening 5 - 7 p.m.
By appointment, phone (708) 709-3636 
---
About the Exhibit
Photography, as an art form, is powerful in its ability to capture a frozen moment in time as seen through the critical lens of the photographer. In an era in which every human who owns a cell phone can produce a photograph (often of questionable quality), the works of artists who photograph take on an even greater importance. Photography as art must be powerful in conveying the intent of the artist and his or her personal reality. A photograph's quality lies not only in its editing but in its design; a great work of art doesn't necessarily convey "information" but instead projects emotional value, meaning and significance to that which is photographed. A good photograph allows us, as viewers, to question our own perceptions and dig deeper for meaning and understanding.

The three master photographers in the exhibition, The Discerning Eye, portray their insightful understanding of the world in their works, but each from a very different perspective. Dawoud Bey, Terry Evans and Joseph Jachna all make us notice, and they ask us to look deeper than the surface and to think beyond our own limited perceptions of reality. Each of the three uses as subjects what may be considered mundane, but presents to us images that ask us to repeatedly look, and to give our attention to that which we may have neglected to see. Whether in Bey's images of teenagers, Evans' depictions of landscapes, or Jachna's details of natural forms, we are pushed to immerse ourselves with personal absorption in the images, and to wonder at their meanings.... See the catalog for more information.