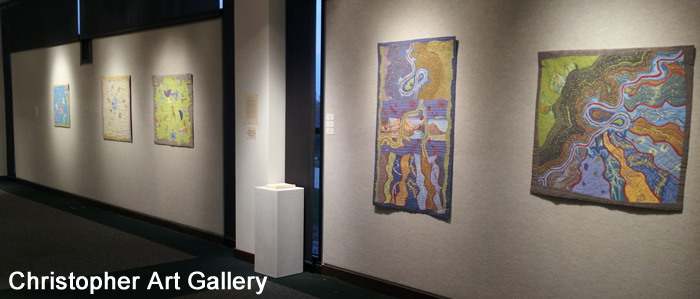 Named for its generous donors, Bob and Marty Christopher, the Christopher Art Gallery is located on the main campus of Prairie State College. The gallery hosts six to eight shows per year, featuring local, regional and national artists, as well as student works.  Gallery Director, Beth Shadur, recommends programming and often acts as curator for shows.
Beth Shadur
Christopher Art Gallery Director
Prairie State College
---
Construction/DeConstruction
Featuring works by Artists:
Shaila Christoffersen
Melissa Jay Craig
Michele Stutts
The Late Margaret Wharton

Exhibiting: Jan. 5 through Feb. 5

Artists' Reception:
Thursday, Jan. 15, 4:30-7 p.m.

Regular hours during exhibition:
Monday through Thursday: 9 a.m. - 3 p.m.
Wednesday and Thursday: Evening 5 - 7 p.m.
By appointment, phone (708) 709-3636 


Foreclosure by Michele Stutts
 
 
Listen by Melissa Jay Craig
Essence of Chippendale 1985
by Margaret Wharton
---
About the Exhibit
In the art world, the term "construction" defines a sculpture that is put together by bringing together disparate materials. The term implies that something is built of component parts, not carved or molded; instead, a construction refers to a whole that is made by a unification of those various parts. The term "deconstruction" as used in the field of art refers to the breakdown of a whole into parts in order to analyze or redefine a whole, then to give it new life or new meaning in a reconfiguration. Because the creative process is one of invention, artists often find inspiration in objects or materials around them, thinking of ways to combine things in original ways or to reinterpret something that already exists by inventing something new.
The artists in the exhibition Construction/DeConstruction share a passion for the making of new meanings through unification of smaller components into a new creative whole. Those parts may be derived from the deconstruction of another object in order to salvage materials and forms that are then transformed into a new object, such as Margaret Wharton's creation of sculptures from deconstructed chairs. Their creative practice is defined by transforming one thing into another through both construction and deconstruction. While their process is similar in their shared interest in making a whole from parts, their creative output varies significantly from abstract to humorous, and from organic to symbolic.
---