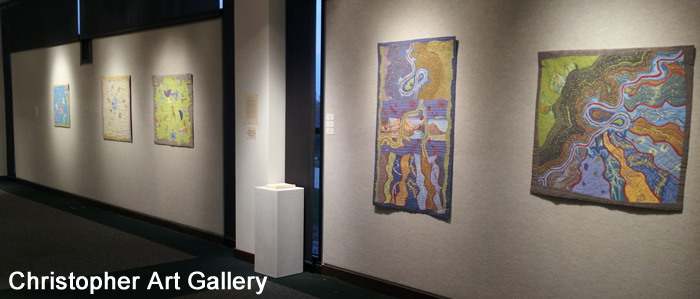 Named for its generous donors, Bob and Marty Christopher, the Christopher Art Gallery is located on the main campus of Prairie State College. The gallery hosts six to eight shows per year, featuring local, regional and national artists, as well as student works.  Gallery Director, Beth Shadur, recommends programming and often acts as curator for shows.
Beth Shadur
Christopher Art Gallery Director
Prairie State College
---
Obsession
Featuring Works by Artists:
Reginald Baylor
Mary Ellen Croteau
Jordan Scott

Exhibiting:
Feb. 19 through Mar. 18

Artists' Reception:
Thursday, Feb. 19, 4:30-7 p.m.

Visiting Artist:
Reginald Baylor
Thursday, Feb. 19, 11:30 a.m.-12:45 p.m.
Board Room

Christopher Art Gallery Regular Hours:
Monday through Thursday: 9 a.m. - 3 p.m.
Wednesday and Thursday: Evening 5 - 7 p.m.
By appointment, phone (708) 709-3636 


Paige, Chicago
by Mary Ellen Croteau
 
 
Space Between the Rain
by Jordan Scott
Mr. and Mrs. Pitch and Peach America
by Reginald Baylor
---
About the Exhibit
The word "obsession" is defined as "the domination of one's thoughts or emotions by a persistent idea, image or thought." In the sense that most artists feel compelled to make the work that they do, we might say that obsession is present in the psyche of many an artist. But the artists in this exhibition seem to personify the idea of obsession, as they create works that involve excessive hours of work, extreme craftsmanship, and often the use of enormous numbers of tiny units to make a whole creation. Whether it be Reginald Baylor's canvases built of immense numbers of tiny, brilliant painted sections to compile an image, or Mary Ellen Croteau's beautiful images built of prodigious bottle caps, or Jordan Scott's abstract canvases made of colossal numbers of stamps, these works take our breath away not only by their compelling imagery but by the craft and time involved in their creation.
Exhibition Guide
---