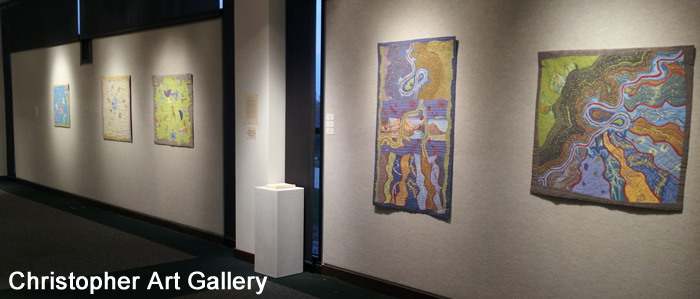 Named for its generous donors, Bob and Marty Christopher, the Christopher Art Gallery is located on the main campus of Prairie State College. The gallery hosts six to eight shows per year, featuring local, regional and national artists, as well as student works.  Gallery Director, Beth Shadur, recommends programming and often acts as curator for shows.
Beth Shadur
Christopher Art Gallery Director
Prairie State College
---
Suite Prints: 25th Anniversary Exhibition
Chicago Printmakers Collaborative
Exhibiting Nov. 17 - Dec. 19, 2014
Artists' Reception: Thursday, Nov. 20, 4:30-7 p.m.
Regular hours during exhibition:
Monday through Thursday: 9 a.m. - 3 p.m.
Wednesday and Thursday: Evening 5 - 7 p.m.
By appointment, phone (708) 709-3636 
---
About the Exhibit
"Suite Prints" is an exhibition celebrating the 25th anniversary of the Chicago Printmakers Collaborative, a community of print artists who create handmade prints in the facility on Chicago's north side. In the 25 years since its inception, many of Chicago's best-known printmakers have passed through the Chicago Printmakers Collaborative, creating prints in all media of printmaking. The printmaking facility features printmaker's studios, classes, workshops, exhibitions and sales, all under the leadership of Director Deborah Maris Lader. Our exhibition at the Christopher Art Gallery features works from four collaborative suites of prints (in which various members contribute a print to a large portfolio based on a theme or anniversary), as well as a number of framed works by current and previous members. The 25th anniversary is being celebrated with simultaneous exhibitions at Prairie State College and at the Chicago Cultural Center....
See the guide for more information
.
---
Upcoming Exhibition
Foreclosure by Michele Stutts
 
Construction/DeConstruction
Featuring works by Artists:
Shaila Christoffersen,
Melissa Jay Craig,
Michele Stutts
The Late Margaret Wharton

Exhibiting Jan. 5 through Feb. 5
Artists' Reception:
Thursday, Jan. 15, 4:30-7 p.m.
Essence of Chippendale 1985
by Margaret Wharton