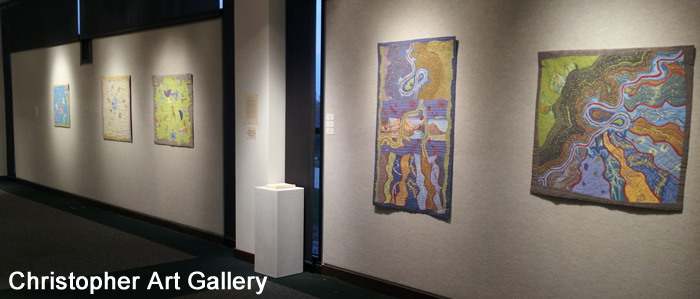 Named for its generous donors, Bob and Marty Christopher, the Christopher Art Gallery is located on the main campus of Prairie State College. The gallery hosts six to eight shows per year, featuring local, regional and national artists, as well as student works.  Gallery Director, Beth Shadur, recommends programming and often acts as curator for shows.
Beth Shadur
Christopher Art Gallery Director
Prairie State College
---
Graduate Students Exhibition 2015
Curated by PSC Art Faculty
Professor Paul Rinaldi

Exhibiting:
April 27 through May 21
Reception:
Wednesday, April 29
12-2 p.m.
Christopher Art Gallery Regular Hours:
Monday through Thursday: 9 a.m. - 3 p.m.
Wednesday and Thursday: Evening 5 - 7 p.m.
By appointment, phone (708) 709-3636 


---
About the Exhibit
Works are presented from Professor Rinaldi's portfolio class of PSC graduating students. Each student is asked to choose his or her best work for exhibition. Students design both the postcard and exhibition brochure.