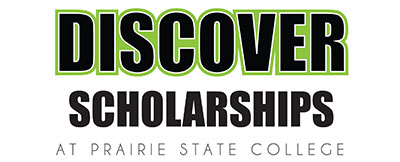 Pre-qualifying criteria for scholarships are:
Must be enrolled in the semester for which you are applying for a scholarship.
Must have a PSC email account.
Must be enrolled in a degree or certificate program at PSC.
Demonstrate financial need.
---
For information about Naming Opportunities (scholarships, classrooms or facilities), and for other inquiries, please contact:
Deborah Smith Havighorst
Executive Director, Institutional Advancement and the Prairie State College Foundation, Rm. 2266
(708) 709-7918
Susan Sebastian
Coordinator of Scholarships and Alumni Relations
Prairie State College Foundation, Rm. 2268
(708) 709-7879
Kathleen Kane
Administrative Assistant
Prairie State College Foundation, Rm. 2266
(708) 709-3631
Office Hours: Monday - Friday 8 a.m. - 4:30 p.m.
Other Hours: By appointment

Frequently Asked Questions about Scholarships
What are the qualifications for a PSC Foundation scholarship?
All scholarships have donor specific requirements. The standard criteria for eligibility are: 1) registered for the semester which you are applying, 3) a current FAFSA on file with the Financial Aid Office, 3) seeking a degree or certificate program at Prairie State College, 3) a 2.0 GPA or higher, and 4) demonstrates financial need.

Where do I go to apply for PSC Foundation scholarships?
Visit www.prairiestate.academicworks.com to begin the online application. You must use your PSC student email address to create an account. If you cannot complete the application in one sitting, be sure to save your work before exiting the system.

What can I do if I am having problems signing up to begin the online application process?
Remember, you must be registered for the term which you are applying. You must use the Prairie State email address and meet the requirements for creating a password. (Your password must contain a minimum of 8 characters and include at least one digit, one uppercase letter, and one lowercase letter). If you are having issues signing up as a first time applicant, try the 'trouble signing in' link provided on the Welcome page at https://prairiestate.academicworks.com/users/sign_up. If you are still having trouble, call the Foundation Office at 708-709-7879.

How will I know if I receive a scholarship award?
Applications are reviewed in the order in which they are received. It is a multi-step process that can several weeks. The Scholarship Review Committee's decision will be sent to your PSC student email address.

How many scholarships can I apply for?
Complete the general application and the system will auto-match you to scholarships for which you qualify. Check under "recommended" scholarships once you have submitted the general application, for any additional scholarships which require additional questions answered.

Can I receive more than one scholarship?
Yes, if you qualify, you could receive more than one PSC Foundation scholarship.

Can I apply for a scholarship each semester?
You can apply for PSC Foundation scholarships each semester you are registered.

Can I use the scholarship as a down payment for tuition?
No. Scholarships are not full scholarships and should not be considered as down payment. See the PSC Business Office to establish a payment plan.

Can I get a scholarship if I receive financial aid?
Scholarships are based on need. If financial aid does not fully cover the costs of tuition, fees, and books, you may be eligible for a scholarship.

Can I receive a scholarship if I don't receive financial aid?
Yes, if you meet the qualifications. The Foundation recognizes there is often a gap between a student's Estimated Family Contribution (EFC) and what a student can afford.
About the Foundation
Mission Statement
The Prairie State College Foundation is a non-profit organization committed to excellence in education by promoting Prairie State College and enhancing opportunities for students.
The Foundation works to:
Increase public awareness of the College's central role in the well-being of our community and its citizens.
Seek financial support to fund student scholarships, attract and retain able faculty and staff, and provide for the College's growth and development.
Identify potential Board members, involving those who bring leadership, insights, and new contacts to the Foundation.

Some Facts about the Prairie State College Foundation
Founded in 1973, the Foundation is a philanthropic organization. Dedicated to helping deserving PSC students seeking job skills through academic achievement, PSC Foundation scholarships encourage the process of lifelong learning.
The Board of Directors are unpaid volunteers.
501(c) 3 not-for-profit status assures tax deductibility for donors.
In the past two years, the PSC Foundation has awarded more than $150,000 to assist hundreds of students who wish to learn in the classroom, so they can earn in the workplace. These productive, prospective employees strengthen the economy of the entire Chicago Southland!