Registration information for Summer 2015 semester:
Priority registration begins March 11, 2015.
General registration begins March 13, 2015.
Payment due for summer 2015 registration May 7, 2015
New students can visit the Counseling and Advising Center, room 1190 in the main building at PSC, and register for classes with an advisor.
Returning students can register on WebAdvisor or meet with an advisor to discuss courses.
Don't delay, register early to secure your seat for the upcoming semester!
Prairie State College (PSC) offers students the best of both worlds: the small school advantage combined with affordable tuition. Our flexible scheduling options make it possible for anyone to fit college into their life. Our classes are small with excellent faculty and a supportive environment.
PSC is great place to start your college career. Complete your first two years of college at PSC and transfer to a four-year college or university as a junior. Or, PSC's career and technical programs can help you learn the skills to begin a career immediately. PSC is located in Chicago Heights, IL with a second location in Matteson.
At PSC, we have something for everyone: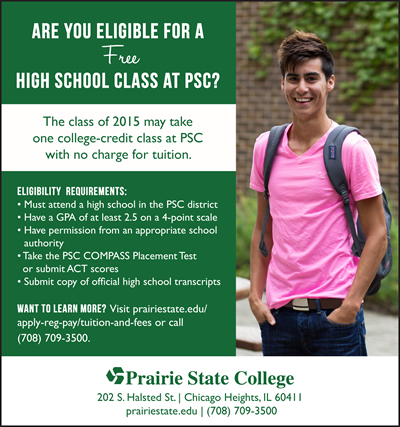 Learn more about the college by viewing our college profile, or get a brief overview of our academic programs and extracurricular activities by reading our viewbook.
Find out if Prairie State College is right for you:
---
---
Additional links you may find helpful: