Five-Run Fifth, Strong Effort From Luif, Push Pioneers to Season's First Win [March 28, 2015]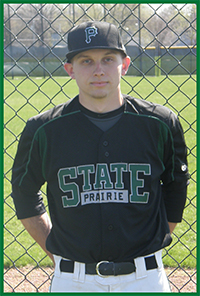 Brenden Luif earned his first win of
the year Saturday afternoon.
SOUTH HOLLAND, Ill. --- First-year Prairie State College head coach Mark Hernandez couldn't have picked a better opponent in which to secure his first career victory as skipper of the Pioneers Saturday.
Hernandez was a happy man, to say the least, after his club rallied from a two-run deficit to claim a 6-4 triumph over perennial NJCAA Region IV power and local foe South Suburban in South Holland.
"Today we overcame our obstacles and stuck to our philosophies as a program," Hernandez said. "With the weather being what it's been the past week, this was basically just our second day outside.
"Of course grabbing a great team win against one of our area's most well-coached and historically-successful programs is a great accomplishment in and of itself."
The Pioneers (1-2) will now host Illinois Skyway Collegiate Conference counterpart Oakton Monday in a league-opening double-header in Chicago Heights.
Hernandez handed the ball to sophomore left-hander Brenden Luif (Homewood-Flossmoor H.S.) and he didn't disappoint.
The 5-foot-10, 175-pound southpaw delivered 6 1/3 workmanlike innings, allowing four runs on nine scattered hits while walking four and striking out two.
"Brenden turned in a great outing today," Hernandez said. "He did exactly what we needed him to do and he kept us in the game."
At the plate, PSC picked up a pair of multiple-hit afternoons from freshman shortstop Dan Santiago (Sandburg H.S.), (2-for-5, double, stolen base) and freshman designated hitter Devin Bafia (Valparaiso H.S., Ind.), (2-for-3, RBI, run, walk).
The Bulldogs plated a pair of second-inning tallies to claim a 2-0 lead before the Pioneers went to work, countering South Suburban's strong frame with a five-run fifth of their own.
Freshman center fielder Joe Turner (Mount Vernon H.S., Ind.) jump-started the Pioneers' offensive eruption with an RBI fielder's choice that plated fleet-footed sophomore second baseman Anthony Beale (Walther Lutheran H.S.).
The Pioneers plated the remainder of their runs in the frame courtesy of a bases-loaded walk from Bafia an RBI-groundout off the bat of freshman third baseman Mark O'Kelly (Crete-Monee H.S.) and a pair of South Suburban wild pitches.
After the Bulldogs grabbed a pair of runs back in the home half of the fifth, PSC padded its lead in the sixth when freshman right fielder Paco Jordan (West H.S., Ind.), (4 walks) raced home on one of the five wild pitches that South Suburban hurlers uncorked on the afternoon.
Freshman pitcher Nick Relli (Homewood-Flossmoor H.S.) came on for Luif in the seventh and tossed 1 2/3 innings of scoreless relief before freshman Adam Kaczmarek worked the ninth to lock down his first save of the campaign.
______________________________________________________________________
PSC Baseball Takes Pride in Giving Back [February 21, 2015]
With the opener of the 2015 campaign less than one month away, the Prairie State College baseball team recently conducted a fundamentals/skills clinic for the West Englewood 13U Tigers inside the Prairie Center on the college's south campus.
The clinic was led by first-year head coach Mark Hernandez and assistant coach Jeff Marcley along with members of the 2015 PSC baseball squad.
"With continued support from our PSC administration, our baseball program can reach out to our community while establishing an environment that provides an indelible experience together as a team," Hernandez said.  "Becoming a member of our baseball program is a privilege and not a right. Our program requires participation through discipline, dedication and pride. Giving back to young men from the West Englewood Tigers provided an opportunity to sacrifice our limited practice time and inspire a young group by having our PSC student-athletes discuss their diverse baseball experience, transition to college athletics, off-field distractions, and academic requirements."
Pioneers Baseball Program to Host 3-on-3 Basketball Tournament [November 11, 2014]
The Prairie State College baseball team will host the first annual "Gobbler Cup 3-on-3 Basketball Tournament" on Friday, November 21 in the Prairie Center.
There will be a $50.00 entry fee for all teams. Squads must have a minimum of three players with a maximum of five.
Entry fees from the tournament will be used to offset travel costs and expenses for the PSC baseball program.
Team captains can pick up their team registration form in the PSC Athletic Department Office or by contacting PSC head baseball coach, Mark Hernandez at mshernandez@prairiestate.edu.
All completed forms must be received by 3 p.m. on Tuesday, November 18.
Prizes will be awarded to the first-place team and the team with the best costumes.
PSC Baseball Program to Hold Summer Exposure Camp for Unsigned High School Players [July 24, 2014]
The Prairie State College baseball program will hold a one-day Summer Exposure Camp on the baseball field at the Pioneer Athletic Park (197th Place and Halsted Street, Chicago Heights, IL ) on August 3, 2014. All 2015 high school seniors, unsigned high school graduates and reverse college transfers are encouraged to attend.
The camp will run from 12 p.m. to 8:30 p.m. A one-hour registration period will be held from 11 a.m. to 12 p.m. There will be a $25.00 charge for all camp participants.
Participants will be put through the paces of a professional-style workout with an opportunity to "showcase" their ability to the Prairie State College baseball staff.
For additional information, please contact Prairie State College head baseball coach Mark Hernandez (630-877-4460) or Prairie State College Coordinator of Sports Information Chris Kuchta (708-709-3950).
Reiher Makes History, Becomes First PSC Baseball Player to be Selected in MLB Draft [June 7, 2014]

File Photo By Charles Beard Jr.
Every collegiate baseball player dreams of the day when his phone will ring and on the other side will be the scouting director of a major league team.
That day came for Prairie State College freshman catcher Kevin Reiher (Eisenhower H.S.) Saturday afternoon as a lifetime's worth of hard work came to fruition in an instant.
The 5-foot-10, 190-pound Reiher was selected by the Atlanta Braves in the 24th round of the 2014 Major League Baseball First-Year Player Draft.
Reiher was the 733rd pick of the draft and is the first PSC player ever to be selected.
A rifle-armed backstop who helped lead the Pioneers to a second consecutive NJCAA Region IV Sectional title this season, Reiher threw out 23 of 26 would-be base stealers in 2014. He also made just four errors in 178 total chances (.978 fielding percentage).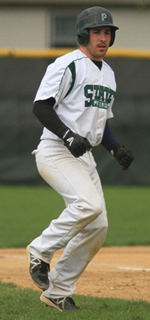 File Photo By Charles Beard Jr.
Reiher wasn't just a defensive force either.
Hitting in the cleanup spot for the bulk of the 2014 campaign, Reiher batted .351 with four home runs and 28 RBIs.
Reiher's most significant offensive day of the slate came in the Pioneers' 12-6 sectional-clinching triumph over Illinois Skyway Collegiate Conference counterpart Elgin on May 11. Reiher went 2-for-5 that day with 5 RBIs, including a go-ahead three-run homer to dead center field.
For the season, Reiher posted 11 multiple-hit contests.
He also registered a multiple home run contest against league foe McHenry (April 12), when he lifted a pair of long solo home runs in a 4-for-4, three run performance.
If he chooses to sign with Atlanta, Reiher will most likely begin his professional career at the "rookie ball" level with the Danville (Va.) Braves of the Appalachian League.
Reiher was both an NJCAA All-Region IV and All-Illinois Skyway Collegiate Conference selection in 2014.
---
Pioneers at the Next Level
These former Prairie State College baseball players are currently attending four-year institutions.
Bobby Sheppard - University of Buffalo
Mark Kane - Jamestown College, North Dakota
Dan Ohde - Jamestown College, North Dakota
Jeremy Hernandez – Calumet College of St. Joseph
Josh Johnson – University of Illinois Springfield
Peter Krygsheld – Trinity Christian College
Jim Miller – Ashford University, Iowa
Pat Nelson – Jamestown College, North Dakota
Keith Plocharczyk – University of Illinois Springfield
John Rafferty – Murray State University
Ryan Rasmas – McMurry University, Texas
Joe Sadowski – Clarke University, Iowa
Brendan Spongberg – Purdue University North Central
Jimmy Topps – University of Buffalo
Joe Ucho – Central Michigan University
Sam Cook – Friends University, Kansas