David Spataru
Men's Soccer Head Coach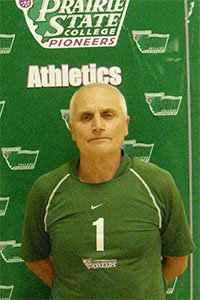 It didn't take long for David Spataru to make an immediate impact on the Prairie State College men's soccer program.
In his first season as the Pioneers' head coach in 2007, Spataru guided his team to a 10-9-1 overall record, which was a vast improvement over the school's 3-30-1 showing the previous two years. In recognition of his team's success, Spataru was named as the Illinois Skyway Collegiate Conference Coach of the Year and the NJCAA Region IV Co Coach of the Year. In league play, Prairie State finished third among eight teams with a 4-2-1 mark.
PSC had even more successful campaigns the next two falls, posting an 11-6-1 record and claiming second-place honors in the conference with a 5-2-0 ledger in 2008 before going 13-8-0 overall and 4-3-0 in the conference in 2009.
In 2010 the Pioneers once again posted a strong overall record, finishing with a mark of 9-8-1, giving Spataru his fourth-straight winning season at the helm of the PSC program.
In his seven seasons at PSC, Spataru has compiled an 85-46-6 overall mark.
In 22 years as a head men's soccer coach, he has constructed an astonishing career record of 230-155-21.
The 2011 season again treated the Pioneers well as they delivered another solid season under Spataru's leadership, posting an 11-9 overall mark.
Spataru led PSC's program on its most successful voyage during the 2012 slate as the Pioneers went 19-3 while earning their first ever berth in the NJCAA Region IV title match.
Following a 12-4-3 showing in 2013, Spataru has now registered a winning campaign in each of his seven years at the helm.
Spataru served in a dual capacity in 2009 as he also coached the Prairie State's women's team. After being shut down for nearly a decade, Spataru restarted the women's program from scratch and registered a 1-13 record. Beginning in 2010 he has worked solely with PSC's men's program.
Spataru got his first taste of collegiate coaching in 1985 when he served as an assistant at the University of San Francisco, an NCAA Division I National Tournament qualifier that fall.
After a two year stay at USF, Spataru became head coach at Augustana College, the first of three consecutive NCAA Division III schools where he would coach.
All six of Spataru's Augustana teams registered winning records en route to producing an overall record of 69-39-8. In addition, the Vikings placed second in the Collegiate Conference Illinois & Wisconsin five times.
From 1994-97, Spataru went 24-28-4 at Westfield State College (Mass.). He followed that by going 15-24-1 in 1999 and 2000 at Buena Vista University (Iowa).
Spataru remained in Iowa to coach the Marshalltown Community College team from 2001-03. He led the Tigers to a winning record all three years, including the final season when the team went 16-4, which was his best performance ever as head coach. In all, his Marshalltown teams were 32-15-1 under his tutelage and advanced to the region finals three times.
After taking the 2004 season off, Spataru was an assistant coach at Judson College (2005) and McHenry County College (2006). McHenry's 15-4-1 effort that fall established a school record.
Spataru's coaching background, however, is not relegated solely to the collegiate ranks. He was the head coach - as well as a player - for the Israeli Third Division men's team in 1976-77.
Prior to playing for that team, Spataru competed in the junior division, senior division and collegiate level for Romania and Israel from 1960-75.
Besides soccer, Spataru, who is an avid distance runner, has a rich history in track and field as he has coached at seven colleges and has had several athletes go on to win national championships.
Likewise, Spataru has taught exercise science, physical education and/or math at seven colleges.
Spataru received his physical education teaching certificate at Wingate Institute in Netanya, Israel in 1977. He furthered his academic credentials at Indiana University, earning a master's degree in physical education/physiology of exercise in 1984.
Jim Chiagkouris
Men's Soccer Assistant Coach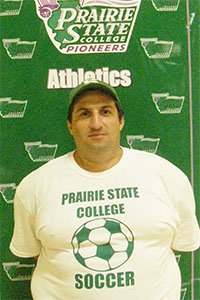 The 2014 season will be Jim Chiagkouris' sixth as assistant coach of the Prairie State College men's soccer team as he joined the staff in 2009.
A former soccer and baseball standout at Oak Lawn High School, Chiagkouris brings a wealth of knowledge to the PSC coaching staff.
Chiagkouris previously coached youth soccer for 16 years at the Oak Lawn and Homewood-Flossmoor park districts before moving to the collegiate level in 2009. 
Chiagkouris played a significant role in PSC reaching the NJCAA Region championship game for the first time in school history in 2012.
Chiagkouris was  instrumental in the development of PSC's first NJCAA All-American in men's soccer, Lukman Ahmed-Shaibu in 2012 as well.  He also tutored star forward Tomer Sirma, who earned NJCAA National Player of the Week recognition along with NJCAA All-Region IV and All-Illinois Skyway Collegiate Conference first-team selections in 2010.
In addition to coaching, Chiagkouris is an IHSA certified football official and baseball umpire as well as the general manager at the Kingsberry Waffle House and Restaurant in Flossmoor.