Pioneers Drop Heart-Breaker in Season-Opener [August 26, 2014]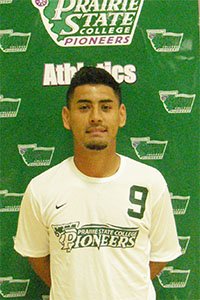 Bryan Leon registered a game-tying
goal against Ancilla Tuesday afternoon.
PLYMOUTH, Ind. --- Heading into an overtime period with a two-man advantage will always give the team in that position an extra boost of confidence.
The Prairie State College men's soccer team certainly felt this way Tuesday afternoon, as it entered the extra-session of its season-opening, non-conference match at Ancilla.
Unfortunately for PSC, that advantage didn't turn out in the Pioneers' favor.
Ancilla tallied on a penalty kick just 45 seconds into the overtime, handing Prairie State a heart-wrenching 3-2 loss.
What made the setback especially tough was the fact that PSC freshman goal keeper Jose Maya (Kelly H.S.) had made the initial stop on the penalty kick attempt. Unfortunately, Maya was whistled for crossing the line before the ball was struck. The Chargers then capitalized on their second attempt, putting an abrupt end to the contest.
The Pioneers (0-1) opened the scoring in the 35th minute when freshman midfielder Luka Milcic (Civil Engineering School, Serbia) blasted an unassisted attempt into the far side of the goal.
Ancilla stormed back to take a 2-1 lead, registering markers in the 40th and 45th minutes respectively.
The Pioneers tied the match in the 62nd when freshman midfielder Colin McLaughlin (Andrew H.S.) crossed a ball to freshman Bryan Leon (Kelly H.S.). The 5-foot-9, 145-pound Leon then buried a shot into the corner of the net.
PSC recorded 10 shots on goal in the tilt.
Maya turned away a quartet of Ancilla shots.
The Pioneers will take to the pitch next on Friday when they travel to Joliet for a road date with the Wolverines (4 p.m.).
2014 Men's Soccer Letters of Intent Signees
The following student-athletes have signed NJCAA letters of intent to continue their academic and soccer careers at Prairie State College beginning in the Fall 2014 semester:
Carlos Gallardo (Sterling H.S.)
Jesus Villicana (Bremen H.S.)
Roger Rizzi (E.E.B. Professora Luiza Santin H.S., Brazil)
Luka Milcic (Civil Engineering H.S., Serbia)
Allen Sanchez (Homewood-Flossmoor H.S.)
Harold Pulido (Carver Military Academy)
Omar Reyan-Farje (Shepard H.S.)