Patrick Reichard
Head Coach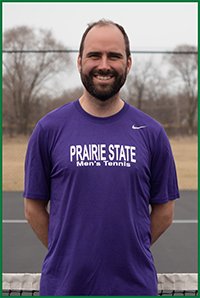 After restarting the Prairie State College men's tennis program in 2010, head coach Patrick Reichard has led the team from the bottom of the conference standings to being a perennially ranked national contender.
For the past two seasons, PSC has won both the NJCAA Region IV and Illinois Skyway Collegiate Conference championships. At the end of the 2014 season, the team earned its highest national ranking: 18th in the nation.
For his efforts, Reichard was twice selected as the 2013 and 2014 Coach of the Year for both the region and the conference. In 2013, he won the Skyway Conference Coach of the Year Award for all sports.
Numerous former players have been selected to the All-Region IV, All-Skyway Conference, and Academic All-American teams.
Reichard has played tennis since childhood. He started at his local club and eventually earned a spot on his highly competitive team at St. Ignatius High School in Cleveland, OH.

Reichard began his coaching career as a volunteer assistant at Marian Catholic High School in 2000, where he taught high school English for three years.

He holds a bachelor's degree in English from Villanova University and a master's degree from the University of Chicago. He is currently pursuing a Doctorate degree in English at the University of Illinois at Chicago. He has been a full-time Professor of English at Prairie State College since 2002.
Beau Gutierrez
Assistant Coach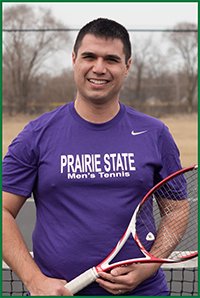 Steve Patino
Assistant Coach