Patrick Reichard
Head Coach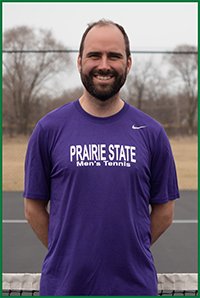 After restarting the Prairie State College men's tennis program five years ago, head coach Patrick Reichard has seen a dramatic turnaround in his team's fortunes.
There was no greater example of this than the Pioneers' 2013 season.
PSC turned in a season for the ages a year ago, winning both the NJCAA Region IV and Illinois Skyway Collegiate Conference championships for the first time in program history.
For his efforts, Reichard was selected as the 2013 Coach of the Year for both the region and the conference.
The Pioneers roared onto the NJCAA Region IV men's tennis scene in 2011, well surpassing their 3-5 overall and 1-5 Illinois Skyway Collegiate Conference marks of 2010 by going 6-2 overall and 4-1 in the league respectively.
PSC's 4-1 record in league play placed the Pioneers second in the Skyway.
The Pioneers also placed third at the Region IV Tournament.
Three of Reichard's charges earned postseason recognition as well.
Sophomore Luke Bihl was selected to the All-Region IV squad while freshmen Garrett Irvine and Korie Wooden were All-Skyway Conference picks.
Reichard has been involved with tennis since childhood. He started playing at his local club and eventually earned a spot on his highly competitive team at St. Ignatius High School in Cleveland, OH.

"I really grew up around the sport," Reichard said. "My brothers, sisters and my parents all played. During the day, we played matches against each other and then we watched Wimbledon and the U.S. Open together."

Reichard began his coaching career as a volunteer assistant at Marian Catholic High School in 2000.

He holds a bachelor's degree in English from Villanova University and a master's degree in English from the University of Chicago. He has been an Associate Professor of English at Prairie State College since 2002.
Beau Gutierrez
Assistant Coach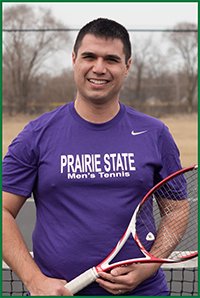 Steve Patino
Assistant Coach