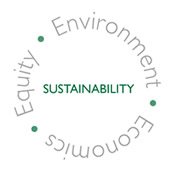 View photos from all of our events on Facebook!
---
November 2014
At the Nov. 2014 Board of Trustees meeting PSC was recognized as a Gold Level Compact school by Governor Quinn and the Green Governments Coordinating Council. Allessandra Cairo, PSC's sustainability coordinator, accepted the award from Eric Heineman, Sustainability Director, Office of Governor Quinn. The college moved from bronze to gold and is one of 15 schools in that category.
Left to right:
Emmanuel Lopez, SGA president, Eric Heineman, sustainability director for Gov. Quinn, Allessandra Cairo, sustainability coordinator, and Tim Kosiek, executive director of facilities and operations.
---
September 2014
SMHEC Annual Sustainability Conference
Strengthening Sustainable Bridges between Colleges and Communities
Friday, September 26
8 a.m. - 4:30 p.m.
Joliet Junior College
Save The Date for the 5th annual South Metropolitan Higher Education Consortium's (SMHEC) sustainability conference.
This year's focus is on strengthening sustainable bridges between the colleges and universities of the Chicago Southland and its communities and businesses. We are inviting manufacturers, healthcare providers, governmental organizations and not-for-profit agencies to join us in thoughtful conversations about how, together, we can promote growth and develop resilient communities through sustainable practices.
Advance registration will be required. Check back soon for registration information.
---
October 2014
Homewood-Flossmoor Intergovernmental Green Team Annual Recycle Drive
Saturday, October 18
9 a.m. - 1:00 p.m.
Parker Jr. High School, 2810 School Street, Flossmoor, IL
The Homewood-Flossmoor Intergovernmental Green Team is hosting their an electronics recycling drive. This year, H-F will partner with SouthSTAR Services EcoSafe Processors to collect unwanted electronic items.
Acceptable items include
Computers, laptops/desktops
Computer wire/cables
Modems
Fax machines
Hard drives
Keyboards, mice, speakers
Miscellaneous computer parts
LCD monitors
Motherboards
Printers
Servers Calculators
Cell phones
---
Campus Sustainability Day
Wednesday, October 22
PSC Main Campus
Save the date for this year's Campus Sustainability Day celebration! This year's national theme is Empowering Change on Campus and in the Community.
Check back soon for a schedule of events.