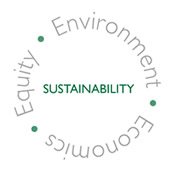 In fall of 2008, Dr. Radtke, president of PSC created a Sustainability Task Force. The group was charged with gathering data and making recommendations that would make PSC a leader in promoting the advancement of sustainability goals within PSC's instructional programs, practices, and facilities. Promoting and improving recycling and waste reduction on campus also was a function of the group.
Initial Objectives of the Sustainability Task Force:
Model environmental stewardship and accountability in the community
Incorporate sustainability into the teaching  and learning environment in support of PSC's mission
Reduce energy costs
Attract external funding for curriculum support and sustainable operations
Reduce carbon footprint
Encourage personal/individual stewardship and accountability
Require our business partners to honor our sustainability position
Provide outreach to our district
In 2011, the Sustainability Center was developed to take sustainability initiatives at PSC to the next level. Since then, PSC has:
Installed seven water bottle filling stations around campus
Installed two electric vehicle charging stations
Implemented green parking
Upgraded recycling receptacles and programs on campus
Completed a large-scale lighting project, funded through the Illinois Green Economy Network in 2012 and a follow-up small-scale lighting upgrade in 2013
Implemented of automatic computer shut downs
Revised and consistently updates the sustainability website at prairiestate.edu/sustainability
Completed a successful second year of the community garden, with a third one planned for 2014
Started a student sustainability club
Convened faculty, staff and students, as well as local community members, to discuss the importance of sustainability and identify methods to take action.
Sustainability Task Force
The Sustainability Task Force is a volunteer group overseen by Allessandra Cairo, sustainability coordinator, which advances projects to green the campus and educate students and staff about sustainability.
For the 2013-14 formal meetings will not be held. Instead, members will be contacted individually to assist with projects around campus, including but not limited to, energy efficiency and conservation, student, faculty and community engagement, and the overall greening of PSC.
The sustainability faculty committee will continue to meet. Contact Allessandra Cairo, administrative liaison to the committee, for more information on this committee.
Sustainability Task Force Meetings
Academic Year 2012-2013
March 16, 2013
January 16, 2013
October 17, 2012