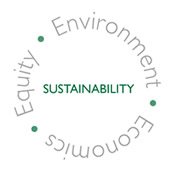 The Sustainability Center is engaged in a number of activities in and around campus to promote sustainability, energy efficiency, and the emerging green economy. We are committed to serve as a model demonstration site for energy efficiency upgrades, as well as providing you the education, resources, and information necessary to make informed decisions about sustainability in your daily lives.
 Student Sustainability Club
In the 2013 spring semester, several students started a student sustainability club. Since then, membership has increased, and the club has participated in a number of fundraising activities and special events, including:
Like us on Facebook to learn more!
---
 Waste Audit and Recycling at PSC
Thanks to the hard work of IL EPA sustainability intern, Brian Wright, PSCs recycling program was revamped this summer. After conducting a preliminary waste audit, Brian surveyed 100 students to identify their current understanding of recycling as it relates to PSC, to their home life and to the environment.
In response to the results, Brian repainted all of PSCs re-purposed recycling bins and added informational signs to each one before conducting additional waste audits.
There's still work to be done in terms of bin placement and the number of bins on campus, but PSC is well on our way to increasing our recycling rate.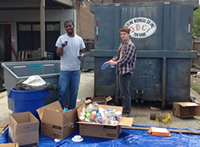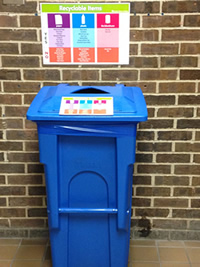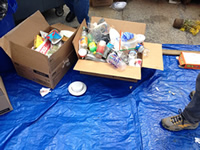 ---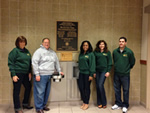 Water Stations On Campus Offer Filtered Water
Prairie State College installed their seventh water bottle filling station in the ATOC building thanks to a generous sponsorship by the Office of Business Services and Controller.
 To educate consumers about the stations, eco-friendly bamboo plaques above each station display the following message.
 "This bottle filling station is helping Prairie State College reduce our environmental impact by reducing the number of plastic bottles entering into the waste stream. Enjoy this complimentary filtered water, while reducing your carbon footprint and holding on to you hard earned dollars."
 The remaining six stations on campus are sponsored by the Student Government Association, sustainability center, and facilities and operation department.
 If you're department/division is interested in sponsoring a bottle filling station on campus, contact Allessandra Cairo at ext. 3764.
---
Designated Green Parking
Green parking has been designated for electric vehicles (EV), hybrids and low emission vehicles (those receiving 35+ mpg/combined) at the main entrance where one-hour temporary parking was previously located.
Vehicles parking here must have the Green Parking Permit displayed on the rear window. Permits can be obtained through campus police. A valid registration is required.
Download Green Parking List.
---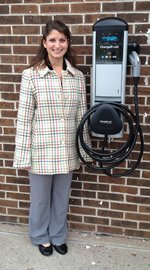 Electric Vehicle Charging Stations Now Installed
Two electric vehicle charging stations have been installed in the rear of the T-wing. The stations offer level 2 charging for all makes and models of electric vehicles with a J1772 port. Charging will be free to students, faculty, staff and community members.
How to Activate and Use the Stations
1. Visit ChargePoint to get your ChargePoint pass card
2. Tap your ChargePass card on the station's reader symbol
3. Remove the connector and plug in to your electric vehicle
4. To stop the session, tap your ChargePass card on the reader symbol
5. Remove the connector from your electric vehicle and return to station
Visit www.chargepoint.com for more information, to download the ChargePoint app, and to locate charging stations in the area.
More Information about Electric Vehicles
EV Everywhere Grand Challenge (The Department of Energy)
Illinois Electric Vehicle Initiatives
The Electric Vehicle Act (Illinois Public Act 097-0089)