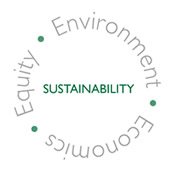 In 2012, PSC launched a community garden on campus bringing together students, faculty, staff, and local organizations. Together, the PSC community learned basic gardening skills, including seeding, planting, and harvesting.
The community garden was offered in coordination with the PSC Foundation, Respond Now, St. James Health and Wellness Institute, and the University of Illinois Extension.
The Sustainability Center took sole-ownership of the garden for the 2013 growing season to expand the garden and address several management issues.
In January 2013, a student worker, through the work study program, was hired as the garden manager. This student assisted in the development of a management plan for the 2013 gardening season. The plan addressed several challenges faced in 2012, including lack of management and accountability, successful donations to Respond Now and proper growing practices.
In May 2013, the PSC community garden opened for a second growing season. Faculty, staff, students and community members were invited to purchase a plot for the 2013 growing season and this particular season saw gardeners of all ages working together to grow local, healthy food.
Prairie State College again provided garden tools, gloves, water and soil. Community gardeners were welcome to use all supplies provided by the college as they cared for their plots.
Through a series of gardening courses offered through the continuing education department, gardeners had a sense of community and pride in their plots. In fact, that year's garden had a little bit of everything – from low to high and everything in between. Gardeners tested their green thumbs with the traditional squash, peppers and tomatoes, and added some height with corn and sunflowers.
With a second successful growing season behind us, the community garden opened for a third growing season in 2014. Twenty-six plots were sold and faculty, staff, students and community members grew a little bit of everything once again including tomatoes, zucchini, tomatillos, cantaloupe, brussel sprouts, corn, pumpkins, sunflowers and more!
The PSC community garden will be opening for its fourth season this May. Planning for the season opener is underway. Plots are expected to sell out again this year and a waiting list has already been started.
If you are interested in purchasing a plot for the 2015 growing season, contact Allessandra Cairo at acairo@prairiestate.edu or 708-709-3764.