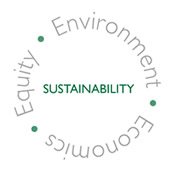 Prairie State College
Sustainability Task Force
May 2009
Summary of Actions related to the Charge
Charge
Phase One:  Data Gathering
Assess our current situation and the potential for new programs and approaches that can make PSC a leader in promoting the advancement of sustainability goals.
1.   Instructional Programs
To review and document all current credit and non-credit education and training in green technologies or that educate the public about the practical and public policy issues involving sustainability.  Such programs areas might include:  solar, geothermal and wind technologies, alternative fuel vehicles, LEED certification and green building systems. 
To develop a list of possible new credit and non-credit courses and programs in these or other areas.
Actions
Prairie State College offered several noncredit personal and professional courses in the Spring 2009 semester.  These included:
Creating a Sustainable Future (PIBUS 106)
Helping Teachers Instruct High School Students on How to Create a Sustainable Future and Career (PIBUS 105)
Creating a Career that Contributes to a Sustainable Future GSBUS 002A)
How to Make your Home more Energy Efficient (PIHIM 020)
These and/or similar courses on sustainability will be offered in Fall 2009. 
A two credit course on Alternate Electrical Power will be offered in the Industrial Electricity Program starting in October 2009:
Existing courses that include sustainability are Environmental Biology (BIOL (105) and modules in General Biology classes.
PSC is participating in several WebCasts to train faculty and staff.  The most recent topic was "Building our Nation's Green Collar Workforce."
A PSC employee completed a week-long training session beginning on May 2 for Residential Auditor Train-the-Trainer.  This training was provided by RESNET and funded through a state grant.  Upon successful completion of an exam later this month, PSC will be able to offer training for residential energy raters who will be able to determine and evaluate residential energy for cost savings and comfort of existing buildings.
In October 2009, the Christopher Art gallery will be presenting an art show on Recycled materials and art based on less toxic materials.
2. Green Practices
To review and document all current practices that promote more efficient energy utilization (e.g., mass transit, bicycling, college vehicles), waste reduction (cafeteria packaging, recycling, surplus property management), water use, and hazardous waste and chemical contamination.
To develop a list of possible new practices that promote improvements in these areas.
Actions
Food packaging reduction requirements - recycling, packaging, and composting – will be incorporated into the RFP for food service.
Additional recycling bins and signs are being added to classrooms and hallways.
In honor of Earth Day, two trees were planted on campus by Phi Theta Kappa.  In addition, they conducted a Recycling Audit, which involved going through the waste that is generated on campus to determine its impact and increase awareness of recycling.
Administration has made efforts to encourage faculty and staff to turn off lights in empty rooms and other conservation or recycling efforts.
3. Green Facilities
To review and document all current facility elements and systems that promote more efficient, clean and renewable energy sources and systems, reduce waste, reduce water runoff, etc.
To develop a list of possible new facility improvements that would achieve these objectives.
Actions
The grounds crew has suspended mowing of the designated nature preserve areas south of main campus while the possibility of restoring the 34+ acre site to a tall grass prairie is being explored. 
The Maintenance Department is in the process of installing more occupancy sensors to turn off lights in unused rooms.
Xerox completed two equipment and use audits in April.  Recommendations for improving the sustainability of the College's document handling processes will be provided sometime in May, 2009.
Phase Two:  Recommendations
Develop a set of recommendations in each of the three categories, including specific steps and estimated costs for implementing each of them.
When needed, replace school fleet cars with more energy efficient vehicles.
Continue to pursue grant opportunities for funding to replace inefficient window and HVACR systems.  Budget for additional occupancy sensors,
Replace paper towels in restrooms with electric hand dryers.  Electric dryers cost $300-500 each.  Studies show that electric hand dryers are more environmentally friendly than paper towels.  Paybacks are estimated to be after the first year.  Electric dryers can last 7-10 years.
Review the possibility of using tankless water heaters.  Tankless water heaters cost $970-2500 each.  They are estimated to be 20% more efficient than standard water heaters and will last 5-10 years longer because they are less subject to corrosion.
Faculty are exploring ways to incorporate sustainability into the curriculum across the College.  One way being considered is a program called One Book, One College, where required reading would designate a book on sustainability.  Service Learning Projects could be in partnership with high school s and based around sustainability efforts.  Should the project to restore the 34 acre nature preserve sire (or a portion of it) to tall grass prairie be undertaken, a number of possible courses could be designed around it.
Task Force Co-Chairs will be presenting College Sustainability Information at Fall 2009 Faculty In-service.
Car pooling groups could be established for interested parties.  Enterprise Rent-a-Car offers a WeCar program that would locate hybrid vehicles available for hourly rentals on campus to allow those who pooled or took public transportation to get to meetings off campus with ease.
Environmental Tips could be included in student newsletters, campus newsletters, or on atrium monitors.
Continue to sponsor Webcasts related to Green.