All recyclable materials can now be commingled! When you see a bin that looks like this…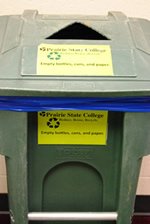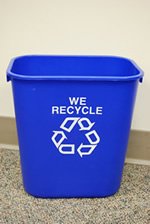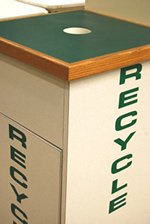 ....The following materials can be placed in these bins:
Acceptable
Paper/Other Fibers
White/colored paper*
Glossy paper
Envelopes
Newspaper
Cardboard*
Boxboard*
Magazines
Junk mail
Post-it notes
Paper bags
Telephone books
File folders
Plastic Containers
Water bottles
Pop bottles
Milk and juice jugs
Yogurt cups
Ketchup bottles
Margarine/butter tubs
Household cleaner bottles
Trays from frozen meals, as long as they
are rinsed and clean
Tin and Aluminum Cans
Glass Bottles and Jars
Clear and colored glass bottles and jars
Unacceptable
Paper/Other Fibers
Carbon paper
Self-stick labels
Gum/candy wrappers
Tissue paper
Waxed paper
Paper cups
Paper towels
Plastic Containers
Take-out containers
Styrofoam
Packing peanuts
CD/DVD covers, etc.
Film plastic such as plastic bags, Saran Wrap, etc.
Plastic silverware


Tin and Aluminum Cans
Glass Bottles and Jars
Flat glass
Light bulbs
Dinnerware
Ceramics
Pyrex
*Please Note: Staples are acceptable. Cardboard can be commingled with the rest of the recyclables or placed beside a recycling bin. Boxes should be broken down.
Confidential papers can be recycled in the paper shredder in the Mail Room and the Shark Shredding bins. The shredder is self-serve. Confidential documents such as tests, student records, and personnel information should be shredded.
Our janitorial team, ABC Janitorial, plays an integral role in helping PSC meet its waste reduction goals. To ensure that the materials get recycled, the janitorial staff uses a dual collection dolly in which trash is placed in one bag, and recycling in another.
Please take a minute to thank the janitorial team when you see them, and do your part as well to help PSC reduce waste!

Questions or suggestions about how to reduce waste at PSC? Contact the Sustainability Center at sustainability@prairiestate.edu.