First-Year Student Orientation
All new Prairie State College (PSC) students are required to attend an orientation session after completing your PSC Admissions Application.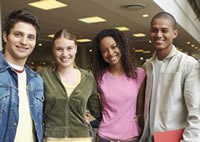 Why should you attend First-Year Student Orientation? Research shows that students who participate in First-Year Student Orientation programs generally perform better academically than those who do not attend. You will be able to eliminate the "I didn't know" factor by exploring and discovering important information about PSC, including what you need to do to succeed and the resources that you can use. The First-Year Student Orientation program at PSC will provide you with the following opportunities and information:
Discover: You will find out what you will need to be successful at PSC. You will discover the expectations your instructors will have and why attending class is critical. What career are you interested in? Are you planning to transfer to a four-year college or university? What courses should you take your first semester?
Explore: You will meet new and current students and others in the PSC community. You will hear about the services we offer, where you can get additional help with your courses, and where you can get your ID and parking pass. You will explore our campus and learn where the Library, Enrollment Services and Financial Aid are located. You also will find out about where you can get scholarship help.
Pioneer: As a new student at PSC, you will become a PSC Pioneer! You will find out about the various opportunities and organizations that await you when you become part of the PSC family.
First-Year Student Orientation currently is a face-to-face presentation. Reserve your spot in the day and time that is most convenient for you filling out the First-Year Student Orientation Registration Form below.
Coming Soon - Online Orientation: Orientation requirement will be able to be completed online. Check back for updated information on this exciting opportunity! Note: In order to have the requirement met through the online viewing, you will need to have your PSC student ID included in your profile.
Questions? Please call the First Year Experience Office at (708) 709-3639 or (708) 709-3622.
Download Orientation dates and times (PDF)
Download New Student Roadmap (PDF).
First-Year Student Orientation Registration Form