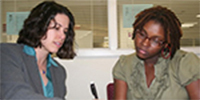 The Prairie State College Counseling and Academic Advising team is your connection to making a successful transfer to a four-year college or university to earn your bachelor's degree.
"All of the counselors and advisors are dedicated to help PSC students on their journey to earning a bachelor's degree. We encourage students to work with the advisor with whom they have the strongest connection."
–Sarah Hein, LPC, Associate Professor, Counselor/Transfer Program.
These pages are intended as resources to help PSC students transfer on for their bachelor's degree. If you are looking for information on how to transfer into PSC, then please visit the Enrollment Services Office web page.