Respect the vest!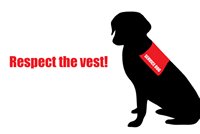 It is against the law to harass a service dog.
First Offense: Class A Misdemeanor
Second Offense: Class 4 Felony
When service dogs are working they wear vests. This means it is not a pet.
Don't touch, talk, feed, or whistle or otherwise distract the dog while she is wearing her vest or harness.
Don't treat the dog as a pet.
Don't speak to the dog.
Don't tease or abuse the dog.
Don't touch the dog.
Service dogs are used for all sorts of reasons. Remember, if they have a vest – don't pet.
---
---
Annual and Past Events
Veterans Day Celebration
Veterans Services Fair
Veterans Stole Ceremony - In recognition of PSC's graduating veterans.
Prairie State College Starts Chapter of SALUTE Veterans National Honor Society
Prairie State College to Receive Grant from Wounded Warrior Project™
About Wounded Warrior Project™: Visit woundedwarriorproject.org.
Women's Social Service Forum and Career Fair
From Boots to Books: Helping Our Veterans Make the Transition to College
VA Launches Personalized Health Benefits Handbook
Veterans and Beneficiaries Receive 2012 Cost of Living Adjustment
Townhall Meetings for Veterans
VA Providing Credit Monitoring to Misidentified Veterans
Chicagoland Regional College Program (CRCP)
Military Appreciation Day