PSC Job Fair Scheduled for Oct. 15 [9/26/14]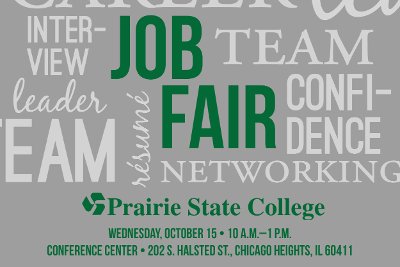 Representatives from companies and institutions from across the metropolitan Chicago area will be recruiting for full-time, part-time and internship positions, ranging from entry level to professional and managerial levels, at the Prairie State College (PSC) annual fall job fair. This year's job fair is being held from 10 a.m. to 1 p.m., Wednesday, Oct. 15, in the PSC Conference Center, located at 202 S. Halsted St., in Chicago Heights.
By attending the PSC job fair, attendees can identify potential jobs, expand networking opportunities, hone interviewing skills, and gather information about companies. Attendees are encouraged to dress in business attire and bring résumés to present to recruiters for open positions.
"Job fairs are one of the most effective ways to land jobs because employers at job fairs are actively hiring," said Tanya Norfleet, coordinator of the Student Career Development Center at PSC. "Attendees should take the time to show employers they are serious, and should treat their time with employers like job interviews."
Among the employers registered to recruit at the event are ABF Freight, Chicago Heights Steel, Crawford Broadcasting Co., Illinois Department of Transportation, Indian Oaks Academy, Kiddie Scholars, ManorCare Health Services, SouthSTAR Services and United States Secret Service. Additional employers may be added, and a full, up-to-date listing is available on the website at prairiestate.edu/jobfair.
The job fair is co-sponsored by PSC, UPS and the Chicagoland Regional College Program (CRCP).
The fair is free and open to the public. For more information, contact Norfleet at (708) 709-3755. Questions also can be sent to careerdevelopment@prairiestate.edu.