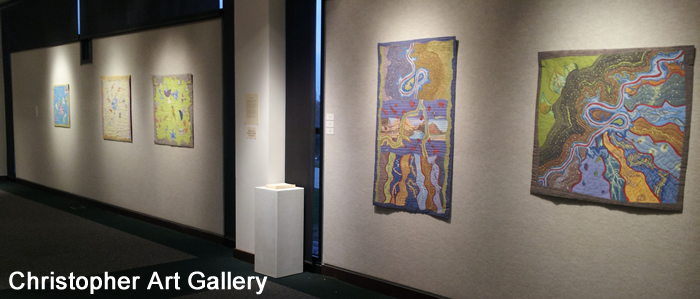 Named for its generous donors, Bob and Marty Christopher, the Christopher Art Gallery is located on the main campus of Prairie State College. The gallery hosts six to eight shows per year, featuring local, regional and national artists, as well as student works. Gallery Director, Beth Shadur, recommends programming and often acts as curator for shows.
Beth Shadur
Christopher Art Gallery Director
Prairie State College
---
Small But Mighty
A juried show of works by 34 artists in various media
Congratulations to the 34 artists whose work was selected to be included in Small But Mighty! These artists had their works chosen from over 310 works.
Julia Oehmke
Levi Sherman
Felicia Preston
Carole Hennessy
Bronwyn Elkuss
Jessica Burke
Marie Burke
Ben Tyjeski
Jane Ellefson
Lisa Goesling
Deb Flagel
Brian Huber
Bruce Thorn
David Daruszka
Gail Baar
Marcia Babler
Rus Revock
Kathy B. Roman
Shelley Gilchrist
Judy L. Shechter/ David Shechter
Laura Fantini
Greg Thatcher
Dan Addington
Alicia F. Boehm
Jim Davis
A. Dieffenbach
Jacob H. Miller
Karen Ackoff
Laurel Izard
Yvette K. Smith
Monique Perry
Axelle Kieffer

Picture: The Habitats of Simulcra by Russ Revock
Exhibiting:
Jan. 3 - 26, 2017
Reception:
Thursday, Jan. 12
4:30 - 7 p.m.



Christopher Art Gallery Regular Hours:
Monday through Thursday: 9 a.m. - 3 p.m.
Wednesday and Thursday: Evening 5 - 7 p.m.
By appointment, phone (708) 709-3636