RSVP for 20th Anniversary of Christopher Art Gallery
Artists!
Please note that the Christopher Art Gallery will present a juried small works exhibition, Small But Mighty, in January 2017. The show will be juried by Chicago gallerist and dealer Aron Packer, and will feature works no larger than 24" on any side. Deadline is October 15 for entries. Download now:
Prospectus
Entry Form

Note: If the pdf document does not open, update Adobe Reader or change your browser settings.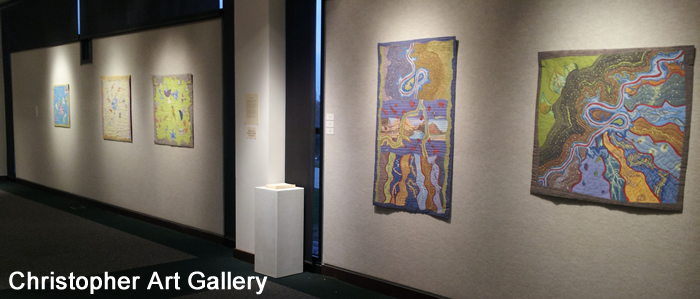 Named for its generous donors, Bob and Marty Christopher, the Christopher Art Gallery is located on the main campus of Prairie State College. The gallery hosts six to eight shows per year, featuring local, regional and national artists, as well as student works. Gallery Director, Beth Shadur, recommends programming and often acts as curator for shows.
Beth Shadur
Christopher Art Gallery Director
Prairie State College
---
Sister City Exhibition, Odwindifuor Expressions:
works from Ghana, West Africa
Featured works by artists and artisans from Aburi in the Eastern Region of Ghana, Africa.
Works include wood carvings, masks, textiles and beaded jewelry.
Exhibiting:
Sept. 26 - Oct. 27, 2016
Reception:
Thursday, Sept. 29
4:30 - 7 p.m.
Gallery Guide
Langa Lapu Slideshow Array

African Print from African Fabric House

African Fabric
Christopher Art Gallery Regular Hours:
Monday through Thursday: 9 a.m. - 3 p.m.
Wednesday and Thursday: Evening 5 - 7 p.m.
By appointment, phone (708) 709-3636
---
RSVP below for the reception to the
20th Anniversary of the Christopher Art Gallery
and
the unveiling of the
E. Timothy Lightfield Hall of Honor
Thursday, September 29, at 4:30 to 7 p.m.