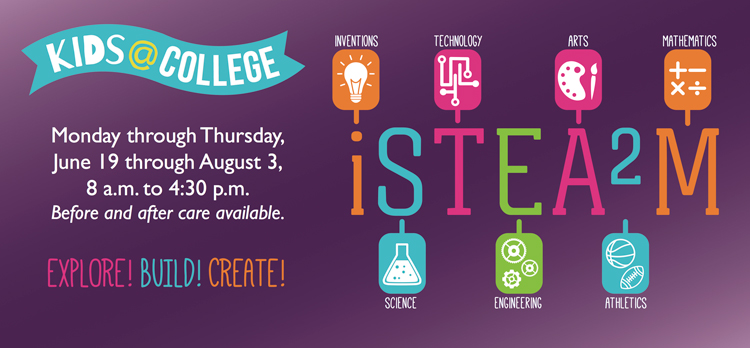 EXPLORE! BUILD! CREATE!
PSC offers weekly programs to enhance the problem solving skills of your curious explorers (grades K-6) using fun, hands-on, STEAM based activities. Each week includes different science, technology, engineering, art, math and team building activities. Additional weeks include inventions, performing arts, and athletics. Sign up for the weeks that fit your child's schedule. Half and Full day options (morning 8:00 a.m.- 12:00 p.m. and afternoon 12:30- 4:30 p.m.) are available. Children will be grouped by appropriate age (5 to 12 years of age) and grade levels (K-6).
iSTEA2M
June 19-22: Inventions
June 26-29: Science
July 5-6: Athletics
July 10-13: Technology
July 17-20: Engineering
July 24-27: Arts
July 31- Aug. 3: Mathematics
à la carte Summer Courses
In addition to the full and half-day iSTEA2M options, PSC is offering à la carte one-day courses with a variety of classes to choose from, including game design, digital filmmaking, Spanish and more. For more information, download the book above.
Also, new this summer is Prairie State Star Studded Theatre (PSST), a two-week drama camp. The theme is "Follow the Yellow Brick Road" and students will participate in an original performance on June 22. The cost is $199 and will be held at the main campus, located at 202 S. Halsted St. in Chicago Heights.