Mark Hernandez
Head Coach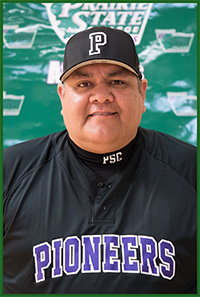 At each and every stop along Mark Hernandez's collegiate baseball coaching odyssey, scholastic success, accountability and a winning culture have always been the foundation of his philosophy as both a mentor and educator.
Hernandez brought those same beliefs and values with him as he entered his inaugural campaign at the helm of the Prairie State College baseball program in 2015.
A seasoned veteran of junior college baseball, Hernandez came to PSC after spending parts of the last 20 seasons as the top assistant on legendary Waubonsee Community College head coach Dave Randall's staff.
At Waubonsee, Hernandez was instrumental in the Chiefs attaining monumental levels of success. During his time in Sugar Grove, Waubonsee went to the NJCAA Division III World Series four times, the latest resulting in a fourth-place finish at this season's tournament.
Waubonsee has also won four Illinois Skyway Collegiate Conference titles during Hernandez's various tours of duty. The Chiefs' 2014 club recorded a program-best 39 wins.
"I am forever grateful to have my mentor, Dave Randall, in my life," Hernandez said. "Coach Randall is a distinguished NJCAA administrator and recently retired 37-year head baseball coach at Waubonsee. Coach Randall is a consummate professional, pillar in the community, and respected hall of fame coach.
"I was privileged to have the opportunity to witness how a championship program is managed both on and off the field."
In addition to his work at Waubonsee, Hernandez has also held down assistant coaching positions at two of his alma maters , serving as an assistant on the staff of the now-defunct program at Northeastern Illinois University (1990-91) as well as Elgin Community College (1992).
Hernandez also served as the head coach at Harper College in 2007 and as the pitching and third base coach for the Rockford Foresters of the Midwest Collegiate League in 2010-11.
Hernandez has built a strong reputation as a one-on-one instructor as well, working as the director and owner of SSTC Baseball Training in St. Charles since 2001. He also owns and operates Skull Sessions Training Club, a sport specific baseball training academy, geared toward youth through high school aged players.
Overwhelming success as a player hasn't escaped Hernandez either. A native of Moline, Hernandez moved to Marshalltown, Iowa as a youngster and eventually went on to help Marshalltown High School claim the 1985 Iowa Class 4A state championship. A standout first baseman and pitcher for Iowa High School Baseball Coaches Association Hall of Famer Brad Clement, Hernandez played his senior year at St. Charles East High School in St. Charles, Illinois.
While with the Saints, Hernandez found his name atop the Chicago Sun-Time's list of top first baseman and was a unanimous All-Upstate Eight selection.
Slowed, but most certainly not stopped, by a myriad of injuries early in his collegiate career, Hernandez persevered, leaving NJCAA powerhouse Triton College to continue his playing days at Elgin Community College.
As a Spartan, the left-handed hitting Hernandez swung his way to a .507 batting average as one of the nation's top hitters. He also locked down the Illinois Skyway Collegiate Conference batting title with a .477 average in league contests.
In the wake of his outstanding achievements at Elgin, Hernandez then moved on to the NCAA Division I level, accepting both an academic and athletic scholarship to Northeastern Illinois. Hernandez graduated from Northeastern with a bachelor's degree in fitness and wellness. He then went on to attain a master's degree in business administration from Olivet Nazarene University.
Hernandez also has an extensive background in tech sales, working for various companies in that industry as both a sales representative and territory manager.
Jeff Marcley
Assistant Coach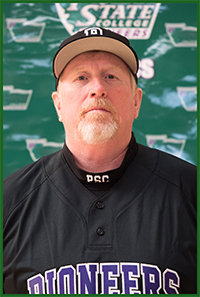 When Prairie State College baseball coach Mark Hernandez took the reigns of the PSC program in the summer of 2014, he didn't have to search long or far to find his "right-hand man."
Jeff Marcley carries a wealth of baseball experience with him into his second season with the Pioneers and will once again serve as Hernandez's top assistant in 2016.
Marcley, like Hernandez, came to PSC following a ten-year stint with the highly-successful program at Waubonsee Community College in Sugar Grove.
In his first season in Chicago Heights, Marcley's expertise as an elite-level hitting instructor was put on full display thanks in part to an outstanding season turned in by freshman designated hitter Devin Bafia. The left-handed hitting Bafia swung his way to the tenth-best batting average in America (.455).
In addition to holding a position on the Chiefs' coaching staff, Marcley also donned the Waubonsee uniform as a player. A third baseman for legendary Chiefs head coach Bill Prince, Marcley contributed heavily to the school's 1975 baseball squad, which claimed the program's first Illinois Skyway Collegiate Conference championship and was inducted into the Waubonsee Hall of Fame in 2011.
In his time as a coach at Waubonsee, Marcley played a critical role in the Chiefs' success, helping guide the program to three NJCAA Division III World Series berths in the last five years. The Chiefs also have claimed three of the last five Skyway Conference championships.
Marcley, one of the region's most well-respected catching instructors, also played one season at Carthage College in Kenosha, Wisconsin before moving on to Western Michigan University.
Unfortunately, a myriad of injuries eventually derailed Marcley's career with the Bronco's, ending his collegiate playing days prematurely. He graduated from the Kalamazoo-based school with degrees in both Petroleum Marketing and Business.
A 1973 graduate of Aurora West High School, Marcley was a three-sport standout for the Blackhawks, excelling on the baseball diamond, basketball court and cross country course. Marcley manned the hot corner for West's 1973 club, which finished third at the IHSA state tournament.
A well-rounded athlete, Marcley played high-level competitive travel racquetball for a number of years as well, showcasing his skills in the A-Open, the highest level of team racquetball.
Marcley enjoyed an 18-year semi-pro baseball playing career while coaching at the American Legion level for much of that same time. He also spent eight years as a manager, Traveling Coordinator and member of the Board of Directors for the North Aurora Baseball Association.
Marcley resides in Millbrook with his wife, Lauren. They have three sons (Matt, Ryan and Adam).
Jeff Pintoran
Assistant Coach