Mike Manderino
Head Coach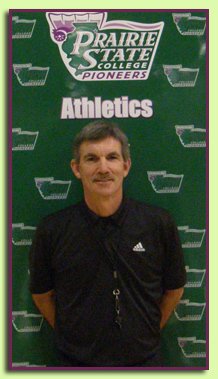 Since joining the coaching profession over 30 years ago, Mike Manderino has assembled an impressive run at both the collegiate and high school levels.
Manderino, now in his ninth season as the head coach of the Prairie State College men's basketball team, took his first post at his alma mater, Mendel Catholic High School in Chicago, in 1976. He was an assistant with the Monarchs for eight years, including the 1981-82 campaign when they took second in the Class AA state tournament (lost to East St. Louis Lincoln) after putting an end to Quincy's 64-game winning streak in the semifinals.
In 1984, Manderino was elevated to head coach at Mendel, which later changed its name to St. Martin de Porres. His 1991 and 1994 teams both advanced to the Class A state tournament. The 1994 team also won the Chicago Catholic League title and was led by Jerry Gee, the recipient of the state's Mr. Basketball Award, who went on to star at the University of Illinois.
Manderino's success then carried over to Leo High School as he won the Catholic League crown in each of his three seasons there beginning in 1997-98. His inaugural team also advanced to the Class A state tournament, where it took fourth place. While at Leo, Manderino coached Andre Brown, a future standout at DePaul University who went on to play in the NBA.
After departing Leo in 2000, Manderino served as an assistant coach at South Suburban College for four seasons before taking over the Prairie State program in 2004-05. In his five seasons at PSC, Manderino has a 68-84 record. His 19-12 finish in 2007-08 marks his best showing with the Pioneers.
Along with basketball, Manderino also has been a successful high school baseball coach. He was the varsity head coach at Mendel (St. Martin de Porres) from the spring of 1977 until 1997. After being named head basketball coach at Leo, Manderino took over the head coaching duties of the Thornridge High School baseball team in 1998.
Manderino continues to coach baseball at Thornridge in addition to teaching in the school's special education department.
For his coaching accomplishments, Manderino was named as the Catholic League's basketball Coach of the Year in 1994 and 2000 and the baseball Coach of the Year in 1985. In 2001 and 2008, the Northwest Indiana Times chose Manderino as its baseball Coach of the Year.
Manderino also found success as an athlete, earning all-conference honors in basketball and baseball at Mendel, where he graduated in 1970. His achievements as a player and coach earned him a spot in the Chicago Catholic League Hall of Fame.
After completing his prep career at Mendel, Manderino attended Lewis College (now Lewis University) and was a standout on both the basketball court and baseball field.
As a senior captain on the 1974 baseball team, Manderino, a second baseman, helped the Flyers capture the NAIA national championship. Furthermore, he collected a pair of Defensive Player of the Year awards from the basketball team.
Manderino continued his baseball career with the Cleveland Indians organization as he played three years (1975-77) in its minor-league system.
Manderino and his wife, Therese, live in Glenwood.
Mike Flaherty
Assistant Coach
Carey O'Donnell
Assistant Coach