Dawn Barnes
Head Volleyball Coach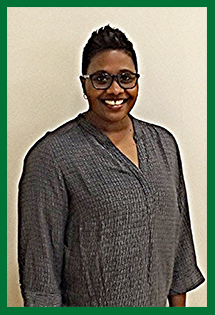 Dawn Barnes brings a wealth of high-level volleyball expertise and knowledge on board with her as she enters her first season at the helm of the Prairie State College volleyball program in 2016.
Barnes comes to PSC from Chicago State University, where she spent three seasons on the Cougars' coaching staff. She served as the interim head coach for CSU in 2014 as it won its first home tournament in the program's Division I history and produced 10 Academic All-WAC selections.

Barnes was a volunteer assistant coach at George Mason in 2012. She assisted with coaching and game planning for the Patriots.

Before her time with George Mason, Barnes was the head coach of Howard for two seasons. She coached three all-MEAC selections and five All-Academic selections. Her team maintained an Academic Performance Rate of 979. She developed the Howard Volleyball Camps.

Barnes worked at the University of Pittsburgh in 2009 while serving as a volunteer assistant coach. She helped the Panthers to a 20-11 overall mark, including a school-record 12 wins in BIG EAST conference play. She coached the BIG EAST Player of the Year, Libero of the Year and Scholar Athlete of the Year. She was responsible for technical team practice coordination and match preparation. Barnes also has collegiate coaching experience at Vassar, Eastern Kentucky, and Augustana College.

Barnes is very active with the USA High Performance tryouts, developmental camps and clinics at various locations throughout the nation. She has previously worked camps at Butler and Purdue Universities.

Barnes has extensive experience with several volleyball clubs, having spent the last three seasons coaching with Michio Chicago Volleyball Academy. She previously served as the Director of Recruiting at the NVVA Club in Sterling, Va. and also has experience with Metro American, Select and Pittsburgh Elite volleyball clubs.

Barnes is a 1993 graduate of Teikyo Marycrest University, where she earned a bachelor of arts degree in psychology while playing four years of varsity volleyball, earning All-Conference and All-Region honors.