Smoke/Tobacco Free at PSC, It's a Healthy Place to Be!
Effective July 1, 2015 tobacco products will be prohibited on campus. (Smoking will be allowed inside vehicles in parking lots).
Resources for Smoking Cessation
American Heart Association 1-800-242-8721
American Lung Association 1-800-586-4872
Contact the main number at 800-CDC-INFO (800-232-4636) or visit www.cdc.gov/tobacco/about/osh/index.htm.
Centers for Disease Control Office of Smoking and health 1-866-784-8937
Illinois Tobacco Quit-line 1-866-784-8937
For PSC Benefited Employees
Employee Assistance Program (LEAP)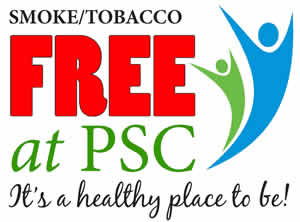 In compliance with Illinois State Law, a policy has been adopted making PSC a 100% smoke/tobacco free campus effective July 1, 2015. The use of tobacco products is prohibited from all college buildings, on college grounds including parking lots, and in college vehicles. Use of tobacco in personal vehicles is permitted.
Download the policy to view in its entirety.
Enforcement
Police Department will monitor the College to ensure compliance with the Smoke Free Campus Act (110 ILCS 64) and PSC Board Policy C-11. At the discretion of Police Department Officers, citations will be given as follows:
1st offense: $25.00 fine or participation in tobacco use cessation class
2nd offense: $25.00 fine
3rd offense and each offense thereafter: $50 fine
In compliance with the Smoke Free Illinois Act (410 ILCS 82), persons who smoke within 15 feet of any entrance or inside any building or college-owned vehicle may be fined in an amount that is $100 for a first offense and $250 for each subsequent offense.