Log in to Desire2Learn (D2L)
Login to D2L to by navigating to the PSC D2L website: https://prairiestate.desire2learn.com.
You can also click the D2L link from the PSC Website Homepage: https://prairiestate.edu.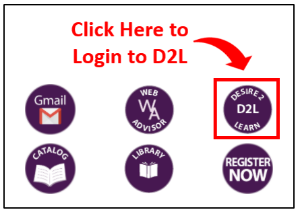 Sign in to D2L using your PSC Email Address (including @students.prairiestate.edu) and Password.
If you forgot your password or need to reset it, contact the PSC Help Desk at HelpDesk@prairiestate.edu or (708) 709-7999.
---
Find Your Course on D2L
Once you login to D2L, click the Course Selector icon at the top of the screen. You courses will be displayed in a drop-down list. (Courses do not become available on D2L until the first day of class.)
If you need help with D2L, please read the totorials on this page before contacting the Help Desk. You can contact PSC Help Desk for troubleshooting and additional support at:
---
D2L Tutorials for Students
Please click on the following buttons to read instructions on how to use common features on D2L.
---
Problems/Questions
If you are having problems logging in to D2L, or if you need additional support or information on how to use D2L, please contact the PSC Help Desk at: