Two Awarded Tenure at Prairie State College [04/22/2020]
Prairie State College (PSC) recently announced that two faculty members had met the college's expectations for tenure, including commitment to student success, collaboration with their peers and dedication to the college's mission and core values. The Board of Trustees approved the tenure recommendations during its February 2020 meeting. Receiving tenure, effective August 2020, are Brianna Abaté, assistant professor of communication, and Kathleen Karwoski, assistant professor of dental hygiene.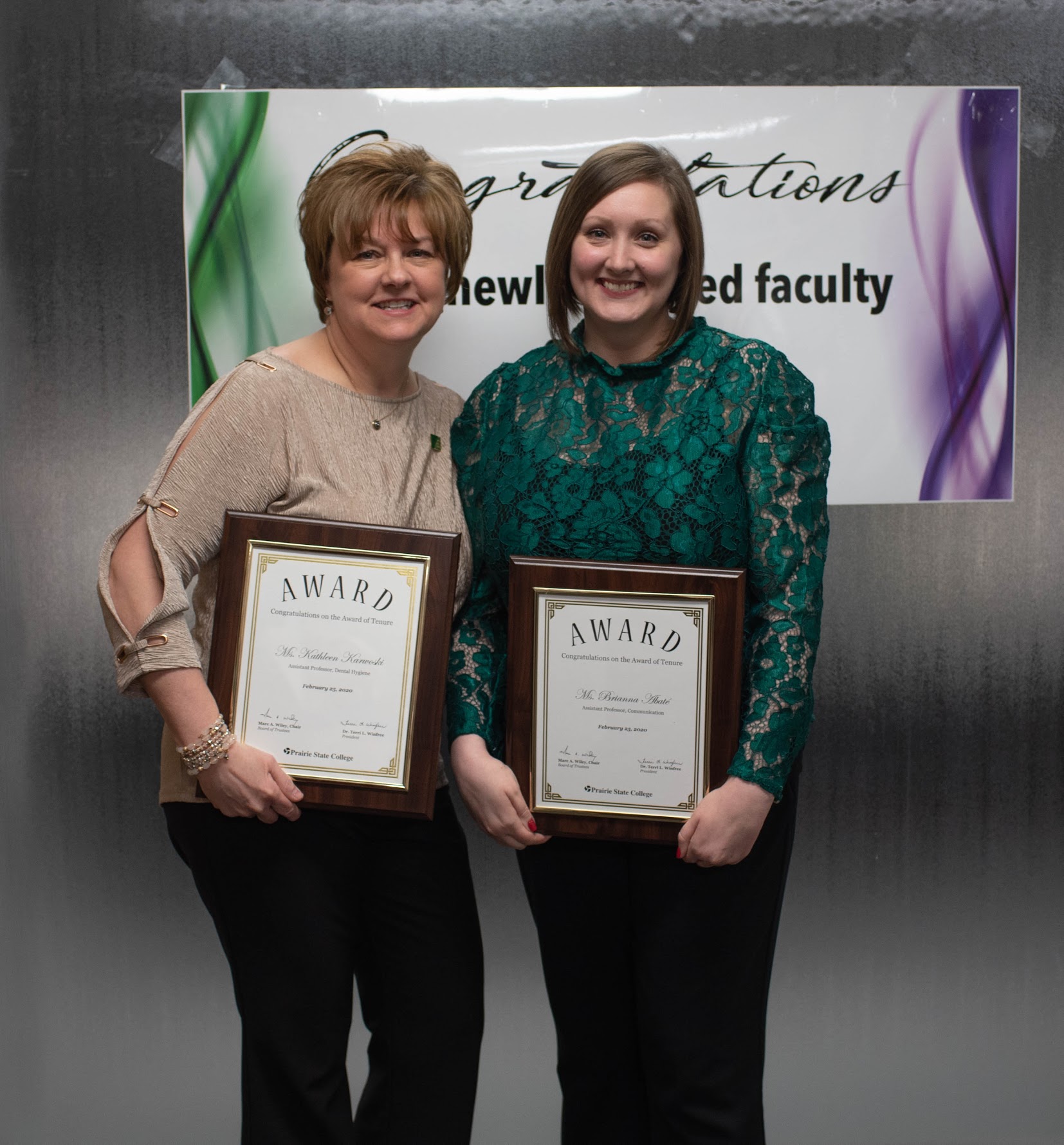 Abaté joined the PSC full-time faculty in 2017. Before coming to PSC, she had served as an adjunct instructor with both City Colleges of Chicago and Northwestern State University. Prior to that, Abaté was an assistant professor and director of forensics for Joliet Junior College. Abaté also has served on the adjunct faculty teaching communications for the International Academy of Design and Technology, Tribeca Flashpoint Academy and Rasmussen College, as well as serving as a visiting professor of communication at Miami University – Hamilton. She held a variety of communication roles prior to becoming a faculty member, including as a forensics coach/judge for West Chicago High School, a campaign consultant, campaign manager and director of communications for a congressional candidate in Ohio's 6th District, an event coordinator for the Metropolitan Forensics Institute at Seton Hall University, a freelance editor, and graduate teaching assistant. She also served as an assistant coach for individual events and media relations for the Speech and Debate Team at Miami University in Ohio. Abaté also is the founder and managing director for a communications consulting firm, Morninghouse Communications, which she maintained until 2017. At PSC, she serves on the Faculty Development Committee, the Professional Development Day Committee and the Planning and Quality Improvement Committee. She is a member of the International Thespian Society, Phi Rho Pi National Forensics Honor Society, Mortar Board National Honor Society, National Communication Association, Central States Communication Association, Eastern Communication Association, Rhetoric Society of America and Illinois Communication and Theatre Association. Abate holds an A.A. degree in general studies from College of DuPage in Glen Ellyn, a B.S. in communication from Bradley University in Peoria and an M.A. in speech communication from Miami University.
Karwoski joined the PSC dental hygiene faculty in 2000 as an adjunct professor and transitioned to full-time faculty in 2017. She also serves as the department chair for dental hygiene at the college. While serving as an adjunct faculty member at PSC, Karwoski also served as an adjunct faculty member in Fundamentals of Communication at Moraine Valley Community College, CEO of dental employment service and a continuing education provider for Dental Personnel Placement Service, Inc. in Oak Forest. Karwoski also has served as a seminar developer and speaker for Proctor & Gamble in Cincinnati, Ohio, and as a practicing dental hygienist and dental assistant in area dental offices. She holds certifications in OSHA and HIPPA Compliance, Preventing Harassment & Sexual Violence, FERPA, and Online/Hybrid Teaching, as well as a Local Anesthetic Certificate, National Board Certification, and North East Regional Board Certification. Karwoski created the Dental Personnel Placement Service, a temporary and permanent placement service for auxiliary dental staffing; and has coordinated dental seminars for more than 200 professionals bi-annually. Among her volunteer activities, Karwoski has provided dental service for pediatric patients through Healthy Smiles, participated in fundraising efforts for St. Jude's Research Hospital, and volunteered with Special Olympics, Peoples Animal Welfare Society, Tender Loving Care Animal Shelter, Smiles from the Heart, and Misericordia. Karwoski also has served on dental committees for Proctor & Gamble, 3M, and Phillips, and served on the board for the Illinois State Dental Society for Allied Dental Personnel and the 3M Council for Innovative Dental Hygiene. She holds a A.S. degree in dental hygiene from PSC and a B.A. and M.A. in communications from Governors State University.
Vice President of Academic Affairs and Dean of Faculty Dr. Marie Hansel says Abaté and Karwoski were selected from a highly qualified pool of candidates during the hiring process, and were mentored and tested to fitness by the tenure process, which includes review by a peer committee of tenured faculty, student evaluations and deans' reviews, and classroom observation. Prior to being awarded tenure, the faculty candidates also prepared an extensive teaching portfolio.
"PSC only tenures outstanding and exceptional faculty members because of our tenure process," Hansel said. "Among community colleges, the PSC tenure process is gold standard. I am very proud of the achievement of tenure by these faculty members," she added.
PSC Interim President Dr. Thomas D. Saban said, "I am pleased to congratulate these two excellent faculty members as they join the tenure ranks at Prairie State College. Our students will benefit greatly by learning from these highly esteemed professors."