Prairie State College Announces Dean's List for Fall 2021 [04/05/2022]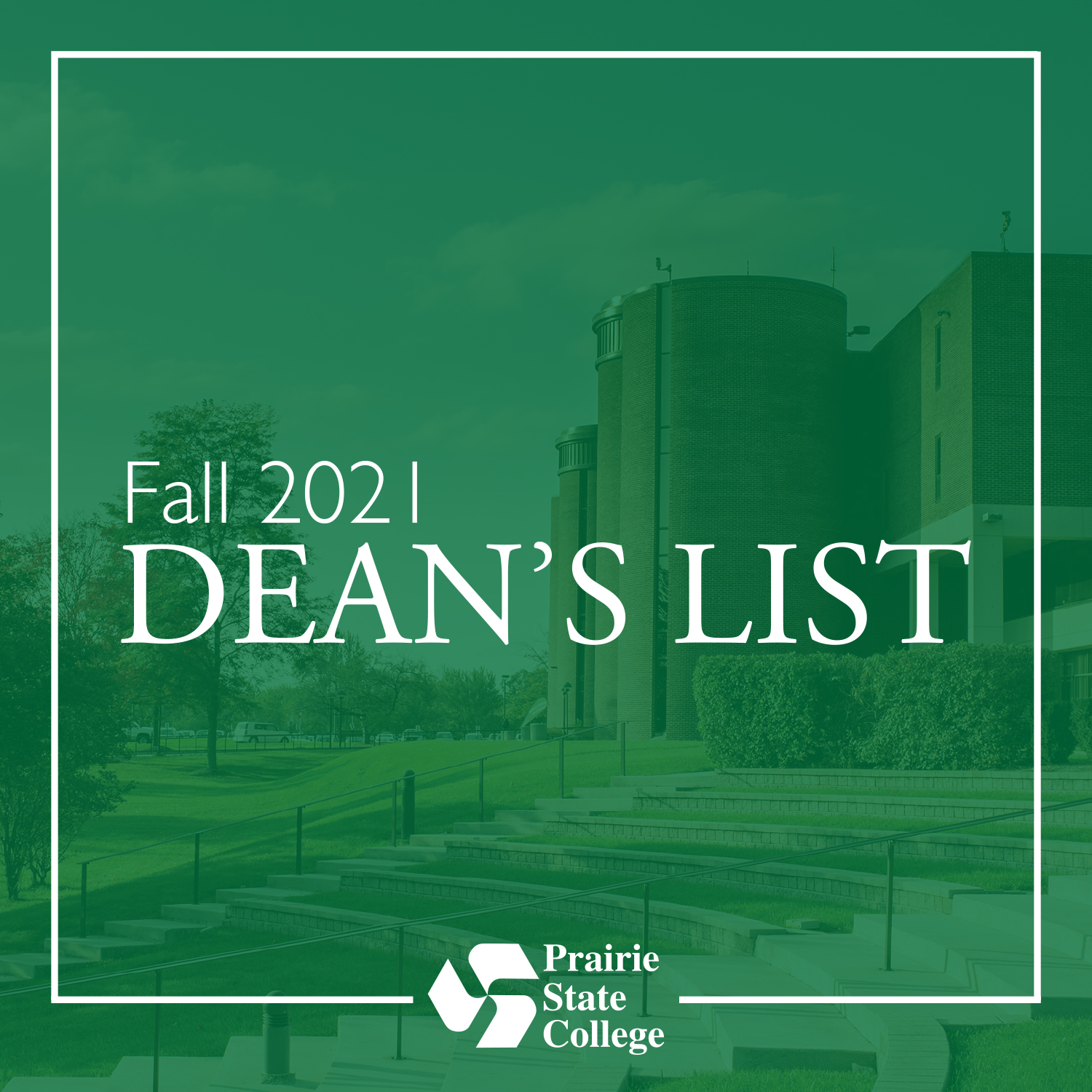 Prairie State College Announces Dean's List for Fall 2021
Each semester, Prairie State College (PSC) recognizes the outstanding academic accomplishments of students by awarding them a place on the PSC Dean's List.
To be named to the dean's list, students must have a semester grade point average (GPA) of 3.75 or better, have completed a minimum of 12 credit hours at PSC during the spring semester, and have a cumulative GPA of 3.5 or better on a 4.0 scale.
Students on the Dean's List have earned 12 or more credit hours at Prairie State College with a term GPA of 3.75 or above in fall 2021, and maintained a cumulative GPA of 3.5 or above.
The following students have earned a spot on the Fall 2021 PSC Dean's List:
Illinois
Beecher

Autumn Paige Brys

Dalton D Rath

Tiffany Steadman

Karina Maldonado
Bourbonnais

Calumet City

Jose Contreras

Erica Michelle Ogletree
Channahon

Chicago Heights

Stephanie Esquivel

Abril Yahve Victoria Eu Garcia Linez

Andrea Alexandria Hampton

Rachael Zifang Kapocius

Mia A Knott

Hesley F Masara

Myriam N Opicho

Annamarie T Piattoni

Daniel Pulido

Lorena Reyes

Martin Reyes

Nazario Sanchez-Castillo

Mun Thang Thawng

Helen Valadez
Chicago

Chido Chimbetete

Ngozi Philomina Ebitea
Country Club Hills

Tiffany R Waters

Morgan Olivia White
Crete

Sarah Alilovich

Kelcee Grace Berkley

Damaris Jaheim Ford

Paul Willi Muehlberg

Kaeli Alexis Rinken

Brooklyn Kennedy Spencer
Flossmoor
Ford Heights
Frankfort
Glenwood
Morgan Baccio Fernando Rashed Bayoumi

Denise Soto
Hammond

Julia Porciuncula Segatto
Harvey
Homer Glen

Homewood

Claudia Angelica Aguilar

Ugochukwu Uchenna Alozie

Mariela Angulo

Abdul Olanrewaju Fashina

Grace Julia Gallus

Nicholas Paul Hardison

Sophie Marie Kapica

Duncan T Moss

Kayla A Polk

Myles Prado

Natalie Rodriguez

Alex Renee Szczender
Lansing

Lynwood

Mokena

Monee

Ryan G Allen

Izabella Marie Angulo

Gabriel Josiah Carlson

Jesse Didomizio

Kaitlyn E Murphy

Jacob Tyler Walsh
Oak Lawn

Olympia Fields

Park Forest

Rebbie E Davis

Melissa Manning

Erick Eduardo Manzano Gonzalez

Shayla Keala Martinez

Kae Cymone Thompson

Casmir Ndubuisi Uzoma
Richton Park

Mekhi Alonzo Green

Taylor T Parks

Shawn T Townsel
Sauk Village

South Chicago Heights

Alondra Yasmin Hernandez

David Silvio Piattoni
Steger

Maria Yoselin Bernal

Daysia Leann Williamson
Summit

Thornton
University Park

Khairat Ayomide Akinlade

Charity Martiese Wiley

Destini Nicole Wilson
Indiana
Crown Point

Michael J. Eubanks

Mariana G Serratos
Lowell

Saint John