PSC Names Dr. Michael D. Anthony VP of Student Affairs and Institutional Effectiveness [06/20/2019]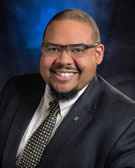 Prairie State College (PSC) recently announced the appointment of Dr. Michael D. Anthony as vice president of student affairs and institutional effectiveness for the college. Anthony's appointment was approved by the PSC Board of Trustees during a special meeting in early June 2019. He will officially arrive on campus on July 15.
In the role, Anthony will serve as the chief student services officer of the college, and provide leadership, strategic planning, administrative direction and evaluation in the areas of enrollment services, financial aid, academic advising, student recruitment, student life, veterans' affairs, TRIO programs, institutional research, disability services, institutional effectiveness, planning and accreditation, first-year experience and athletics.
Anthony comes to PSC from Rochester Community and Technical College in Minnesota, where he has served as vice president of student affairs and enrollment management since July 2016. He had previously served as the assistant vice president for student affairs and chief diversity officer for Oakton Community College in Des Plaines, Ill.
Anthony has worked in higher education since he began serving as a resident director with the Office of Housing & Residence Life at the University of Louisville (UofL) in Kentucky in 2003. At UofL, he also served as coordinator for the Office of Civic Engagement, Leadership and Service until 2008, when he was named director of the Cultural Center. He served in that role until the end of 2012, before accepting his role at Oakton.
Anthony is a peer reviewer for Open and Standard Pathways with the Higher Learning Commission, participated in the Minnesota State Executive Leadership Development Program, and is a member of the American Student Government Association, Alpha Phi Alpha Fraternity, Inc., the American Association of Community Colleges, the American College Personnel Association, College Student Educators International, the Association of Student Conduct Administrators, and the National Association of Student Personnel Administrators (NASPA) Among his recent leadership activities, Anthony will serve as chair of NASPA Region IV-East Conference in 2020. He has served in a number of leadership roles within NASPA over the last several years. He also recently served on the Minnesota State Academic and Student Affairs Advisory Council and the Minnesota State Student Affairs Council.
Anthony has a B.S. in business management with a concentration in marketing from North Carolina State University in Raleigh, and a M.A. in higher education and Ph.D. in educational leadership and organization development from UofL.
"We are excited to welcome Dr. Anthony to PSC," said PSC President Dr. Terri L. Winfree. "His higher education experience and enthusiasm for helping our students achieve their academic goals will be a valuable asset to the college and our community."