Four New Pieces Added to PSC Board of Trustees Student Art Collection [1/15/15]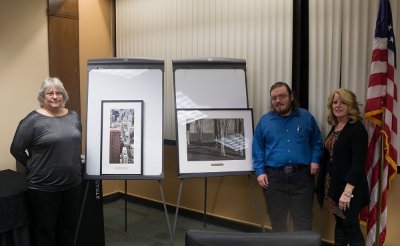 The Prairie State College (PSC) Board of Trustees recently added four student art works to the Student Art Collection. The works were selected from the 2014 Photographer of the Year and Student Exhibition and the Graduate Students Exhibition.
Daniel Lagor's work is a charcoal drawing, "Untitled 2003." Lagor is an aspiring writer, and took two drawing classes last year to help him visualize narrative scenes. The piece grew out of a final project where students were asked to research the work of several 20th century artists to learn more about visual elements and personal expression
Carol Rose's photograph, "Michigan Avenue," also was selected. Rose was the 2014 Photographer of the Year. During the 2014 exhibition, her work featured architectural panoramas that immerse the viewer in the urban environment. In the spring semester, Rose is studying photography and fine art in Salzburg, Austria.
Also selected was Josh Joyce's large scale print, "Self Portrait: The Real Me." The piece emerged from a series of digital self portraits. Joyce studied multimedia at PSC, and plans to pursue a bachelor's degree in fine arts at Columbia College next fall.
Irene Ganas' digital print, "Spring Storm," also was selected. Ganas is a continuing student in photography. Her photography reflects her love of travel and nature, as well as her ability to observe and preserve a moment.
Established in September 2008 by the Board of Trustees, the collection features student artwork, and is exhibited in prominent places throughout campus. The collection now includes 25 pieces of art.
Art Professor Paul Rinaldi said, "We are very proud of the high level work our students are creating here at PSC. The new photograph, prints and drawing are a testament to
these students' creativity and personal vision. This collection provides a wonderful opportunity for the college to collect and display such powerful works, contributing in a major way to the cultural presence in our community."