Welding Course at Prairie State College Gives Area Artists Creative Inspiration [3/18/15]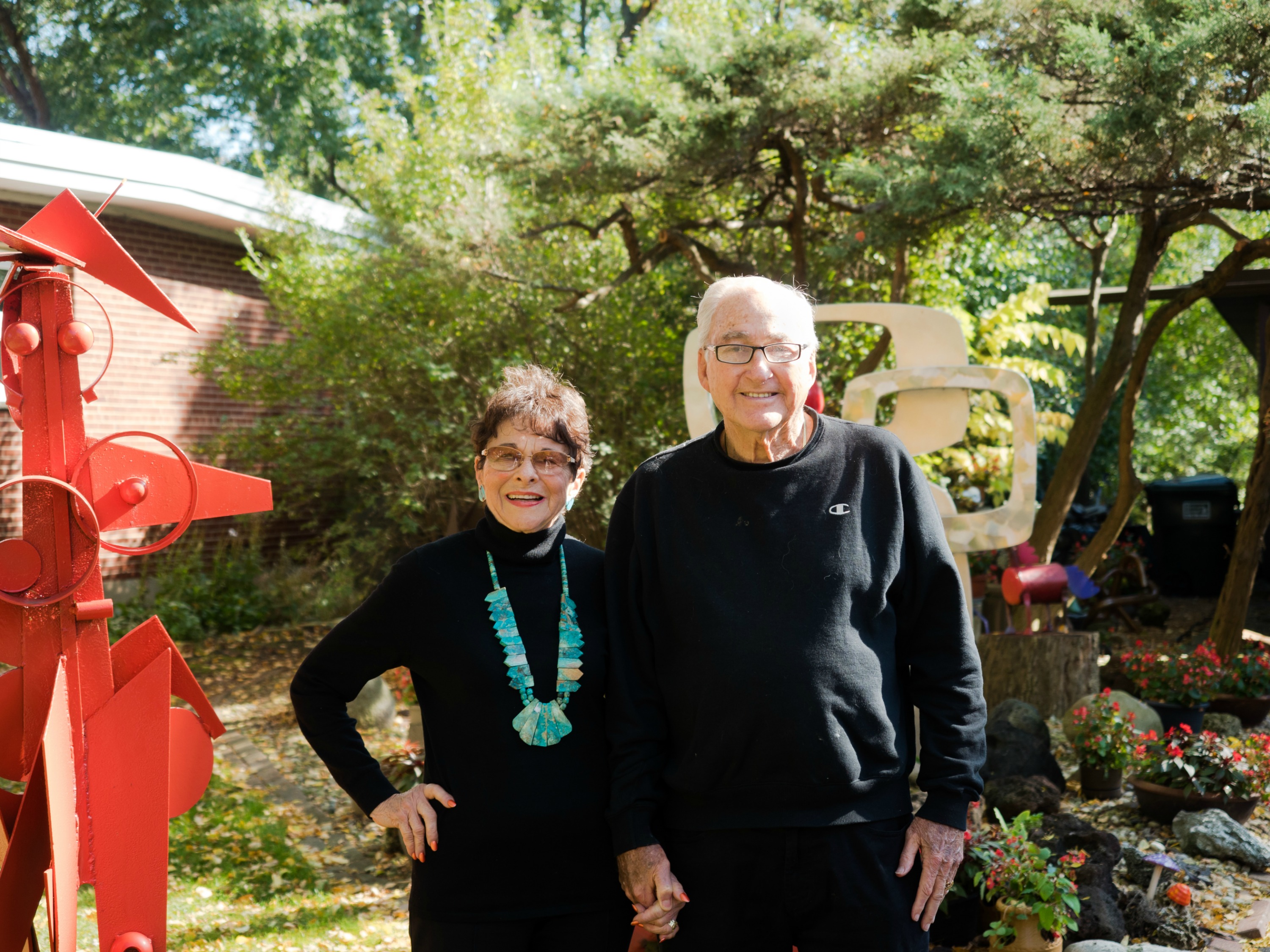 When artist and former art teacher, Charlene Stiglitz-Gordon, saw that Prairie State College (PSC) was offering welding classes more than 40 years ago, she jumped at the chance to take a course. She, along with her husband, Dr. Murray Gordon, have not missed a semester of classes since. Unlike many of the other students in the class, the Gordons' motivation for taking the courses are purely creative.
"While many of the students in the welding classes are learning how to weld so they can do their job, we are interested in taking the course for art," Stiglitz-Gordon said.
The fruits of their labor can be seen throughout their Flossmoor home, with some of the pieces prominently displayed in their front and back yard. Much of the skills they have learned in the 40 plus years of welding classwork at PSC are reflected in the many sculptures that adorn their home.
Art has been Stiglitz-Gordon's passion for most of her life. As an artist, she has sold more than 600 pieces. She also had been an art teacher for many years. After leaving the classroom, she started her own art school, and at one time had 92 students per week that she taught in their home.
Dr. Gordon, however, says that his creativity was obtained "by osmosis," as he had no history of working in art, but over time became creative on his own. He is a recently retired surgeon, whose interest in art blossomed during the welding courses he took with his wife. The two make a great team. "Four hands are so much better than two," Stiglitz-Gordon said. "We often work together on a piece." In fact, in 2001, the work of the couple was on display right on the PSC campus in the Christopher Art Gallery during their joint exhibit, "Creations & Collaborations of Charlene Stiglitz-Gordon and Murray Gordon."
The pieces they've created vary in size as well as material. Each piece is made of found pieces that are put together. For instance, some of the pieces are created using surgical instruments. "At the hospital, all the nurses know I do this, and for the last 15-plus years, they have saved every broken, obsolete or dull surgical instrument, and passed them on to me," said Gordon. And, when the hospital where he worked was being enlarged, Gordon brought home some of the unnecessary materials from demolition, included large distribution chutes, which are now part of an impressive sculpture in their back yard. "We are only as good as the materials we can find," said Stiglitz-Gordon.
The couple's works do seem to have some common themes, including family, city life and architecture.
"She has an imagination that is beyond control," said Gordon.
Additionally, Stiglitz-Gordon was chosen by the Mayor of Flossmoor to sit on a commission to choose outdoor sculptures displayed throughout the village. She is the longest sitting member on the commission.
The Gordons plan to continue attending PSC. While they do have some capability of welding at home, they say they still need the PSC facilities for some of the larger pieces.
Additionally, they added, they are happy to continue coming to campus.
"Prairie State College is just a wonderful place," said Stiglitz-Gordon. It's wonderful to see so many people learning and developing their skills. We are very lucky to have such a terrific facility in our neighborhood."