Student Government President at PSC Honored With Scholarship Award [3/6/15]
Prairie State College (PSC) student Emmanuel Lopez recently was named one of only 20 high school and college students to receive the Ford Blue Oval Scholars Dr. Juan Andrade Scholarship for Young Hispanic Leaders.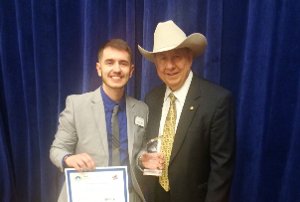 Lopez was presented his award during the recent United States Hispanic Leadership Institute (USHLI) 33rd Annual National Conference, held at the Sheraton Chicago Hotel & Towers in Chicago. This was his second time attending the conference, and he said that when he attended the conference last year on behalf of PSC, he didn't even know the scholarship existed. It was then that he made it his goal to be one of the next year's recipients. One year later, he saw his goal realized when he was selected from more than 1500 applicants for the national award.
"It was such an amazing experience being presented as a pioneer in front of so many Hispanic student leaders," he said.
Among the application requirements, Lopez needed to write two essays – one focusing on introducing himself to the reader, and the second focusing on what one trait a leader needs to have. For his trait, Lopez focused on resourcefulness, which he says is an especially important quality for students and student leaders at a community college.
"There are so many resources at community colleges that can help the students succeed," he said. "Students just need to learn what they are and take advantage of them."
Lopez says that community colleges are generally underrated in their ability to prepare students to succeed. In an effort to help impact the negative impressions some have of community colleges, Lopez has presented to students at his former high school, Bloom High School, where he graduated in 2013.
"I tell them how much I love Prairie State College, and about all the things being a student at Prairie State College has made possible for me," he said. "I am on a mission to impact as many high school students as possible."
Lopez doesn't stop at high school students, though. At PSC, he helped institute a 'Shadowing Program,' by which students who are interested in becoming student leaders can get first-hand experience on what to expect if they are successful.
"When I was running for Student Government Association (SGA) president, I really didn't know what to expect. I didn't know what SGA presidents actually did," he said.
Lopez now has eight shadowees, who come to his office hours and attend meetings with him to see what his daily duties entail.
The program is just one of the ways Lopez believes in leading by example. He says the Andrade Scholarship was another.
"One of my reasons for applying for this scholarship was to create a pattern for people to follow," he said. "I wanted to show my fellow PSC students and students at my former high school that PSC has the resources you need to compete with four-year colleges and universities," he added. "I am living proof."
Lopez is currently serving as president of the Student Government Association at PSC and a member of the All Latin Alliance (ALA) and Sustainability Club. He previously was vice president of ALA, and president of the Sustainability Club.
Lopez plans to graduate from PSC in May with an associate degree in biological science. He plans to pursue his bachelor's degree in biology with a minor in public relations.