A career in Automotive Technology offers students an opportunity to learn high-tech skills using computerized diagnostic tools and engine analyzers to service today's complicated vehicles.
Students can choose to pursue certification for employment in automotive servicing and repair, engine testing, automotive parts, automotive field service, and shop management. Another option is for students to use their training at Prairie State College toward two years of automotive apprenticeship or transfer to a four-year automotive power technology program.
Prairie State College's Automotive Technology Program offers students the necessary technology and skills to succeed in this exciting industry with an excellent career outlook. This program is National Automotive Technicians Education Foundation (NATEF) / Automotive Service Excellence (ASE) certified.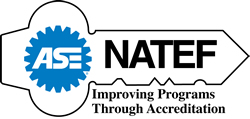 Illinois College Automotive Instructors Association Conference (ICAIA)
The Illinois College Automotive Instructors Association (ICAIA) is dedicated to providing comprehensive automotive technology education and training for its membership on a semi-annual basis.
Its members consist of high school, community college, and university automotive technology instructors, individuals whose livelihood is directly related to the automotive industry, and students who are pursuing a career in automotive service and repair.
For more information, contact Tony Gumushian.
Chi-Town Tear Down Pit Crew Competition
Prairie State College has been a participant in the Chi-Town Tear Down Pit Crew Competition. The competition brings together students from across region to compete in two categories: the high school pit crew and the college/tech school. The event is held annually at the World of Wheels Custom Car Show. Each team consists of four participants and an alternate representing their school. Each high school and college team disassembled and rebuilt a V-6 dual overhead-cam Ford engine. All the teams were timed and also graded on the overall accuracy of the rebuild.
Degrees and Certificates
View the curriculum for each program in the current Academic Catalog. You can also access the entire catalog online. An archive of previous catalogs and addenda is also available.
Please visit Career Programs and Transfer Degrees, where you will find information describing the requirements needed to complete a degree or certificate.
Courses
A listing of course descriptions is available in the current Academic Catalog. For a listing of when courses are offered, consult the current course schedule or WebAdvisor.
Contact
Watch the videos below for more information.