Click on the icons below to view more information.
34th Annual Jazz Fest
February 16-17, 2023
Evening Concert February 17 @ 7:30
Free Admission
Registration fee is $25 per day for individual participation.

Checks can be made payable to:
Prairie State College c/o Jazz Fest

Mail checks to:
Prairie State College
202 S. Halsted St.
Chicago Heights, IL 60411
Registration fee is $150.00 for the first ensemble and additional ensembles are $125.00 each.

Checks can be made payable to:
Prairie State College c/o Jazz Fest

Mail checks to:
Prairie State College
202 S. Halsted St.
Chicago Heights, IL 60411
School Band Participation
Jazz Fest Clinician Biographies
Ernie Adams — Drummer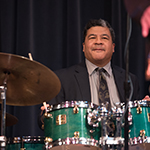 Ernie Adams is a very experienced, high profile all-styles drummer, who has performed and recorded with many of the world's greatest musicians. He is known for his perfect timing, solid groove, and brilliant technique that he combines with great musical taste and a wonderful personality. He has performed, recorded and toured with the likes of Ramsey Lewis, AI DiMiola, Joe Williams, Billy Dickens, Arturo Sandoval, Steve Cole, Dianne Reeves, Stanley Turrentine, Ahmad Jamal, Richie Cole, James Moody, Joe Zawinul, Slide Hampton, Clark Terry, Orbert Davis, the Chicago Jazz Philharmonic, and the list goes on.
Having graduated as a jazz major from University of Wisconsin - Milwaukee, Ernie has been a Ravinia Jazz Mentor since 1995, tutoring young drummers and percussionists.
Rubén P. Alvarez - Percussionist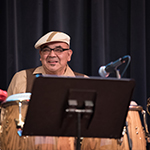 Rubén P. Alvarez is a Chicago based Latin percussionist, drum set artist, author, composer, and educator. His performance credits include movie soundtracks, radio and television jingles and performances and recordings with a variety of musical artists and styles including, John Mayall, Junior Wells, Dave Mason, Dennis De Young, jazz artists Patricia Barber, Dave Valentín, Slide Hampton and Grammy and Latin Grammy nominees Arturo Sandoval, Chuchito Valdés, Ramsey Lewis, Guitarra Azul and Sones De Mexico. He currently performs with Chicago's premier Latin jazz ensemble Chévere, and rumba flamenco ensemble Guitarra Azul. He is also a percussionist and musical consultant for the Goodman Theatre and musical director the Raices Profundas Latin Music Ensemble.
Rubén has studied both folkloric and popular Cuban musical styles and received a performer's certificate from the Escuela Nacional De Los Artes in Havana Cuba, and studied privately with Professor Bobby Sanabria, director of the Afro-Cuban music ensemble at the Manhattan School of Music, and with master Brazilian drummer Dudeka Fonseca.
He serves on the faculties of Roosevelt University, Columbia College Chicago, and Prairie State College where he directs the college's Latin Jazz Ensemble, and is a featured presenter at national and international music education conferences including the Illinois Music Educators Association, the Percussive Arts Society's International Convention, the Jazz Education Network, and the South African Jazz Educators Conference.
His educational articles on Latin rhythms have been featured in Down Beat magazine, The Latin Percussion® Reading, Writing, and Rhythm education newsletter, and the Zildjian Score. Rubén serves as a member of the Board of Directors of The Jazz Education Network, the Board of Governors of the Chicago Chapter of the Recording Academy and as Vice President of the Illinois chapter of the Percussive Arts Society. Rubén proudly endorses Latin Percussion, Remo Percussion, Vic Firth sticks and mallets, and Zildjian cymbals.
Orbert Davis—Trumpet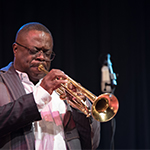 Orbert Davis is co-founder, conductor and Artistic Director of Chicago Jazz Philharmonic, a 60 member jazz-symphonic orchestra and a 16-piece chamber ensemble dedicated to multi-genre projects. He is the co-founder of "Jazz Alive," and Discover Music Discover Life, interdisciplinary enrichment programs that focuses on teaching life and academic skills through music, currently operating in 25 Chicago-area Schools, serving more than 1500 students annually.
One of Chicago's busiest and most sought after musicians, Orbert won an Emmy Award in 2012 for the composition and production of an original score for the national PBS documentary, DuSable to Obama: Chicago's Black Metropolis.
In September 2011, Orbert was named Artist-In-Residence for the Chicago Jazz Festival, an honor held by only one other Chicagoan in its history. In 2010, he received the "Arts Legend Award" from the Arts Alliance Illinois, a statewide arts advocacy group, recognizing his mission-based accomplishments in both performance and education.
His 2004 CD release entitled Blue Notes, was the follow-up to his critically acclaimed Priority CD, which garnered an LA Times 4-star review, hit Top-50 "most played on national radio" Jazz CDs in 2002 and was named Top-10 best Jazz CDs of 2002 by the Chicago Tribune. Chicago Jazz Philharmonic recordings, Collective Creativity, Sketches of Spain: Revisited and Home and Away received rave reviews worldwide. Chicago Jazz Philharmonic's recent collaborations with the Universidad de las Artes in Havana, Cuba and Chicago were featured on 60 Minutes on CBS and CBS Evening News with Scott Pelley.
Orbert's compositions and arrangements have been performed worldwide by the Melbourne Symphony (with Kurt Elling), Poznan Academy of Music Symphony Orchestra, Univ. of Louisville Symphony Orchestra, Grant Park Symphony, Chicago Sinfonietta, Fox Valley Orchestra and the La Orquesta de Universidad de las Artes, Havana, Cuba.
When he is not performing, composing, or teaching, Orbert hosts a weekly 3-hour jazz radio show, "The Real Deal with Orbert Davis" airing Friday evenings on WDCB 90.9 FM and streaming live on wdcb.org.
He has a bachelor's degree in trumpet performance from DePaul University, a master's degree in Jazz Pedagogy from Northwestern University and an honorary doctorate from Governors State University.
Valerie Nicholson—Piano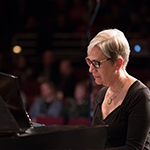 Valerie Nicholson is professor of music at Prairie State College in Chicago Heights, Illinois. She earned degrees in music at Murray State University and Governors State University, and is currently a doctoral candidate in music theory at the University of Chicago. Her research looks at the sonic, visual and physical intersections of rhythm in dance and music.
Valerie has performed with many ensembles including the Illinois Philharmonic Orchestra and in Symphony Center and at the Chicago Jazz and Blues Festivals with Burgess Gardner's Well-Oiled Jazz Machine. She is active with the Southland Arts Municipalities and Business Alliance (SAMBA) and serves as the director of music at Grace United Protestant Church in Park Forest, Illinois. In addition to her musical endeavors, she is a member of the League of Women Voters and is involved in several regional arts organizations. Valerie has been recognized for her contributions to the arts by the Village of Park Forest Historical Society, Tall Grass Arts Association and Star Newspapers.
Larry Gray—Bass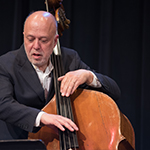 Bassist, composer and multi-instrumentalist Larry Gray has enjoyed a distinguished career spanning some four decades in which he has collaborated with a long list of many of the most notable of jazz artists, including Bobby Hutcherson, Joe Williams, McCoy Tyner, Benny Golson, Eddie Harris, James Moody, Sonny Stitt, Larry Coryell, Kenny Burrell, Joe Pass, Clark Terry, J.J. Johnson, Steve Turre, George Coleman, Lee Konitz, Benny Green, Eddie "Lockjaw" Davis and Dave Liebman, among many others. As a composer and leader, he has five solo recordings to his credit, beginning with his debut, Solo + Quartet, and most recently, Three Equals One.
Among many projects as a collaborator or sideman, he appeared on five CDs during his twelve years with the Ramsey Lewis Trio. Through the years, he has toured with many artists, including Joe Williams, Clark Terry, Frank Wess, Marian McPartland, and Ramsey Lewis, appearing at many important festivals and concert venues worldwide, including the Village Vanguard, Blue Note Tokyo, Ronnie Scott's in London, Lincoln Center, Symphony Center, Kimmel Center and the Montreux, North Sea, Juan des Pins, ECM, Poznan, Monterey, and Chicago Jazz Festivals, among others. Gray also has an extensive background as a classical musician. His studies include two degrees in cello performance and experiences as principal bass of Civic Orchestra of Chicago and as substitute bassist with the Chicago Symphony Orchestra. He also performs frequently as a cellist, including recent work in the Intersections concert series at University of Chicago with soprano Patrice Michaels and noted New York violinist Zach Brock. Gray was also seen on multiple episodes of the PBS series "Legends of Jazz."
Most recently, he appears on the recent recording on ECM Records, Jack DeJohnette, Made in Chicago, with Muhal Richard Abrams, Roscoe Mitchell and Henry Threadgill. He currently tours with Mr. Dejohnette's group and with Larry Coryell's Power Trio, along with drummer Paul Wertico. His newest project as a leader is a trio with noted improvising musicians Edward Wilkerson and Avreeayl Ra, which recently performed at the Poznań Jazz Festival. He also serves as associate professor of jazz studies at the University of Illinois at Urbana/Champaign School of Music, and mentors many young musicians.
Edward Petersen—Saxophone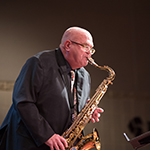 Edward Petersen is the associate chair of the Department of Music and coordinator of jazz studies at the University of New Orleans. He is a featured soloist with the Grammy Award winning New Orleans Jazz Orchestra and has performed at Carnegie Hall and many other major concert halls and festivals throughout the United States, Europe and Brazil. He has played with J.J. Johnson, Johnny Griffin, Clifford Jordan, Wilbur Campbell, Jay McShann, Lionel Hampton, Henry Butler, Herlin Riley, Benny Goodman, Ella Fitzgerald, Ira Sullivan, Eddie Harris, David Liebman, Ellis Marsalis, Dr. John, Ernie Watts and many others. He has recorded with Kurt Elling, Ron Carter, Cedar Walton, Laurence Hobgood, Clark Terry, Art Farmer, Willie Pickens, Von Freeman, Brian Seeger, Fareed Haque, Jason Marsalis, Ramsey Lewis, Frank Mantooth, Steve Wiest, Johnny Adams, Ruth Brown, Thrascher, Chet Baker, and many others. His playing and musical compositions are featured on numerous other recordings, including three Grammy nominated Blue Note CD's by Kurt Elling, Close Your Eyes, The Messenger, and Live in Chicago and several releases under his own name on the Delmark label, Upward Spiral, The Haint, and Von and Ed, which also features the legendary Chicago saxophonist and NEA Jazz Master, Von Freeman. He recently released a CD on his own label, The Mission.
Edward is an active artist/clinician for Julius Keilwerth Saxophones. He has received numerous commissions from the New Orleans Jazz Institute for original composition and for the creation of jazz adaptations and arrangements of other music, ranging from opera to pop. He is presently working on a NOJI commission to write several big band arrangements of music by contemporary New Orleans jazz master, Harold Battiste. He received a Louisiana Division of the Arts Artist Fellowship in Music Performance and has received numerous Special Composer's Awards from the American Society of Composers, Authors, and Publishers (ASCAP).
1980's
Development and Community Relations
Jazz Fest would have never gotten off the ground were it not for Bob Anderson, PSC's director of development and community relations, and James Moore, dean of arts and sciences in the 1980s. They understood the educational value of such an event and somehow found the funds to launch it.
Bassist Bill Grimes was instrumental in helping shape the festival in its initial years. Jazz radio celebrity Larry Smith (WBEZ) served as emcee for several years.
1988
The First Jazz Festival
The first festival in 1988 featured Doug Beach, trumpet; Bunky Green, alto sax; Bill Grimes, bass; Rich Thompson, drums; Valerie Nicholson, piano. It was held in the college's gymnasium.
1990
Joining the Team
Ed Petersen's first year with the festival was 1990. Trumpeter Byron Stripling also joined the "team" that year.
Before the Business and Community Education Center was built, the evening concerts were held in the college's cafeteria which was transformed into a night club atmosphere. A memorable moment one year was watching the maintenance crew, under the guidance of Joe Aponi, lift the 7' Baldwin grand onto a temporary stage. Talk about commitment!
1995
Featuring all-Chicago Cast Musicians
In 1995, we decided to feature an all-Chicago cast of musicians. Joining Ed Petersen, this festival featured for the first time Orbert Davis on trumpet, Jim Cox on bass, and Joel Spencer on drums.
1996
New Location
The 1996 Jazz Fest was the first event held in the new Business and Community Education Center. To celebrate the festival's 10th anniversary, jazz vocalist Kevin Mahogany came in for the concert.
1999
Ravinia Jazz Mentors
The Ravinia Jazz Mentors, led by the great Willie Pickens, served as clinicians and artists in 1999. Willie was joined by Dana Hall, drums; Rob Amster, bass; the late John Watson, trombone; Pat Mallinger, tenor sax; and Orbert Davis, trumpet.
2000
Missing Orbert Davis
There has been only one year since 1995 that Orbert Davis couldn't make it and that was in 2000. Art Davis (brothers in trumpethood!) came on board. That same year featured vocalist Sunny Wilkinson in celebration of the inauguration of the college's Vocal Jazz Ensemble and included a daytime workshop for college jazz vocalists and their instructors.
2001
PSC Faculty Participation
PSC faculty guitar instructor Scott Reed participated occasionally when he wasn't already booked playing Broadway shows in Chicago. Larry Gray became a jazz fest regular in 2001.
2007
Filling In
The only time Ed Petersen was not available to participate in the festival was in 2007. While Ed Petersen is irreplaceable, Doug Stone capably filled Ed's shoes – not an easy task!
The jazz fest has been named one of the top 20 cultural events in the south suburbs by The Star (now Southtown Star) in 2004, 2005, and 2006.