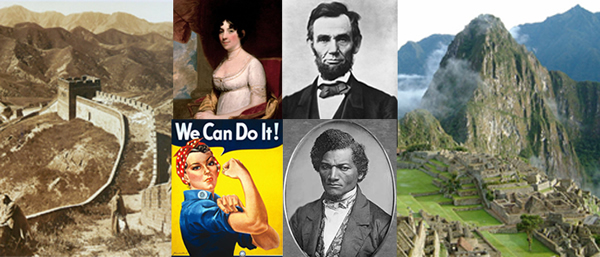 Why Study History?
History is the study of the people, places, and events that have shaped the past. Just as importantly, history can also inform the present, helping us to ask challenging questions about our own times. At Prairie State College (PSC) we offer classes that examine a number of diverse areas of historical study, ranging from different aspects of United States history to the wider world in ancient and modern times. Current history course offerings can be found in the PSC Catalog, and the online class schedule in WebAdvisor.
What can you do with a degree in History or the Liberal Arts?
Students who study history or earn a degree in the Liberal Arts work in many different fields. History majors have traditionally found jobs in teaching, museum work, journalism, the law, or politics, but the skills learned from studying history can be applied to a wide range of jobs. The critical thinking and writing skills acquired while earning a degree in history or the Liberal Arts are often in high demand outside of academic study. For more information about careers in history or the Liberal Arts, feel free to speak with a history faculty member, or read the following article published by the American Historical Association about entering the job market with a BA in History.
Degrees and Certificates
View the curriculum for each program in the current Academic Catalog. You can also access the entire catalog online. An archive of previous catalogs and addenda is also available.
Please visit Career Programs and Transfer Degrees, where you will find information describing the requirements needed to complete a degree or certificate.
Courses
A listing of course descriptions is available in the current Academic Catalog. For a listing of when courses are offered, consult the current course schedule or WebAdvisor.
Faculty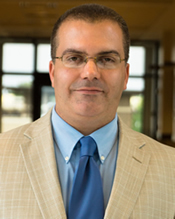 Dr. Pariseau teaches courses on the history of the United States, African American history, Latin American history, and World history. He received his Ph.D. in American history from the College of William & Mary in 2015. In his dissertation, "Sea of Change: Race, Abolitionism, and Reform in the New England Whale Fishery," he examined the role of black and white reformers in the nineteenth-century antislavery movement, and how the whaling industry facilitated those efforts. Dr. Pariseau also holds his M.A. in history from the College of William & Mary (2005), and his B.A. in history, magna cum laude, from Boston College (2003).
In addition to teaching, Dr. Pariseau has worked in the field of public history for the Nantucket Historical Association, the Jamestown-Yorktown Foundation, and the Colonial Williamsburg Foundation, providing museum interpretation and conducting research for education outreach on topics relating to early American history. He has also researched and written on issues of race, slavery, and abolitionism in early American history. Dr. Pariseau is a member of the Phi Beta Kappa Society, America's oldest academic honor society, and Phi Alpha Theta, the national history honor society.
Emeritus Faculty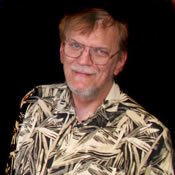 Adjunct Faculty
A number of dedicated adjunct faculty members offer history courses at PSC. Adjunct faculty can be reached via the contact information you will receive the first day of class. You may also try stopping by the Adjunct Faculty Office, located on the fourth floor of Main Building in room 4195, when your professor is on campus.
Stephen Tallackson, Adjunct Professor, History
Office 4195, stallackson@prairiestate.edu
Research Field - African-American History
Professional Memberships - American Historical Association; Organization of American Historians
- B.A., Northeastern Illinois University
- M.A., the University of Chicago
- ABD, the University of Chicago
John Zager, Adjunct Professor, History
Office 4195, jzager@prairiestate.edu
Research Field - Nineteenth-Century Labor
- A.A., Prairie State College
- B.A., Purdue University Northwest
- M.A., Purdue University Northwest
Constitution Day
Constitution Day is an American federal observance to recognize the signing of the United States Constitution on September 17, 1787 in Philadelphia.
In 2005, Sen. Robert Byrd from West Virginia, fearing Americans were forgetting our history, added an amendment to the Consolidated Appropriations Act of 2005, designating September 17 as Constitution Day. Institutions receiving federal funds as well as federal agencies are mandated to hold educational programs to commemorate this anniversary. If the actual birthday of the Constitution falls on a weekend, the day adjacent to this day is observed. Constitution Day also serves as a reminder to participate in the political process by exercising our right to vote.
Online Resources
Here are some great on-line resources to help you learn more about the Constitution.
Some activities and videos about the Constitution
Websites for the Senate and the House of Representatives
Check out the official Constitution Day website or the Constitution Center's website.
PSC Celebration Activities
---
Please join Prairie State College in celebrating Constitution Day & Citizenship Day 2022! This year marks 235 years since the signing of the United States Constitution in Independence Hall, Philadelphia on September 17, 1787. On that date, 39 delegates who had served during a Constitutional Convention lasting four months, signed off on the final draft – seven articles in total. This final document – the United States Constitution – would become the foundation of American government after it was ratified in 1788. The government began to operate on March 4, 1789, and the system lasts to the present day.
This year's commemorative theme is "A More Perfect Union."
Wednesday, September 14, 2022
Special Panel Discussion – Rise Above / Stories of the Tuskegee Airmen and the Women Airforce Service Pilots (WASP), Barnes & Noble College Auditorium – held in conjunction with the Investiture of Prairie State College's 16th President, Dr. Michael Anthony.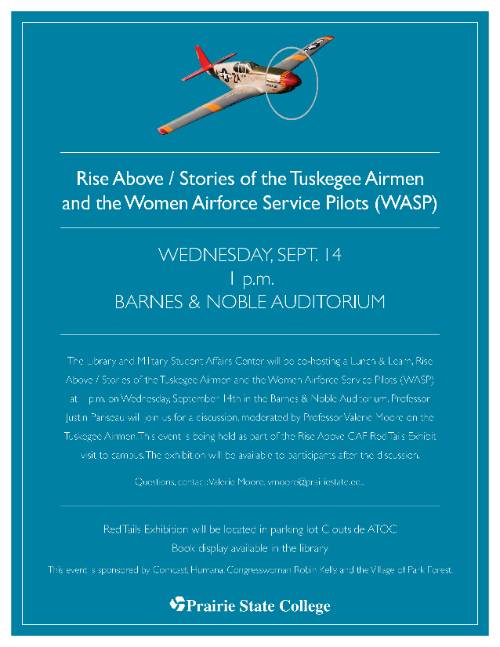 Tuesday, September 20, 2022
Visit the Prairie State College Social Sciences Department Facebook page at https://www.facebook.com/PrairieStateCollegeSocialSciencesDepartment/ for links to Constitution Day content, examining the importance of voting, naturalization ceremonies, and the history of the Constitutional Convention!