Facts About Honors Classes
How are Honors classes the same as other classes at PSC?
An Honors class fits the same official course outline as regular sections of the course.
An Honors class earns the same number of credit hours as regular sections.
An Honors class is graded according to the same standard as regular sections, though not necessarily by using the same methods of evaluation.
Honors classes are designed to have about the same amount of homework as regular sections of the course.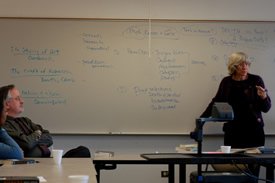 Professors teaching together in
honors learning community
How are Honors classes different from other classes at PSC?
An Honors class offers a different learning experience, typically (but not necessarily) stressing depth of coverage, discussion over lecture, and projects or creative work over test-taking. These differences will be summarized by your instructor at the start of the course.
Honors classes are limited to 18 students. Small class size allows for more discussion and more individual attention from the instructor.
Honors students get to know each other. Small classes, group projects, and seeing your classmates in other Honors classes all promote getting to know other students with whom you may share interests.
An Honors class will include at least one field trip or guest speaker. The Honors Program is able to offer these special "extras" to make each Honors course an even more memorable experience.
Continued participation in the Honors Program requires maintaining a 3.5 GPA. Exceptions may be made based on individual consent of an Honors instructor.
Honors classes will be designated "Honors" on your transcript.
At graduation, students who have successfully completed nine hours or more of Honors classes wear a special ribbon and are designated on the graduation program.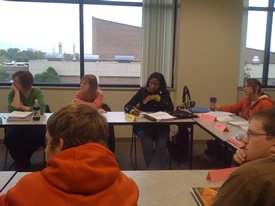 Honors students in class