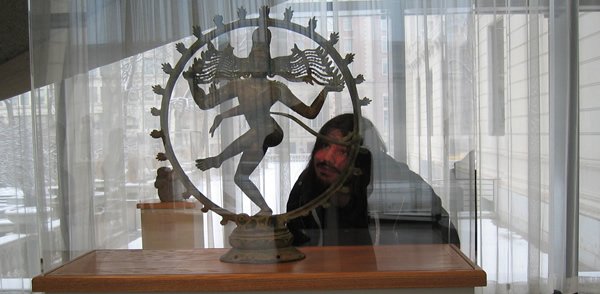 PSC Honors Program: It's Not What You Think!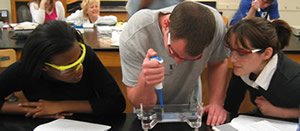 Honors Biology Class Project!
What Is the Honors Program?
The Honors Program is a series of courses designed to reward students who are high achievers. Each is a special section of a regular course, and is limited to Honors students only. In recent semesters, Honors classes have been offered in English, Communication, History, Humanities, Philosophy, Political Science, Social Science, Theatre, Business, Psychology, Astronomy, Art, Music, and Biology.
Students who have enrolled in Honors classes have:
Enhanced their transfer and job opportunities. Each is a special, smaller section of a regular, general education course, and will be designated "Honors" on your transcript. At some transfer colleges, Honors credit qualifies you for their Honors programs and/or special scholarships.
Enjoyed a rich educational experience in a creative and challenging atmosphere, with individualized attention from instructors. The courses feature such "extras" as small class size, field trips, and/or guest speakers. Previous Honors classes have visited places of worship, museums and theaters in the area.
Check out the Facts about Honors Classes for more information.
Are You Eligible?
To begin taking honors courses, you must have either:
Placement test placement into English 101 and placement test reading score of 75 or higher, OR
ACT 25, OR
SAT 1140, OR
At least 12 hours of college-level PSC coursework with a minimum GPA of 3.5, OR
For entering transfer students, at least 12 hours of college-level coursework with a cumulative GPA of 3.5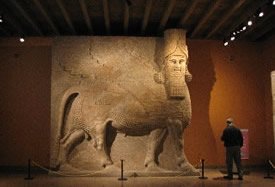 The Winged Bull of Khorsabad, from the palace of Assyrian
King Sargon II (721-705 B.C.E.) at Dur-Sharrukin,
dwarfs Prof. Flannigan during a humanities/English field
trip to the Oriental Institute, University of Chicago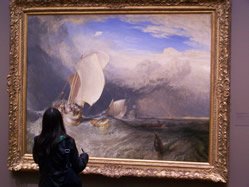 Honors student looks at a painting by J.M.W. Turner
during a field trip to the Art Institute of Chicago
What about my GPA?! Won't honors courses be more difficult?
No. Unlike most high school honors and AP classes, honors classes at PSC are graded according to the same standard as non-honors classes. Our honors students often find the classes more stimulating and rewarding than their regular classes, but not more difficult or more time-consuming. Students have about the same amount of homework and usually achieve at least as good a grade as in regular classes. In addition, they enjoy the opportunity to exchange ideas with other high-achieving students in lively, in-depth class discussions.
Go to List of Honors Courses for the current term.
Benefits of the Honors Program
Special early registration privileges
Honors designation on your transcript
Eligibility for Honors programs and scholarships at transfer colleges
Get to know fellow Honors students
Exchange ideas in a creative atmosphere
Go on field trips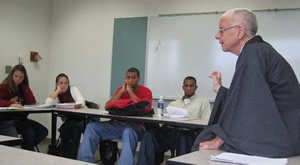 Humanities Honors hosts a Buddhist Guest speaker
Interested? Don't wait. Honors sections are only available in Gen Ed courses.
If you qualify for the program, just register for any Honors courses listed in the Honors Course List. New Honors students must register in person. After that, you may register for your Honors classes either online or in person.