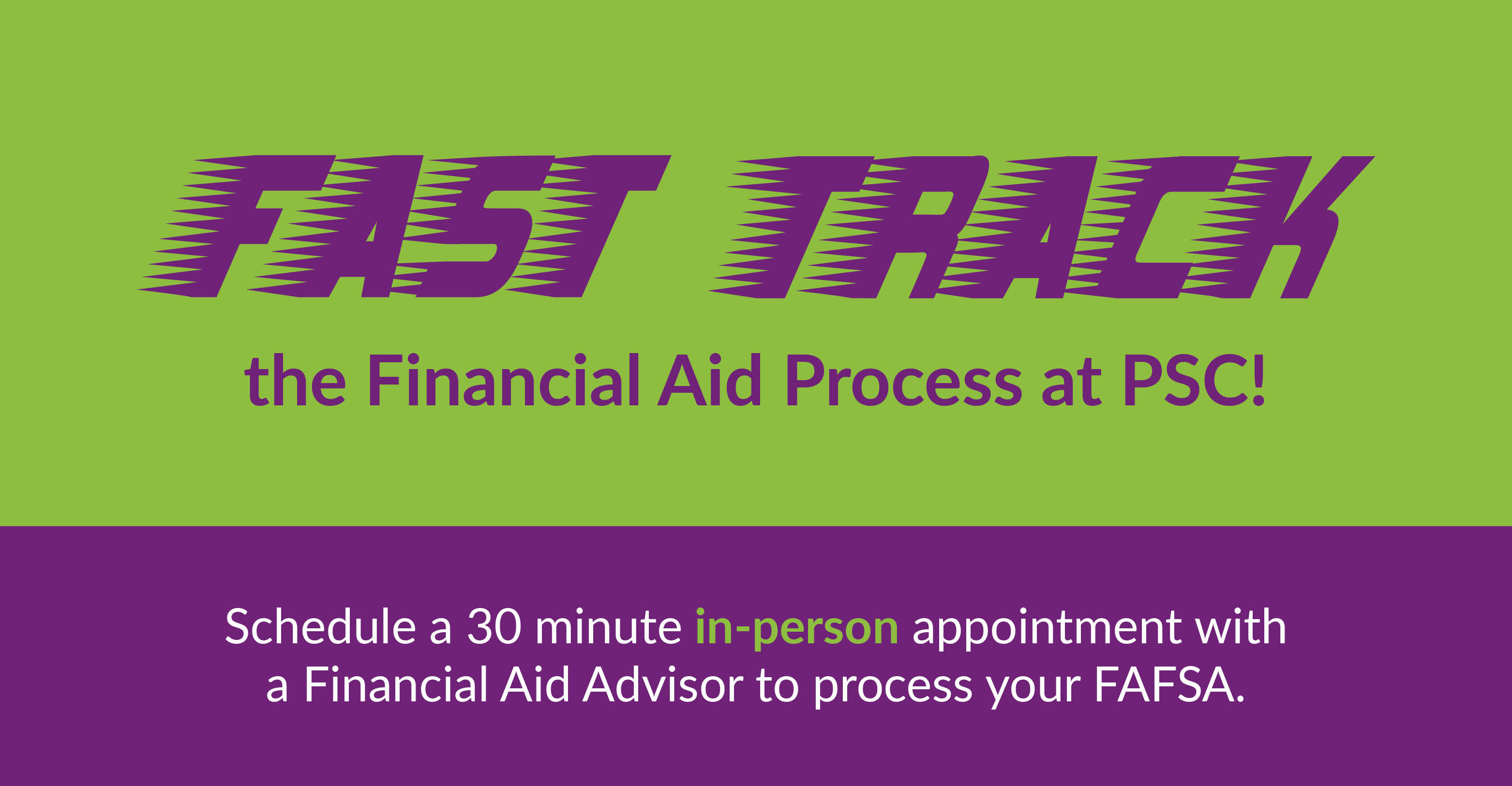 The fast track process is designed to provide 1:1 assistance to students to complete the financial aid process. Students must have a completed 2023-24 FAFSA received at PSC and bring completed forms and any requested documentation to the appointment.
To schedule an appointment, please click here.
Financial Aid Orientation:
Welcome to the Financial Aid page. Beginning with the Spring 23 semester, orientation will be required prior to submitting the Rights and Responsibilities form.
Click here to complete the Financial Aid orientation.
Financial Aid 2023 - 2024 Rights and Responsibilities
Click here to complete the Rights and Responsibilities form. The form can be submitted in-person, email, faxed or mail. The Financial Aid contact information is located on the top right corner of the form.
Please note, you may be required to submit additional documentation to continue the financial aid process. Please view your financial aid checklist in your student portal to determine if additional documents are required.
Click here to go to Pioneer Portal to opt out of completing orientation. Be sure to view your financial aid checklist in your student portal to determine the documents you are required to submit to continue the financial aid process.
The Financial Aid disbursement process has changed.
Financial aid funds will no longer be transmitted to your accounts in real time (when you add or drop courses, purchase books, and pay other institutional fees). Instead, the Business Office will transmit aid every two weeks. As a result, your account may reflect a balance owed until any pending funds are disbursed to the account. Similarly, the registration billing statement also will appear to have an amount due.
New and Revised Requirements for Selected for Verification
Students whose FAFSAs are selected for verification may be required to provide IRS tax transcripts or signed copies of their/parent tax returns.
Selected independent students who are non-filers and parents of dependent students who are non-filers may be required to submit IRS Verification of Non-Filing.
Federal (Title IV) School Code 001640
Although the cost of being a student at Prairie State College is low compared with many other colleges, any educational expense can strain your budget.
Four basic types of financial aid are available to eligible Prairie State College students: grants, loans, scholarships, and employment. Eligibility requirements vary for each type of assistance, so all students are encouraged to apply for financial aid.
Our financial aid staff is available to help in both the search for financial aid and the application process. Be aware that specific deadlines and refund requirements apply to financial aid students and can affect eligibility.
The Free Application for Federal Student Aid (FAFSA) is available online at https://studentaid.gov/h/apply-for-aid/fafsa
Missing financial aid documents?
Students will receive a letter stating what documents are missing. Students may also view what documents are needed by checking
Pioneer Portal.
The missing information must be provided to financial aid .
Attention Students:
To ensure students receive the most prompt response from the Financial Aid Office, we have established the email address
financial-aid@prairiestate.edu
. Students are encouraged to use this email address to submit documents as well as ask questions about the status of your file.
Satisfactory Requirements
You must maintain academic progress as evidenced by passing (grades of A, B, C, or D) at least 67 percent of the courses you attempt within your certificate or degree and obtaining an overall 2.0 cumulative grade point average in all PSC coursework.
If you receive a grade of I, F,W, or Audit, you have not completed the course. You may take a maximum of 90 credit hours to be eligible for financial aid. This includes credit hours transferred to PSC from other institutions and all PSC coursework. Academic progress is reviewed each semester.
Details of the College's Financial Aid Satisfactory Academic Progress Guidelines are available in the Financial Aid Office and
online
. For more information,
contact us.