Past Exhibitions during Academic Years:
---
Academic Year 2009-2010
---
Annual Photographer of the Year
and Student Exhibition
Aug. 31- Sept. 24. 2009
Reception: Wednesday, Sept. 2, 12-2 p.m.
Featured works by Leonard Ferris,
Photographer of the Year
The photographer of the year exhibition provides an opportunity for Prairie State College to showcase the talent of a student who receives recognition as "Photographer of the Year." This annual competition is open to Photo Society members and current photography students at PSC. A panel of three judges selects the Photographer of the Year on the basis of his/her portfolio, a statement of intent and a personal interview. A $1,500 scholarship, co-sponsored by the Prairie State College Foundation, Student Government Association and Photo Society, accompanies the recognition. This year's award is presented to Leonard Ferris, and her work is exhibited in the Center Gallery.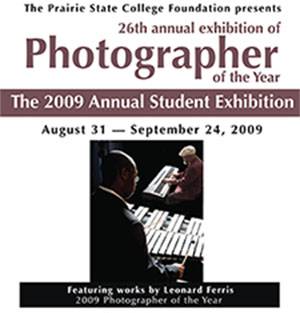 The; annual student exhibition provides an opportunity for Prairie State College to showcase the talent of students enrolled in one of the art-related disciplines offered: Art, Graphic Communications and Photography. The art shown here is a sample of the numerous works created in a 2009-2010 by our students. The art department faculty shared curatorial responsibility for this exhibition.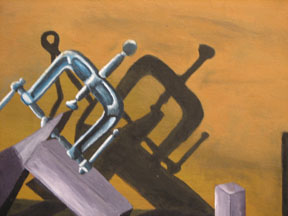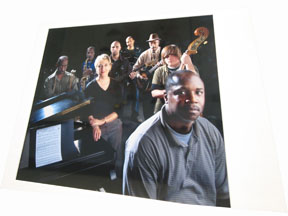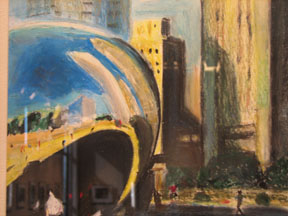 ---
Thinking Again
A Regional Juried Survey of Green/Sustainable Art and Art Practices
Oct. 5 to Nov. 5, 2009
Juried by Andrea Peterson
Reception: Friday, Oct. 9, 4:30-7:30 p.m.
Featured works by Julia Asherman, Jerry Catania, Maryellen Cox, Mike Henderberg, Laurel Izard,
Larry Jensen, Elaine Martin, Andrea Mattson,
Suesi Metcalf, Robert Possehl, and Jeff Stevenson
Recycling in our homes and businesses has become second nature, and articles and news stories have persuaded most people take a look at the carbon footprint they are leaving through their lifestyles and work choices.
Artists, too, have begun to "think again" about their art, and how to have a more positive effect on the environment. For some artists, this means removing particular toxic chemicals from their processes. Others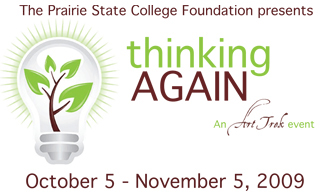 are saving money and resources by recycling materials and objects in their work or using sustainable materials.
This exhibition focuses on artists who have embraced the idea of "greening" their art in some way or another. While this is the common theme among the works, that is the only similarity among the pieces selected. The work in the show ranges from sculpture to collage to mixed media. It is just a small sampling of artists who care about the environment and are conscious of the impact their art can have on the world around them.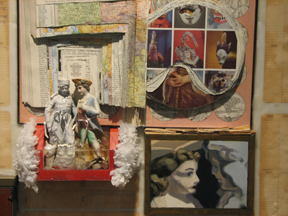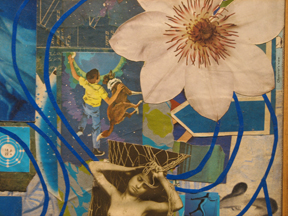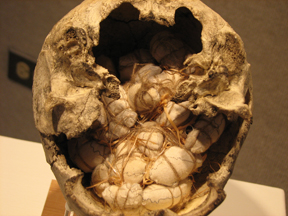 ---
As Time Goes By
Nov. 16 to Dec. 17, 2009
Featured works by Steve Sherrell, Karena A. Karras, Diane Levesque, Robert Kameczura, Christine O'Connor, Kim Laurel, and James Mesplé
This exhibit explores various aspects of time in relation to human life. It explores the way elements of time intersect with the world we live in. It takes old stories and myths and reinvents them in contemporary contexts. It explores memories and dreams of the future and illustrates how they interact in our consciousness and effect how we evaluate truth.
It will consider our knowledge of the past and how this relates to our concepts of the present, and how this in turn relates to our expectations for the future. It explores how the ways we think and feel change with time. It explores motion through time, including music, dance and travel, all of which take place with a strong connection to time.
Also, in parallel with the famous song, "As Time Goes By," some works will touch on how time relates to romantic love.
The Mythopian Artists Group is a group of notable contemporary artists who first banded together 14 years ago with the thought of a group or movement that was uniquely Mid-Western in origin, based on humanistic values, and intent on avoiding many of the more conceptual based ideas then in fashion in favor of finely crafted pictorial art. Members have been added over .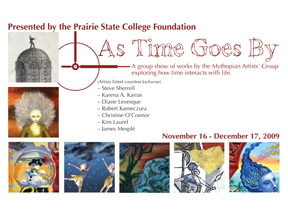 the years but the ideas which unite them remain the same. They are concerned with a literate approach to content in art. They are concerned with finely crafted narrative art in a contemporary context, art which contrasts elements of various epochs and places, and examines things old and new, beautiful and ugly, mystical and everyday.
Their aim to create art which is visually striking, intellectually challenging and, most importantly, profoundly emotionally expressive. They like to explore new visual techniques and work in a wide range of media, including paintings, digital giclees,
assemblages, prints, photography and drawings in various media.
Visitors are invited to visit the Mythopian Artists Group Website at www.artmyth.org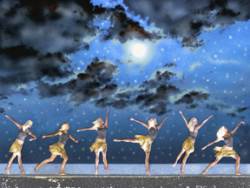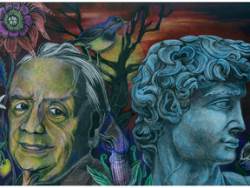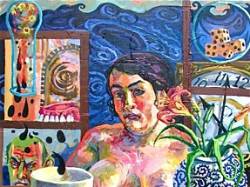 ---
We The People Who Are Blacker Than Blue
Jan. 19 - Feb. 19, 2010
Reception: Thursday, Jan. 27, 4:30-7 p.m.
Featured works by Floyd Atkins
Artist Statement
This is a body of work that highlights the ancestors of a culture that was as much a part of the fabric of the United States as anyone else when the Constitution was written. Despite the promise to all Americans, Blacks continuously experienced hypocrisies and injustices simply because of the color of their skin. In 1787, Blacks were deemed wild animals from a very dark and wild continent. Still today, this psyche looms deeply in America even to the point of "Black" being closely associated with negativity. Hopefully, this show with its extremely Black figures will show how common everyday life is to a beautiful race of people, dispelling a warp and distorted psyche that has been with our country since its Constitution was written.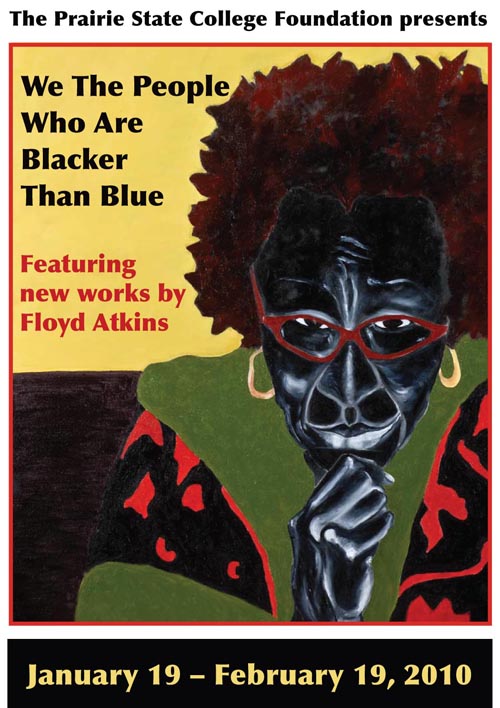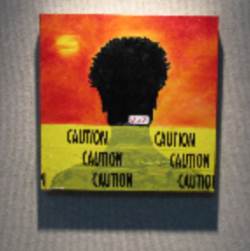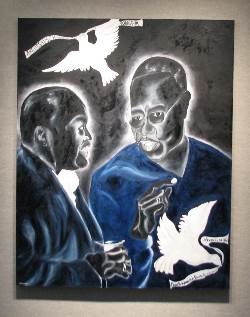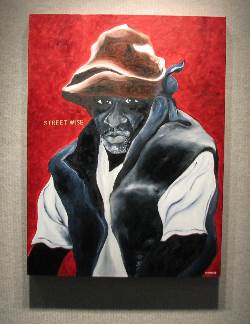 ---
Synergy
The Annual Area High School
Art Exhibition
Mar. 23- Apr. 16, 2010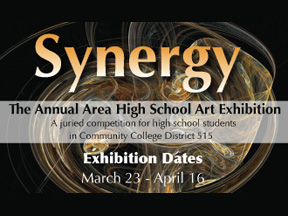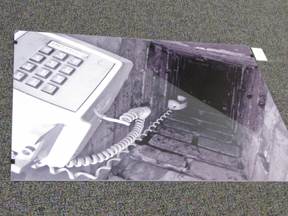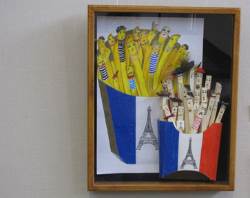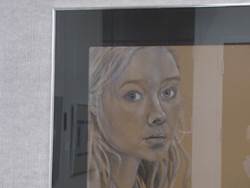 ---
Graduate Students Exhibition 2010
May 3 to May 20, 2010
Curated by PSC Art Faculty, Paul Rinaldi
Reception: Wednesday, May 5, 12 p.m.
2010 Graduate Students Exhibition Catalog
Featured works by Michael Bridges, Aaron Brown, Lauren Campbell, Elaine Chisholm, Jonathan Karavas, Wayne McNair, Celeste Miller, Belinda Moore, |
Alyssa Rhodes, Charles Rohrer, Anthony Vicidomini, Brianna Weaver

The Department of Fine and Applied Arts is very pleased to present the 2010 Graduate Exhibition. This year's exhibition showcases works in drawing, painting, photography and mixed-mediums by students completing degrees in Fine Arts, Graphic Communications and Photography. Each of the exhibiting students participated in our Department's capstone Portfolio Seminar, where they gained a greater awareness of professional standards, developed an artist statement addressing their creative interests and process, and produced a cohesive body of new work that is exhibited here. The variety and complexity of our student's art is inspiring. Some of the work emerges from an emotional reservoir rooted in memory, dream, and fantasy, while other pieces explore aspects of life and reality that are often overlooked or not visible through the casual gaze. In other works, one finds a profound desire to express self and identity through varied conceptual constructions.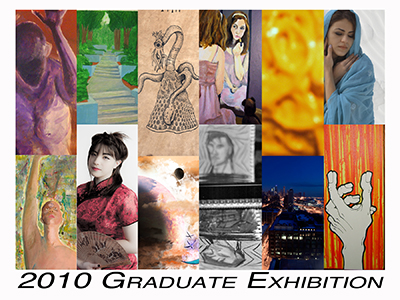 The diverse backgrounds and creative interests of our students bring vitality to our visual arts program. Yet, our student's achievement is largely made possible through the continued support of a college administration that believes in the necessity and relevance of the arts and culture in the lives of our students and our community. Finally, I wish to acknowledge our colleague, Donald Kouba, who, after 30 years of leadership in our photography program, will this year retire from teaching to pursue that perfect photograph. On the behalf of the faculty, the countless students whom he has mentored, and the entire Prairie State community, we wish Don great happiness in this next chapter.
---
Synergy
June 21 to July 29, 2010
Curated by Claudia Craemer
Featured works by Union Street Artists