Past Exhibitions during Academic Years:
---
Academic Year 2010-11
---
Annual Photographer of the Year
and Student Exhibition
Sept. 1-23, 2010
Featured works by Michelle Cox,
Photographer of the Year
Photograph on postcard: Window
The photographer of the year exhibition provides an opportunity for Prairie State College to showcase the talent of a student who receives recognition as "Photographer of the Year." This annual competition is open to Photo Society members and current photography students at PSC. A panel of three judges selects the Photographer of the Year on the basis of his/her portfolio, a statement of intent and a personal interview. A $1,500 scholarship, co-sponsored by the Prairie State College Foundation, Student Government Association and Photo Society, accompanies the recognition. This year's award is presented to Michelle Cox, and her work is exhibited in the Center Gallery.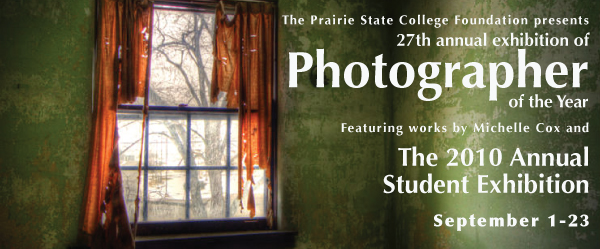 The; annual student exhibition provides an opportunity for Prairie State College to showcase the talent of students enrolled in one of the art-related disciplines offered: Art, Graphic Communications and Photography. The art shown here is a sample of the numerous works created in a 2009-2010 by our students. The art department faculty shared curatorial responsibility for this exhibition.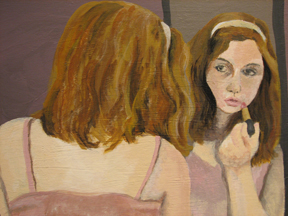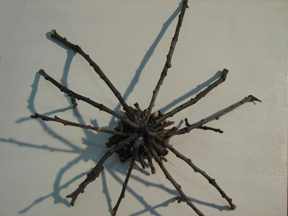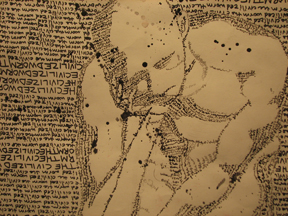 ---
Splitting Squares
Oct. 4 to Nov. 4, 2010
Reception: Thursday, Oct. 7, 4:30-7:30 p.m.
Featured works by Micheal Smith, Jeff Stevenson, and Erin Waser
Splitting Squares exhibits the work of three diverse artists. Jeff Stevenson's collage and mixed media works explore personal and cultural issues of sexuality, masculinity, race, gender and humor while simultaneously focusing on how our brains process information. His altered books embody the idea that printed information, once thought to be true and real, has become outmoded and obsolete by the Internet. Michael Smith's photographs are layered with color and texture that give his "Muted Thunder" series a ghostly and painterly quality. This work tells the story of the past lives of these giant, powerful machines, and explores the idea that all machines will eventually be obsolete. Erin Waser's vibrant paintings focus on the pixel, the thousands of tiny dots that interact to create fields of color and texture. The layers within each piece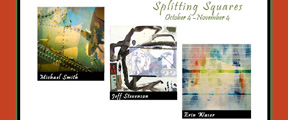 create a history and relationship between surface and background. The final outcome is an illusion of fluid surfaces and objects interacting through the simplicities of color, texture, light and marking.
Although each artist's work is unique, there is a common thread and dialog between the artists in their artistic concepts, predominately the layering and combining of imagery. The artists collaborated to set the parameters for this project: modular work on paper, 24" x 24" each. These paper works are exhibited on the east gallery walls. Other select recent works by the artists are displayed in the rest of the gallery.
---
Shifting Paradigms
Nov. 15 to Dec. 15, 2010
The title of this exhibit, "Shifting Paradigms" alludes to a physical reality in a state of change. Peg Patton is an honored alumnus of PSC. She won the coveted Photographer of the Year Scholarship Award in 1997. Karen Sparrow also is a distinguished alumnus and was also named Photographer of the Year in 2001. Both artists have pursued their "visual voice" since leaving school and the results of their personal explorations are on display in this exhibit. Both photographers are interested in creating images about space, structure, color, texture and how they interpret them. These surprisingly atmospheric worlds that commence from the known to the illusory are found in both artist's work, though each has established and perfected a personal technique that works for them. The results both delight and challenge the viewer.
Karen starts with a methodical approach toward her subject. She lays out the grid structure then maps out how each individual shot will be placed within it. She'll be the first to admit that she is never sure how the actual grid lines will be expressed in the image. Pay close attention to the grid as it shifts from being part of the subject, to the content, and then suddenly disappears into the background only to make us more aware of the imposing grid lines in the next image. This playful manipulation integrates the grid within the shape, form, and often seductive colors of the subject. When the grid is visually quiet, we see buildings reconstructed to form new relationships within its own boundaries.
Some images begin in a highly defined manner only to whimsically disintegrate into an abstract parody of an age old edifice. The appearance of her images vary from confronting the viewer with a puzzle-like quality to casting a visual spell, convincing us that the space confronting us is very deep and multi-angular. Peg Patton's work is divided into two groups, symmetric constructions and a series of close-up textured surfaces which begin to take on a life all their own. The near square format of several of the grayscale images transcend the symmetry method to transport the viewer into an atmosphere which is familiar, yet foreign, completely void of humans, yet provides evidence of man's presence. These images are both rich in tonal scale and visually complex. The stark kaleidoscopic appearance of two other images also draws attention, calling the viewer from across the room. These graphic images are more playful and reflect similar thoughts and feelings from the artist. The textures are equally strong and explore issues of altered perspective. One image suggests it was taken from a satellite hovering high over the planet. The large panorama of the courthouse interior resonates with a deep sensation of deja vu.
Both Peg and Karen are investigating visual issues that challenge the viewer's opinion and sense of reality. They are creating altered realities that oftentimes borders on science fiction. It has been my pleasure to observe and contribute to their aesthetic growth and development. This exhibit is a well-deserved opportunity for each of them to display their truly dazzling photographic images.
---
In House IV
Jan. 10 - Feb. 3, 2011
Reception: Thursday, Jan. 27, 4:30-7 p.m.
Featured works by PSC art faculty: Peter Bosy, Faye DeCesaris, David Gremp, Rebecca Heide, Shelly Hokanson, Paul Rinaldi, Louis Shields, Jeff Stevenson, and Carol Thorner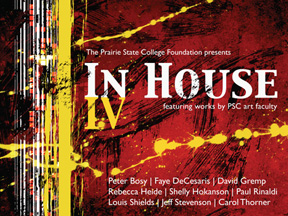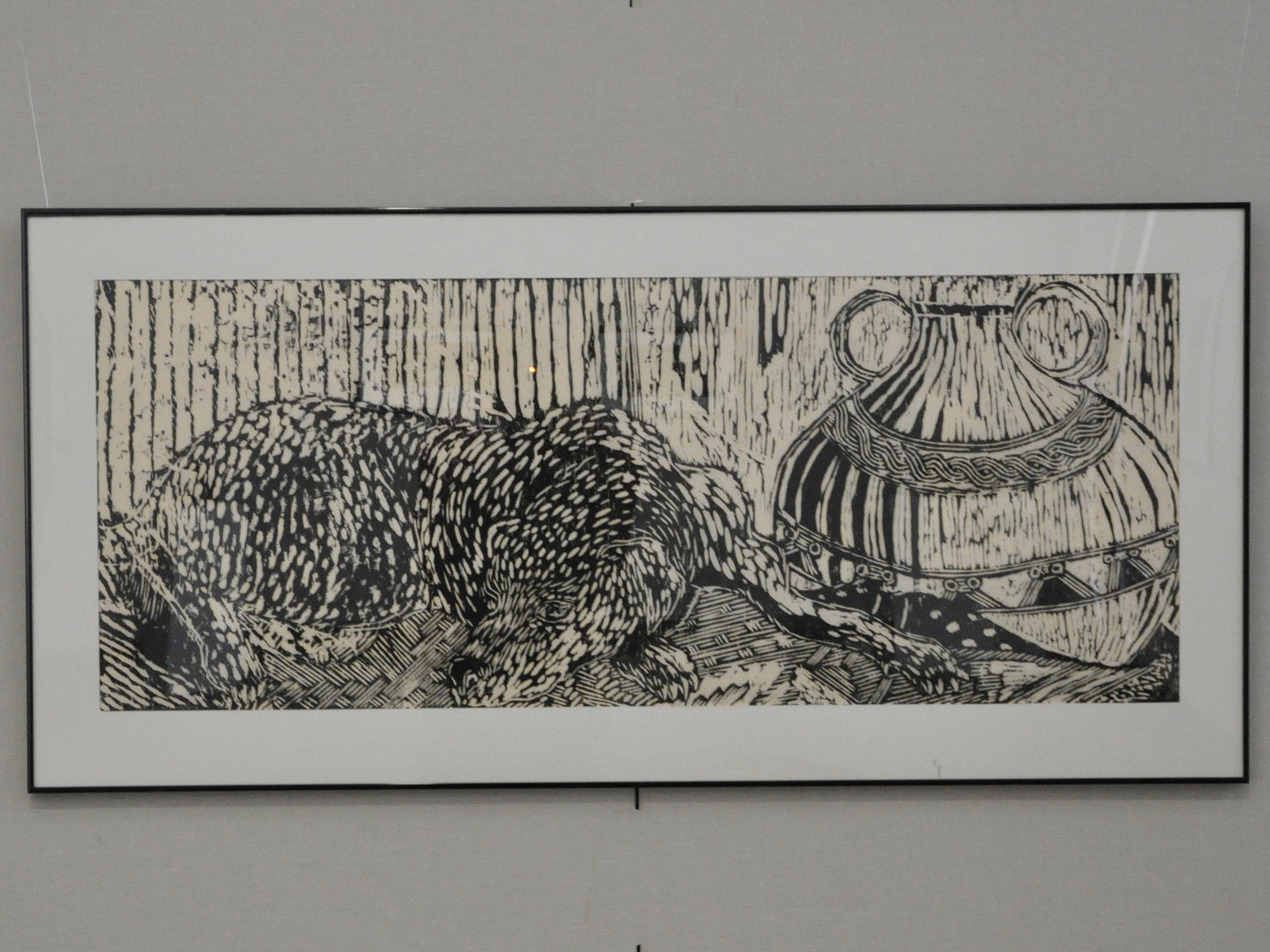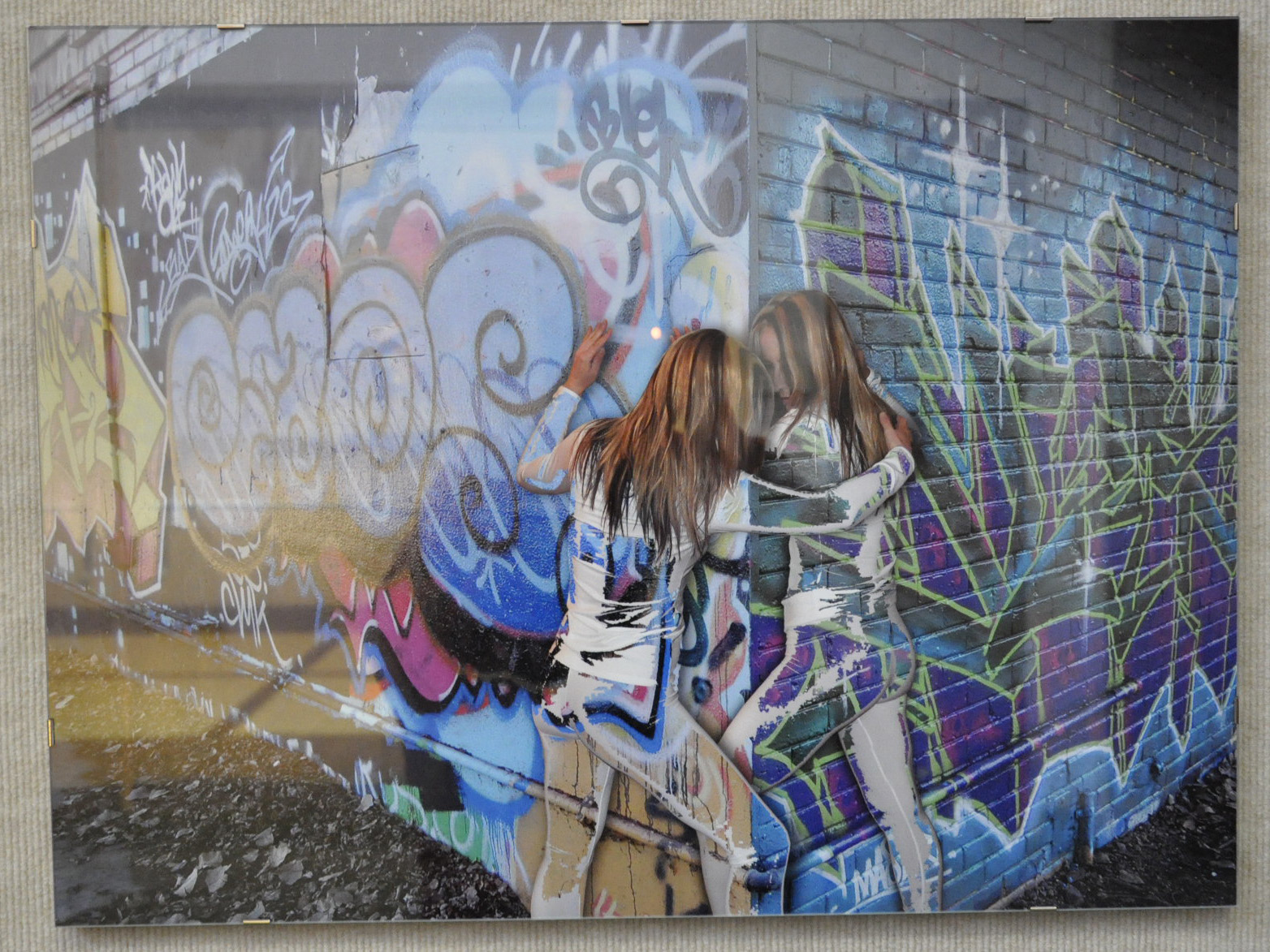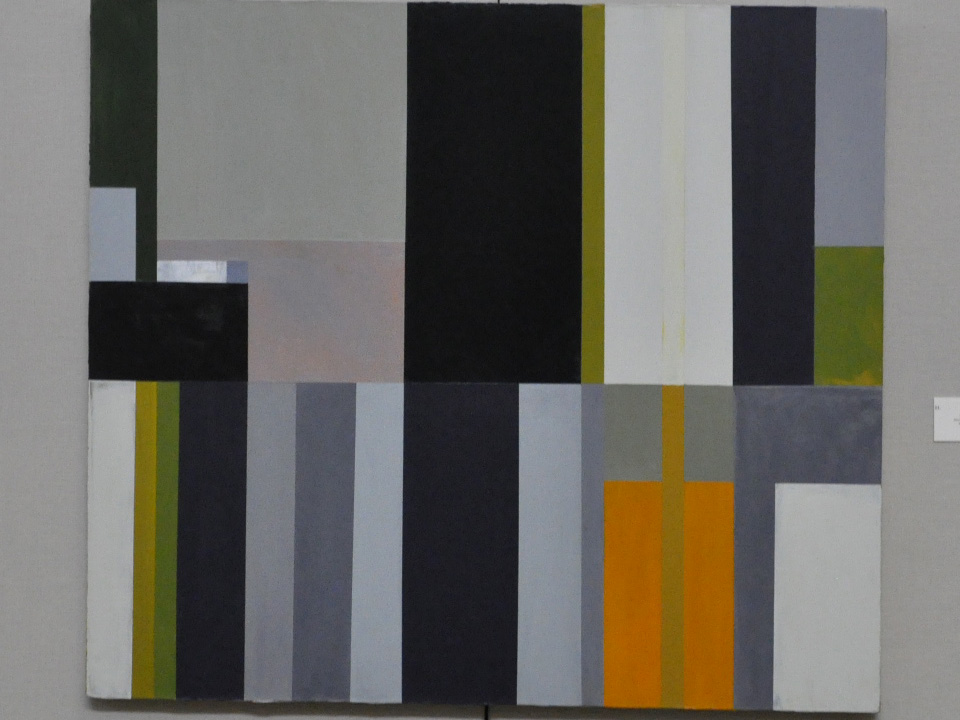 ---
24 MAXIMUM
A Regional Juried Exhibition of
Small Works
Feb. 14 - Mar. 9, 2011
Reception: Thursday, Feb. 17, 4:30-7:30 p.m.
Featured works by artists from nine midwestern states and 54 works were selected
Award Winners
Best of Show
Pam Eberlin
Child's Play

Honorable Mention
Leonard Ferris
Utah Plain
Susan Smith Trees
Untitled #2

Twenty-four Maximum is the Christopher Art Gallery's regional juried show for 2011. The theme of this year's
show is small works: each piece measures a maximum 24" in any dimension. Artists from nine Midwestern states were invited to submit, and 54 works were selected.
William Lieberman, the juror for Twenty-four Maximum, is the owner and director of Zolla/Lieberman Gallery, a contemporary fine art gallery located in the River North area of Chicago. Mr. Lieberman has been Zolla/Lieberman's gallery director since 1989, and travels nationally and internationally representing gallery artists. He has thirty years of experience in the business, having also worked as a preparator and curator.
Mr. Lieberman selected a broad range of works in varying media for the exhibit. Included in the show is everything from traditional painting and photographs to prints, encaustic work and conceptual art -- there's even an interactive sculpture, into which viewers are invited to hammer a nail. Each work in the show is a gem, and the show in totality is a microcosm of the art world.
---
Verge
The Annual Area High School Art Exhibition
March 21 to April 14, 2011
Reception: Thursday, April 7, 6-8 p.m.
Award Ceremony: Thursday, April 7, 7 p.m.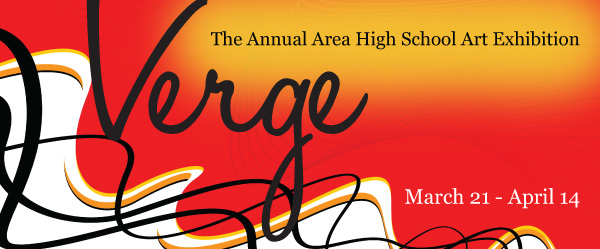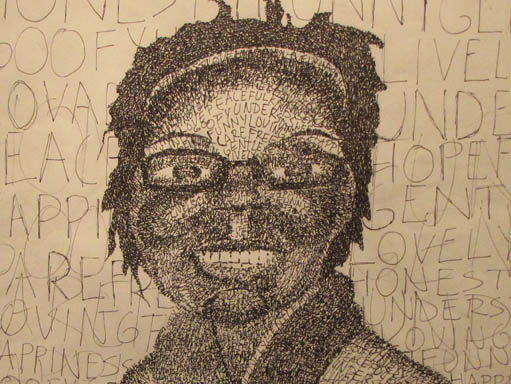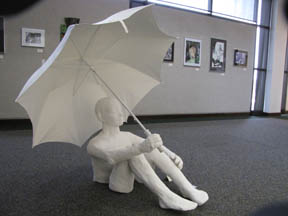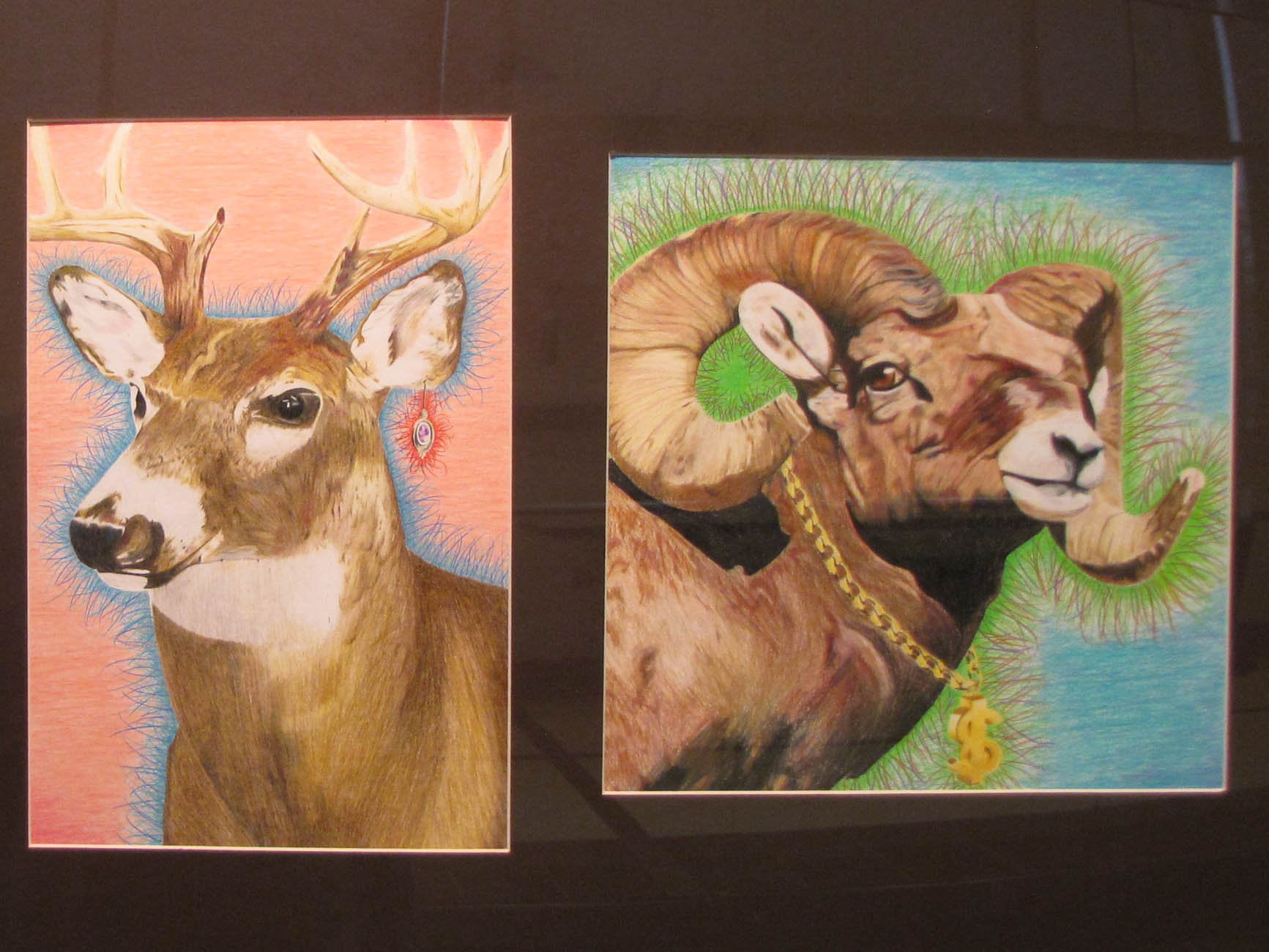 ---
Graduate Students Exhibition 2011
April 25 to May 19, 2011
Curated by PSC Art Faculty, Paul Rinaldi
Reception: Wednesday, May 1, 12-2 p.m.
2011 Graduate Students Exhibition Catalog
Featured work by Soloman Abdufah, Zakiyyah Ali, Tiffany Berry, Michael Carr, Jose Cavazos,
Carlos Colunga, Sean Johnson, Rhonda M. Jones, Debra Kamp. William Matthews, Ryan Meder,
Rhonda Mitchell, Elizabeth Negreanu,
Jacqueline Reyna, Daniel Rodriguez, Ebony Rogers, Kathleen Skelton, Sherryl Smith, Latarsha Whitfield, Jeremy Wright, Sarah Zakrzewski

The Department of Fine and Applied Arts is very pleased to present the 2011 Graduate Exhibition. This year's exhibition presents works in drawing, painting, photography and mixed-mediums by students completing degrees in Fine Arts, Graphic Communications and Photography. Each of the exhibiting students participated in our Department's capstone Portfolio Seminar, where they gained a greater awareness of professional standards, developed an artist statement addressing their creative interests and process, and produced a cohesive body of new work that is exhibited here.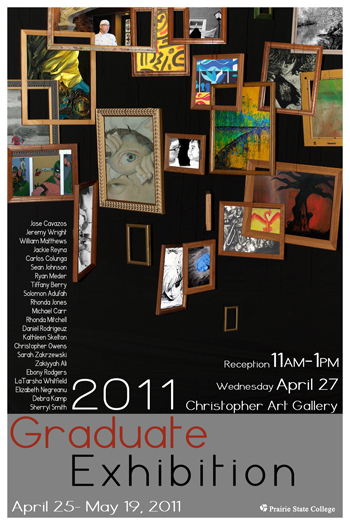 The scope and technical complexity of our student's art is inspiring. Some of the work emerges from an emotional reservoir rooted in memory, dream, and fantasy, while other pieces explore aspects of life and reality that are typically overlooked, not visible through the casual gaze. In other works, one finds the desire to express self and identity through varied conceptual constructions.
The diverse backgrounds and creative interests of our students bring vitality to our visual arts program. Our students' achievement is greatly enhanced by dedicated Art Faculty, and by the College Administration's strong support for the Arts.
---
Selections from the PSC Photography Collection
June 13 to July 29, 2011
Featured works by Ansel Adams, Manuel Carrillo, Danny Lyon, Michael Johnson, and others