Past Exhibitions during Academic Years:
---
Academic Year 2011-12
---
Annual Photographer of the Year
and Student Exhibition
Aug. 29 to Sept. 22, 2011
Reception: Wednesday, Sept. 7, 12-2 p.m.
Featured works by Sherryl Smith,
Photographer of the Year
Photograph on postcard: House of Decay
The photographer of the year exhibition provides an opportunity for Prairie State College to showcase the talent of a student who receives recognition as "Photographer of the Year." This annual competition is open to Photo Society members and current photography students at PSC. A panel of three judges selects the Photographer of the Year on the basis of his/her portfolio, a statement of intent and a personal interview. A $1,500 scholarship, co-sponsored by the Prairie State College Foundation, Student Government Association and Photo Society, accompanies the recognition. This year's award is presented to Sherryl Smith, and her work is exhibited in the Center Gallery.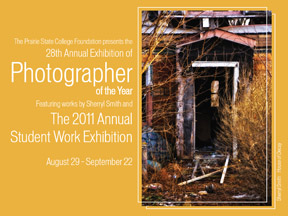 The; annual student exhibition provides an opportunity for Prairie State College to showcase the talent of students enrolled in one of the art-related disciplines offered: Art, Graphic Communications and Photography. The art shown here is a sample of the numerous works created in a 2010-2011 by our students. The art department faculty shared curatorial responsibility for this exhibition.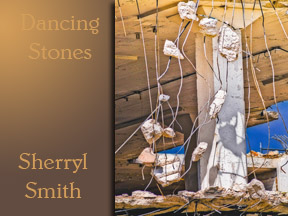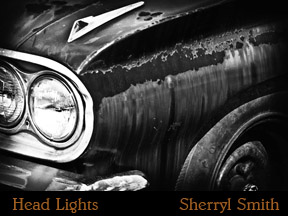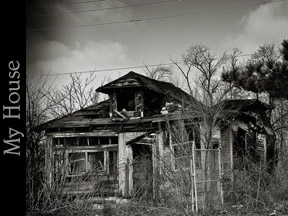 ---
Blurred Perception: Tactile & Abstract
Oct. 3 to Nov. 27, 2011
Featured works by Lynn Basa, Diane Cooper, Rebecca Moy, Erin Waser, Casey Wasniewski, Kathleen Waterloo, and Rhonda Wheatley
This exhibition consists of a common thread through the use of differing materials, technique, and psychological layering. Each artist achieves their own tactile and abstract by a 'layering onto' or 'layering over' approach; or rather additive/subtractive processes. Despite this diversity of abstraction, unexpected yet exciting similarities exist in each work and the visual texture screams 'touch me' or else lies seductively beneath the surface.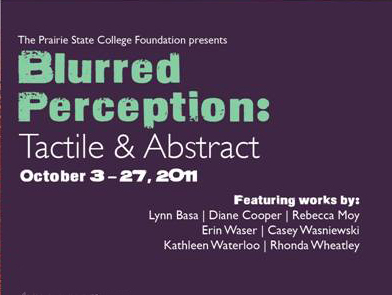 ---
In the Eye of the Beholder
Nov. 7 to Dec. 8, 2011
Reception: Thursday, Oct. 6 4:30-7:30 p.m.
Featured works by Barbara Balis, Carol Block,
Tom Brand, Laurie Schirmer Carpenter,
ANKO (Anneke Dekker-Olthof), Kathy Gleser,
Julia Holmaas, Laurel Izard, Connie Kassal,
George Kassal, Deborah Landry, Rich Manalis,
Brett Maniscalco, Sara Scherberg, Giny Scott,
Carole Stodder, Melissa Washburn, and
Gwynee Winsberg
The Area Artists Association operates under the umbrella of the Lubeznik Center for the Arts in Michigan City, Indiana. The Association was formed in 1980 to increase the appreciation and recognition of local and regional artists through the exhibition and promotion of members' work. It supports the arts in the Michigan/Indiana region, encompassing a sixty mile radius of Michigan City.
All members are professional, working artists who have been juried into the organization. The current membership consists of 29 artists working in a variety of media who support each other and reach out to the community through monthly programs and various exhibition venues, including a yearly exhibit at the Lubeznik Center. In the Eye of the Beholder features seventeen member artists.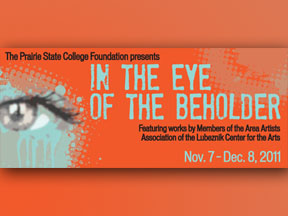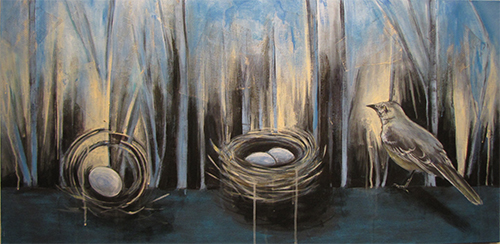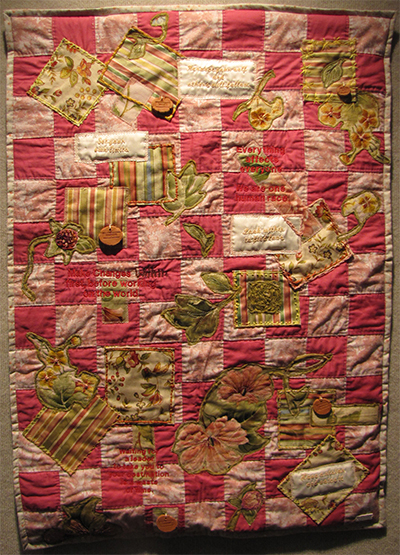 ---
decompression
Jan. 3 -26, 2012
Reception: Thursday, Jan. 19, 4:30-7:30 p.m.
Featured works by Dawn Diamantopoulos, Megan Green, and Lee Heinsen-Ligocki
How do you decompress at the end of a day? How do you resolve where your life has led you, compared to where you thought you'd be? How do you put the day away for the night?
Three artists are challenged by these questions and allow the viewer glimpses of the answers. Each artist uses their artwork to sort through their day—through their lives.
Photographer Megan Green often travels for work. She describes Out of Town, her current series of color photographs: "What began as a lark has almost become a necessity now when I travel. To me, it's nothing deeper than inserting myself in a space that is temporary to me—temporarily supposed to be a place of comfort, to sleep, to work, to come back to after shooting all day. Yet what I'm doing in the shot has to be none of the 'normal' things you do in a hotel room—thus being out-of-place in place. Sometimes it's fun, sometimes it's a challenge, but it's always slow, a subconscious counterbalance to the frenzy of photographing all day at the auto shows." Sometimes subtle, sometimes overt, she is always there yet never exactly where she should be.
Lee Heinsen-Ligocki is always on the road as a professional truck driver. Her Trippin Hands drawings are intentionally small for portability. "The drawings reflect thoughts and experiences from hours of solitude. Each image suggests an idea, but there is an underlying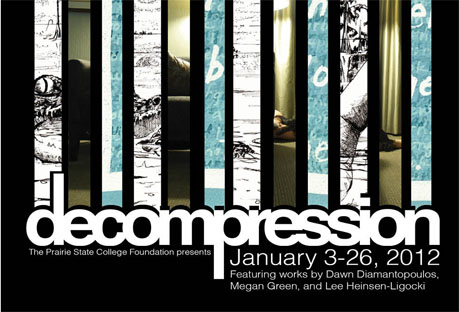 message the viewer can inwardly interpret. Each has a story. Each has layers of life: the humor, the melancholy, and the disillusionment of daily life as a human being." Her hands take her somewhere new in every drawing—physically to a new place and mentally to a new space.
Dawn Diamantopoulos is a stay-at-home mom/artist who often wonders how she got there. The History Repeats drawings are like pages of her diaries, shuffled, holding universal truths. "This series began when I wanted to rework an art book's writings into layered drawings. The phrases were taken/adopted from that book. There wasn't a good theme line in each group, yet the lines I pulled actually relate to more areas of my life than the original writing. I began to think of my life as a circle spinning, rather than a time line. The feelings and ideas in my head were being repeated and relived for entirely new reasons." Each drawing has the past and present intertwined.
Each artist decompresses in her own way. The work is therapeutic and cathartic. Often in a different place physically, mentally, and emotionally from day to day and year to year, each finds some sense of familiarity and some sense of repetition.
Dawn Diamantopoulos
---
Presence Absence
Feb. 6-29, 2012
Reception: Thursday, Feb. 9, 4:30-7:30 p.m.
Featured works by Mark Zlotkowski and Sergio Gomez
Presence/Absence is a two-person traveling exhibition of painting works by Sergio Gomez and Mark Zlotkowski.
"Gomez paintings are fused with meditations on the multifaceted experiences of human condition and spirituality throughout the cycles of life. The human form is the dominant element in his work and it exists as an anonymous representation of the self. Gomez' delves into the essence of humanity and the human condition". "Zlotkowski's work bears witness to deeply personal versions of shared human experiences. The work makes sense of seeming paradoxes: the urban meets the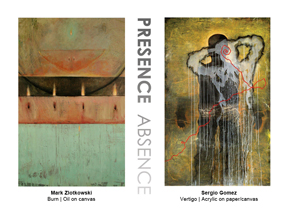 wilderness; fires burn without consuming; the mundane, ephemeral stuff of life cracks open to reveal its eternal substance".
Presence Absence hopes to encourage its audience to a deeper understanding of their own visible and invisible experiences.
---
High School Juried Art Exhibit
March 12 to April 5, 2012

Reception: Thursday, March 15, 6-8 p.m.
Award Ceremony: Thursday, March 15, 7 p.m.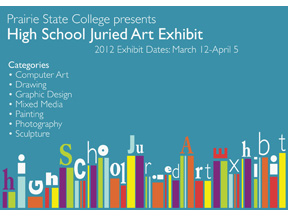 ---
Graduate Students Exhibition 2012
April 30 to May 24, 2012
Curated by PSC Art Faculty, Paul Rinaldi
Reception: Wednesday, May 1, 12-2 p.m.
2012 Graduate Students Exhibition Catalog
Featured work by Sybil Moore, Carol Bruns, Samantha Cook, April Grammer, David Koenig, Alan Bulava, Jeanette Howard, Norman Harris, Royce Nkulenu, and Shane Senesac

The Fine and Applied Arts program is very pleased to present the 2012 Graduate Exhibition. This year's exhibit showcases works in drawing, painting, photography and mixed-mediums by students completing degrees in Fine Arts, Graphic Communications and Photography. Each of the exhibiting students participated in our Department's capstone Portfolio Seminar, where they gained a greater awareness of professional standards, developed an artist statement addressing their creative interests and process, and produced a cohesive body of new work that is exhibited here.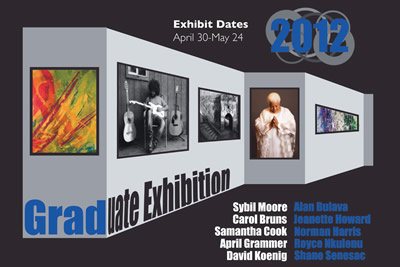 The variety and personal vision of the work is striking. Some of our students work from an emotional reservoir rooted in memory and dream, while others seek to give image to aspects of life and reality that are often overlooked or not visible through the casual gaze. In other works, one finds a profound desire to express self and identity through varied conceptual constructions. The diverse backgrounds and creative interests of our students are truly what bring vitality to our visual arts program. Their achievement is greatly supported by PSC's administration and staff that believe in the necessity and relevance of the arts and culture in the lives of our students and our community.
---
Location Impulsion
June 4 to July 26, 2012
Reception: Thursday, June 7, 4-7 p.m.
Featured works by Bonnie Peterson, Nina Weiss, and Michael X. Ryan
The show Location Impulsion features three artists whose works are created directly in response to location. Artists Michael Ryan, Nina Weiss and Bonnie Peterson each respond to "location" as a place of inspiration that defines their creative practice; their responses to each place are based on their own individual sensibility. The response is intellectual, sensory, emotional and site-specific. Each artist looks to location as impetus for a body of work that includes observation of that site and details related to that observation, so that the work couldn't be about any other location but the one chosen. "Location" is defined in the dictionary as a "place of activity, settlement or residence," while "impulsion" is defined as "the act of impelling." For each artist, the activity taken in that place provides data, information, memory, and finally, propels response. The viewer then is transported to that site through imagination, intellect, and visual guidance. The work may arouse personal memory of other such places, related through viewer's individual experience. Most importantly, the work cannot but help to elicit response.
Michael Ryan looks to a location to inspire an investigation that incorporates information that may not be readily known by another viewer. Artists often "see" what others don't, and Michael's sensitivity to see art in a beer puddle, map, or other observed data to create a sense of journey is implicit in his work. The works are most often presented in series that examine the hidden meaning of his found images, and look at what they imply sociologically, politically or socially.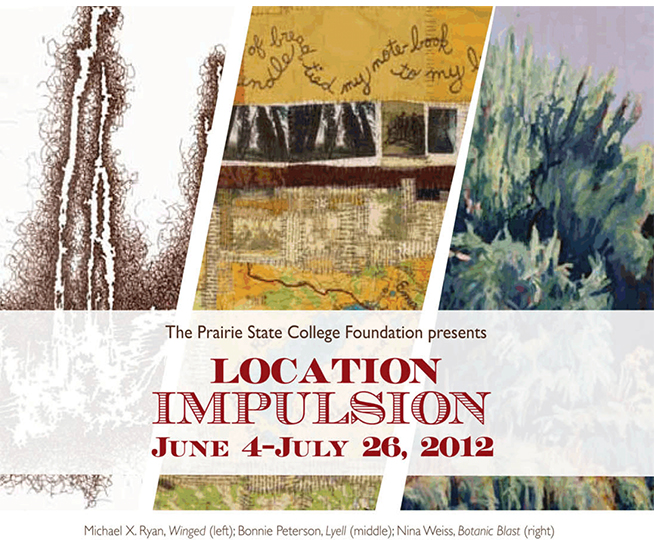 Nina Weiss travels frequently to teach workshops, and responds directly to natural settings. She might view a landscape that evokes beauty or special light, but she invokes each landscape with her personal vision of color and light. Her many layered paintings make each landscape her own, but address the specificity of site through her immediacy of response.
Bonnie Peterson is a frequent traveler who experiences place through extended hikes. She encounters place with the intimacy of someone who can observe through a "leisurely" pace, (although her hikes are hardly leisurely!), so that specific understanding of place directs her investigation. Her work is very process oriented, using photo transfers, text, maps, and other information. She does extensive research after visiting a location that propels her creative impulse, which embraces the process of making quilts. While for Bonnie, location is not her only source for her work (she also makes works on political, environmental and scientific subjects), her work so frequently responds to and refers to location that it has been a strong source of creative investigation. The works evoke memory, thoughtful understanding of data, and sensual response to color and visual delight.
Bluemlisalp Glacier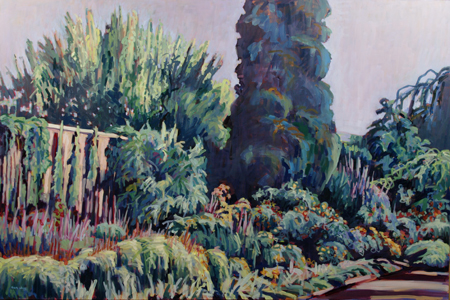 Botanic Blast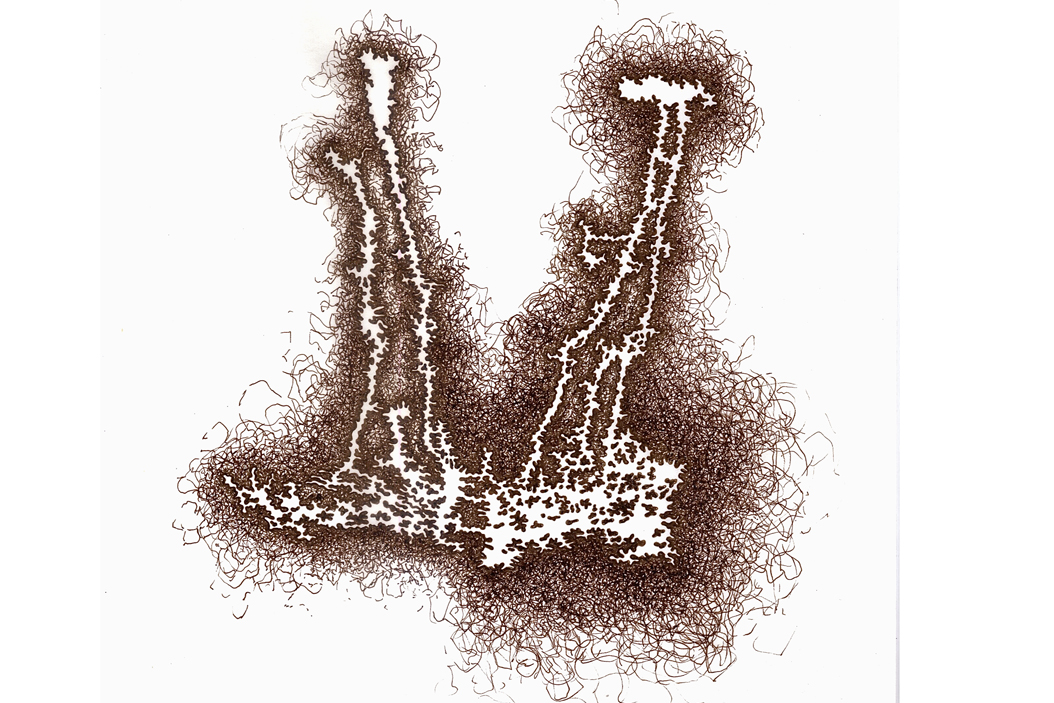 Rooted Slide
---