Past Exhibitions during Academic Years:
---
Academic Year 2012-13
---
Photographer of the Year
and Annual Student Exhibition
Aug. 27 to Sept. 20, 2012


Featured works by Beth Schimanski, Photographer of the Year
This exhibition features Beth Schimanski's series, "at the essence" works that explored the visual nature of an intimate concert venue. Her works emphasized the luminosity of light against soft dark grounds.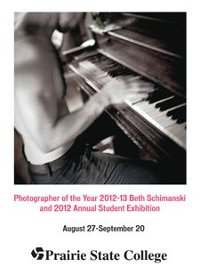 ---
Narrative!
Oct. 1 to Nov. 1, 2012


Opening Reception: Thursday, Oct. 4, 4:30-8 p.m.
Featured works by John Pitman Weber,
Eleanor Spiess-ferris, and Gladys Nilsson
This exhibition features works by renowned Chicago artists Eleanor Speiss-Ferris, Gladys Nilsson, and John Pitman Weber. These three painters use oblique narrative in their work to engage our exploration of their visual images, using humor, fantasy, wonder, toughness, and tenderness. They each use shifting meanings, metaphor and time compression to present their covert narratives.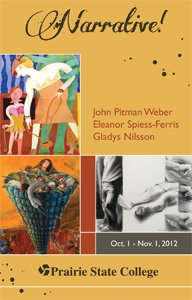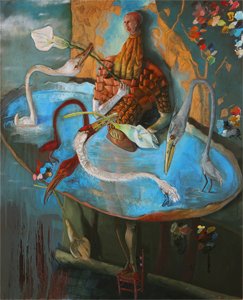 Shallow Waters by Speiss-Ferris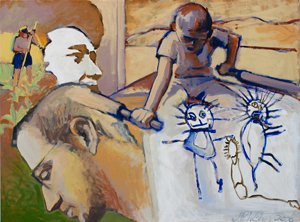 Daniel by Weber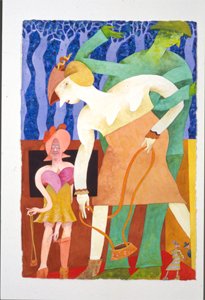 Bye Blue Trees by Nilsson
---
Natural Connections
Nov. 12 to Dec. 13, 2012
Opening Reception: Thurs., Nov. 15, 4:30-7:30 p.m.
Featured works by Donna June Katz, Connie Wolfe, Jane Fulton Alt, and Vivian Visser
Artists Donna June Katz, Connie Wolfe, Vivian Visser, and Jane Fulton Alt create works responding to nature with its qualities of beauty, the sublime, its destructiveness and its fragility. Nature is their muse, whether in the loving details of natural forms, (Katz) abstract patterns found (Wolfe), mystery of nature's destruction (Alt), or the beauty of natural materials (Visser) to make forms based on nature.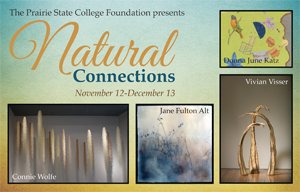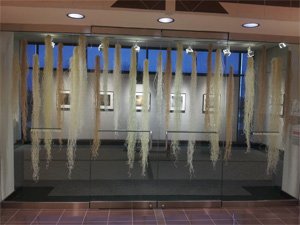 Installation by Connie Wolfe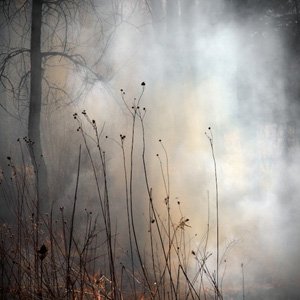 Burn by Alt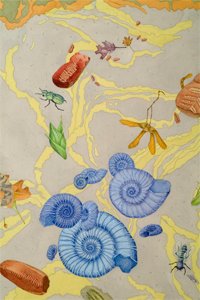 End Moraines by Katz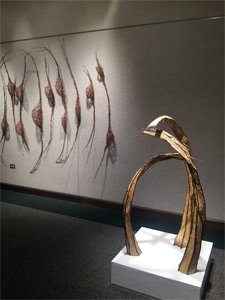 Fiber Installation by Vivian Visser
---
Evocative
Jan. 7-30, 2013


Artist's Reception: Thursday, Jan. 10, 4:30-8 p.m.
Featured works by Cousandra Armstrong, Marcia Babler, Iwona Biedermann, Elizabeth Gadelha, Barbara Goldsmith, Larry Jensen, Laurie LeBreton, Roberta Malkin, Bobbi Meier, Karen Murphy, Dominic Parada, Gina Lee Robbins, Wendy Rolfe, Jordan Scott, and Michele Thrane
A juried show of works that evoke memory, emotions or are expressive or suggestive. Juried by Paul Klein of Paul Klein Artist Works. The show consisted of 21 works by 15 artists, including works in photography, painting, ceramic sculpture, and mixed media.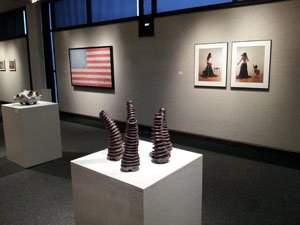 Works by Gina Lee Robbins, (ceramic);
Jordan Scott (mixed media Flag work)
and Elizabeth Gadelha (photograph)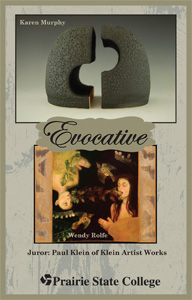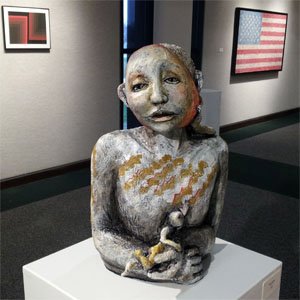 Sculpture by Roberta Malkin
---
Collaborative Vision: The Poetic Dialogue Project
Feb. 11 to Mar. 7, 2013

Curated by Beth Shadur
Artists' Reception: Thursday, Feb. 21, 4:30-8 p.m.
Featured works: Granite Amit, Jan Beatty: Classifieds. Ana Fernandez, Kathryn Dohrmann: Contained / Released.
Kim Laurel, Michael Burkard: One. James Mesplé, Jeffrey Levine: The Color of Cardinals. BettyAnn Mocek, Michael Heller: COLLAGE: MATRIX: CITY:BIRD. Charlotte Segal, Margaret Rozga: Fuji-san Beth Shadur, Lois Roma-Deeley: Arguing with Angels. LaShawnda Crowe Storm, M. Eliza Hamilton Abegunde: Be/Coming. Lynn Takata, LR Berger: The Space Between. Annette Turow, Steve Orlen: Deuteronomy 6.7. Mirjana Ugrinov, Cynthia Hogue: Stones Too.
The Poetic Dialogue Project, works created collaboratively by teams of contemporary visual artists and poets from throughout the United States.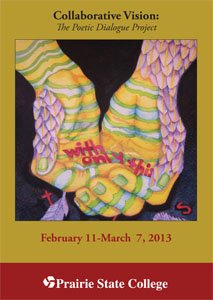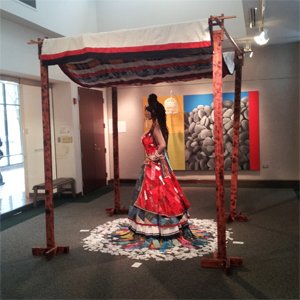 Installation by LaShawnda Crowe Storm
and Maria Eliza Hamilton Abegunde;
Painting by Mirjana Ugrinov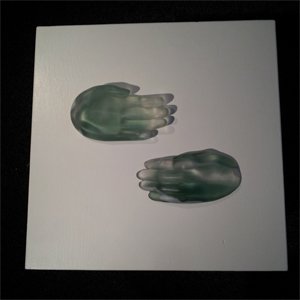 Hands by Lynn Takata and LR. Berger
---
Graduate Student Exhibition
April 29 to May 30, 2013
Curated by Paul Rinaldi
Reception: May 2, 12-2 p.m.
2013 Graduate Student Exhibition Catalog
Featured works by Kara Adair, Taylor Auguston, Reginald Gale, Alice Jacobs, Dylan Moulesong, Amber Peoples, Natalie Pesick, Lindsey Walker, and Drew Young
A graduate student exhibition featuring student artists Kara Adair, Taylor Augustson, Reginald Gale, Alice Jacobs, Dylan Moulesong, Amber Peoples, Natalie Pesick, Lindsay Walker, and Drew Young.
---
Sapphire and Crystals
June 3 to July 10, 2013
Curated by Joyce Owens
Reception: Thursday, June 6, 4-7 p.m.
Featured work by Felicia Grant Preston, Shahar Caren Weaver, Rhonda Wheatley, Dorian Sylvain, Joyce Owens, Pearlie Taylor, Arlene Turner Crawford, Patricia Stewart, Rose Blouin, Renee Williams Jefferson, Juarez Hawkins, Shirley Sullivan, and Shyvette Williams
This exhibition featured works by a collective of African American women artists from Chicago. Curated by Joyce Owens. Works ranged from photographs, paintings and drawings to prints and mixed media.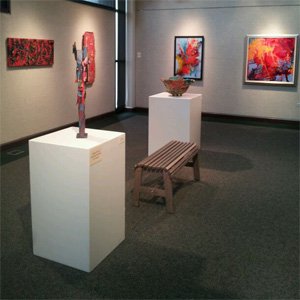 Felicia Preston's paintings on rear wall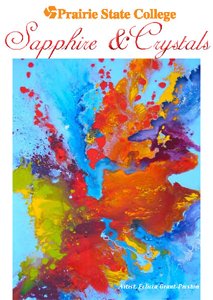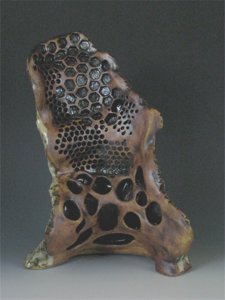 Perceptuary by Juarez Hawkins
---