Past Exhibitions during Academic Years:
---
Academic Year 2013-14
---
Annual Photographer of the Year and Student Exhibition
Aug. 26 to Sept. 9, 2013


Featured works by Alice Jacobs, Photographer of the Year
This is our annual Photographer of the Year and Student Exhibition, featuring Alice Jacobs, whose black and white photographs transform her mundane subjects into images that are at once, surreal, beautiful and evocative.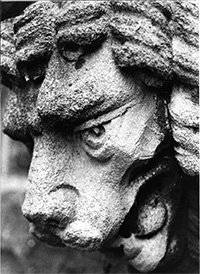 Photograph by Alice Jacobs
---
Phantasmagoria
Sept. 30 to Oct. 31, 2013


Opening Reception: Thursday, Oct. 10,
4:30-7 p.m.
Visiting Artist Talk:
Kathy Weaver, Oct. 23, 11 a.m.-12 p.m.
Featured works by Sharon Bladholm, Kathy Weaver, and John Kurtz
The title of the fall 2013 exhibition, Phantasmagoria, featuring artists John A. Kurtz, Sharon Bladholm, and Kathy Weaver is defined as "a bizarre or fantastic combination, collection, or assemblage". The works presented here fascinated and delighted the viewers with their imaginative images based on the fantastic and bizarre, and use a sense of assemblage in their combinations of image. All three artists' images are rooted in real "things" but each take their images to extremes, moving beyond the parameters of normal reality to create works that astonish us in their detail, their bizarre use of shape and form, and their wildly imaginative character. While each artist's work deals with different subject matters and concerns, the work shares the qualities of attention to craftsmanship, humor and distortion to create the artists' creative expressions.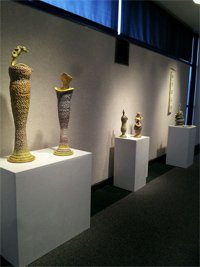 Ceramic by Sharon Bladholm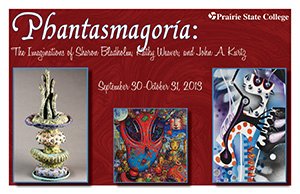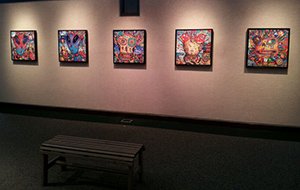 Paintings by John A. Kurtz
---
Abstract Impact
Nov. 11 to Dec. 12, 2013


Opening Reception: Thursday,
Nov. 14, 4:30-7 p.m.
Featured works by Michael Hopkins, Mary Burke,
Crystal Tucker, Barbara Cooper, Zach Mory,
Steve Leavitt, Shelley Gilchrist, and Sharon Swidler
The word 'abstract' in the visual arts connotes two meanings. The first is art work that is non-objective; that is, work that makes no reference to recognizable objects from reality, but instead uses only color, shapes, line and form to create its meaning. The second use of abstract really defines "abstracted," that is, art work that takes its reference from a subject, but depicts it in such a way that it is removed from the real look of the object.
The purpose of Abstract Impact is to show the wide range of meaningful work that can be characterized as abstraction. Here, eight Midwestern artists (Steve Leavitt, Zach Mory, Shelley Gilchrist, Barbara Cooper, Crystal Tucker, Mary Burke, Sharon Swidler, Michael Hopkins) work in a wide variety of media as well as styles ranging from the more esoteric and minimal, to the obsessive, to the joyful and exuberant. Their impact derives from the wonderful invention in their use of the formal elements of art (line, shape, space, form, color, and pattern) and in the ideas used for their suggested content.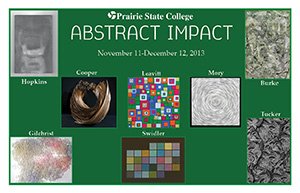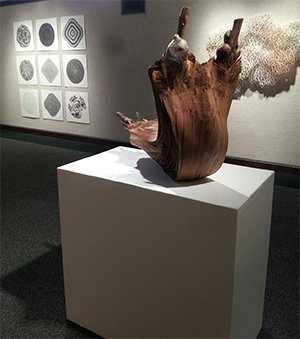 Sculpture by Barbara Cooper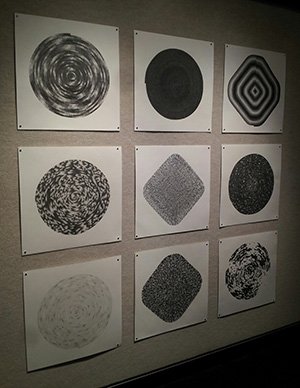 Grid of Drawings by Zach Mory
---
Convergence: Faculty Show
Jan. 6-30, 2014


Closing Reception: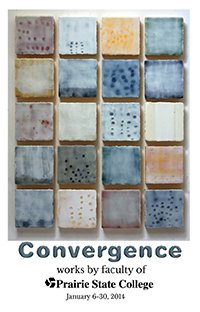 Thursday, Jan. 30, 4-7 p.m.
Featured works by Faculty of PSC: Exhibition highlighting the sabbatical work of Prof. Paul Rinaldi and work by George Kassal, Lou Shields, Rebecca Slagel, Jeff Stevenson, Valerie Taglieri, and Tim Vitek
Convergence is an exhibition of works by faculty at Prairie State College drawn together to highlight the diversity of expressions by our faculty in drawing, painting, photography and art appreciation. All of our teaching faculty members are professional artists who exhibit their work in the Chicago area and beyond. This exhibition particularly featured, in the center gallery, the works of PSC's Fine Arts Coordinator Professor Paul Rinaldi, whose sumptuous encaustic works were generated during a sabbatical in 2012.. Also shown were narrative paintings by Prof. Lou Shields, colorful abstractions by Adjunct Faculty member Tim Viatek, vibrant sky paintings by Adjunct Faculty member Vicky Taglieri, powerful symbolic paintings by Adjunct Faculty member Jeff Stevenson, mysterious photographs by Prof. Rebecca Slagle, and photographs of colorful light by Adjunct Faculty member George Kassal.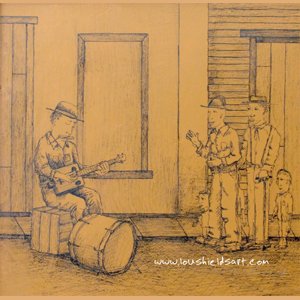 2nd Street Stomp by Lou Shield

16 Pages by Jeff Stevenson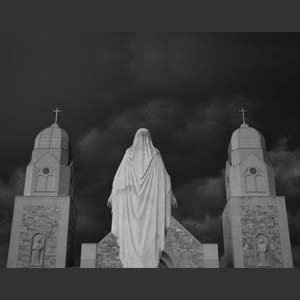 Commanding by Rebecca Slagle
---
Metaphorical
Feb. 10 to Mar. 6, 2014


Reception: Thursday, Feb. 13, 4:30-7 p.m.
Featured works by Sophia Nahli Allison,
Ana Fernandez, Robert Magrisso, Renee McGinnis,
and Joanna Pinsky.
Metaphorical. Featuring artists Joanna Pinsky, Robert Magrisso, Renee McGinnis, Sophia Nahli Allison, and Ana Fernandez: The word "metaphorical" refers to something that is used to imply something else. The creative act often suggests the use of metaphor, as artists frequently make use of symbols to create meaning and impart ideas. In contemporary art, many artists are interested in conveying ideas beyond the actual representation of what they see; instead, they address themes that move well beyond the mere visual replication of their subjects. The artists who are exhibiting here use metaphor in their works to convey emotions, meaning and idea. While their subject matter is recognizable in terms of representing something "realistic," these artists move beyond the obvious into the realm of the symbolic.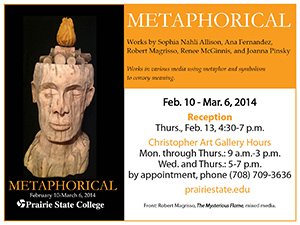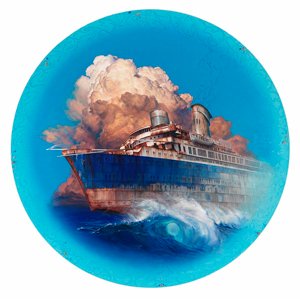 Princess by McGinnis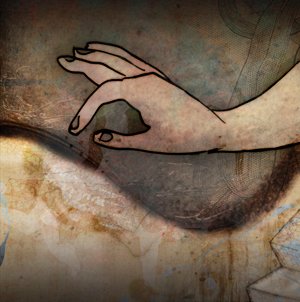 Hand by Fernandez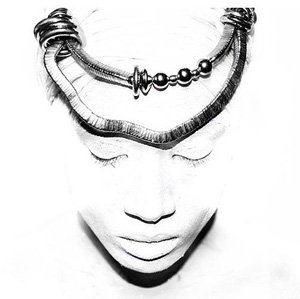 I'll be Free by Allison
---
High School Juried Art Show
Mar. 17 to Apr. 3, 2014
Reception: Thursday, Apr. 3, 6-8 p.m.
Awards Ceremony: Thursday, Apr. 3, 7 p.m.
High school Art exhibition: our annual high school art exhibition, curated by Professor Rebecca Slagle and juried by our art faculty, features chosen works from area high schools. Awards are given and winners receive a free class at PSC.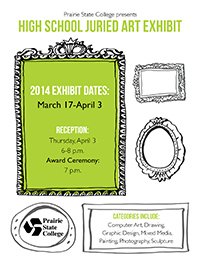 ---
Graduate Student Exhibition
April 28 to May 21, 2014
Curated by Professor Paul Rinaldi
Reception: Thursday, May 1, 12-2 p.m.
2014 Graduate Student Exhibition Catalog
Featured works by Charles Beard, Ashieka Daniels, Devyn Foster, Brittany Ivy, Joshua Joyce,
Karalyne Murray, Keli Panega, Beatriz Romaro,
Irene Ganas, and Annabelle Mullennix
This is our annual exhibition put together by Professor Paul Rinaldi from his majors class. Students are asked to create a body of work in preparation for their graduation, as well as design the postcard and catalogue for the exhibition.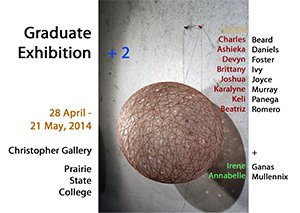 ---
Material Associations
June 9 to July 24, 2014


Artists' Reception: Thursday, June 19, 4:30-7 p.m.
Featured works by Laura Anne Cloud, Iris Goldstein, Donna Hapac, Laurie LeBreton, and
Gina Lee Robbins.
Creativity can be spurred by an idea, an impression, a word, vision, or sound. Artists often speak of the "aha!" moment, in which an idea for a work crystallizes from an initial spark. Beyond that, visual artists pursue their creative practice with many varied processes. Some artists create works by first responding to an idea or theme, and then begin works to address their own reflection and research on that theme. Some artists set up a disciplined structure within which to explore variations on an initial idea that intrigues them. Yet,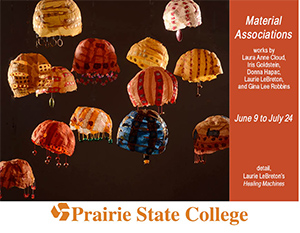 other artists are most interested in process, and make works that mostly closely respond to the process of painting, sculpting, printmaking or any other media. This exhibition of five artists falls in with the last group; these artists are interested in the process suggested to them by the particular materials they use in the creative act.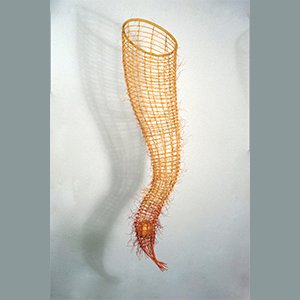 Yellow Orange Pod 99
by Donna Hapac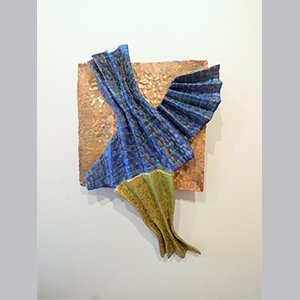 "Iris'Flight-2" by Iris Goldstein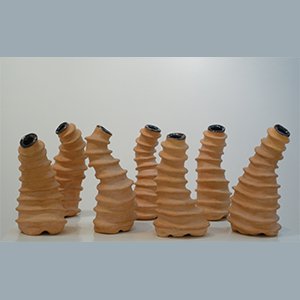 Sculpture by Gina Lee Robbins