Past Exhibitions during Academic Years:
---
Academic Year 2014-15
---
Annual Photographer
of the Year and
Student Exhibition
Aug. 18 to Sept. 18, 2014
Reception: Thursday, Aug. 28,
12-2 p.m.
Featured works by Carole Rose, Photographer of the Year
PSC's fall student exhibition, featuring Photographer of the Year Carole Rose's panoramic photographs celebrating the city of Chicago with its architectural magnificence.


Chicago Skyline


Chicago at Night Skyline
---
The Discerning Eye
Oct. 6 to Nov. 6, 2014
Reception: Thursday, Oct. 9, 4:30-7 p.m.
Featured works by Dawoud Bey, Terry Evans, and Joseph Jachna
Photography, as an art form, is powerful in its ability to capture a frozen moment in time as seen through the critical lens of the photographer. In an era in which every human who owns a cell phone can produce a photograph (often of questionable quality), the works of artists who photograph take on an even greater importance. Photography as art must be powerful in conveying the intent of the artist and his or her personal reality. A photograph's quality lies not only in its editing but in its design; a great work of art doesn't necessarily convey "information" but instead projects emotional value, meaning and significance to that which is photographed. A good photograph allows us, as viewers, to question our own perceptions and dig deeper for meaning and understanding.
The three master photographers in the exhibition, The Discerning Eye, portray their insightful understanding of the world in their works, but each from a very different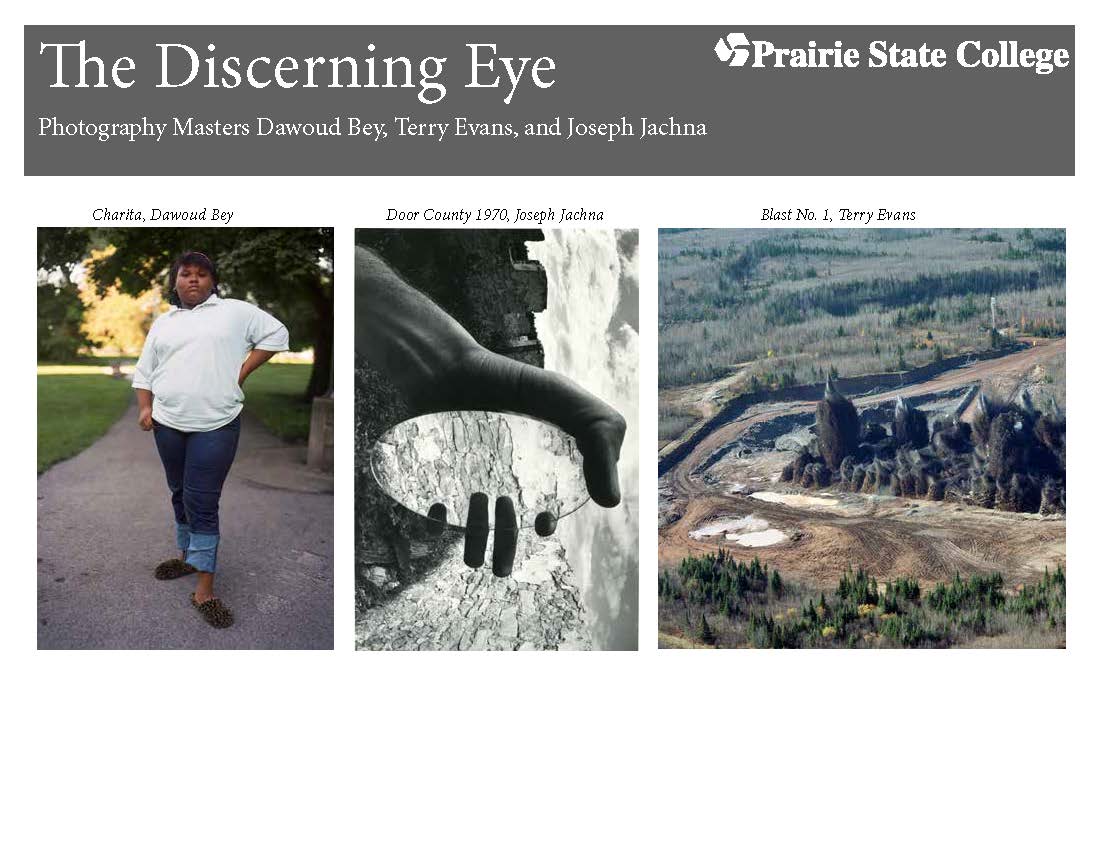 perspective. Dawoud Bey, Terry Evans and Joseph Jachna all make us notice, and they ask us to look deeper than the surface and to think beyond our own limited perceptions of reality. Each of the three uses as subjects what may be considered mundane, but presents to us images that ask us to repeatedly look, and to give our attention to that which we may have neglected to see. Whether in Bey's images of teenagers, Evans' depictions of landscapes, or Jachna's details of natural forms, we are pushed to immerse ourselves with personal absorption in the images, and to wonder at their meanings.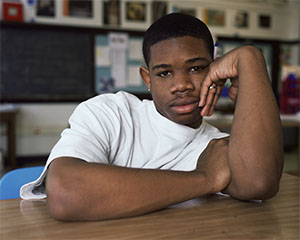 Dawoud Bey, DeMarco, photographer, 2007, from
Class Pictures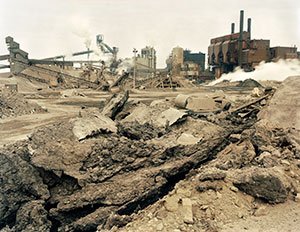 Terry Evans, Slag, Indiana Harbor, Feb. 28, 2006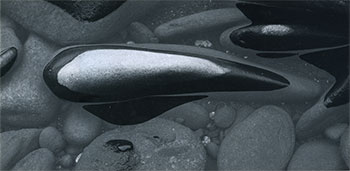 Joseph Jachna, Stone in Water, Lake, Superior, 1961
---
Suite Prints:
25 Years of Chicago Printmakers Collaborative
Nov. 17 to Dec. 19, 2014
Reception: Thursday, Nov. 20, 4:30-7 p.m.
Works in various methods of printmaking from an important and influential Chicago Studio and Collective. The curated show will feature prints in various media, from silkscreen to intaglio, by members of this Collaborative.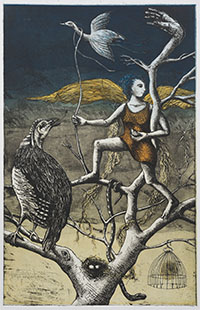 Deborah Maris Lader, Wings and a Prayer, etching
---
Construction/Deconstruction
Jan. 5 to Feb. 5, 2015
Reception: Thursday, Jan. 15, 4:30-7 p.m.
Featured works by Shaila Christofferson, Melissa Jay Craig, Michele Stutts, and Margaret Wharton
In the art world, the term "construction" defines a sculpture that is put together by bringing together disparate materials. The term implies that something is built of component parts, not carved or molded; instead, a construction refers to a whole that is made by a unification of those various parts. The term "deconstruction" as used in the field of art refers to the breakdown of a whole into parts in order to analyze or redefine a whole, then to give it new life or new meaning in a reconfiguration. Because the creative process is one of invention, artists often find inspiration in objects or materials around them, thinking of ways to combine things in original ways or to reinterpret something that already exists by inventing something new.
The artists in the exhibition Construction/DeConstruction share a passion for the making of new meanings through unification of smaller components into a new creative whole. Those parts may be derived from the deconstruction of another object in order to salvage materials and forms that are then transformed into a new object, such as Margaret Wharton's creation of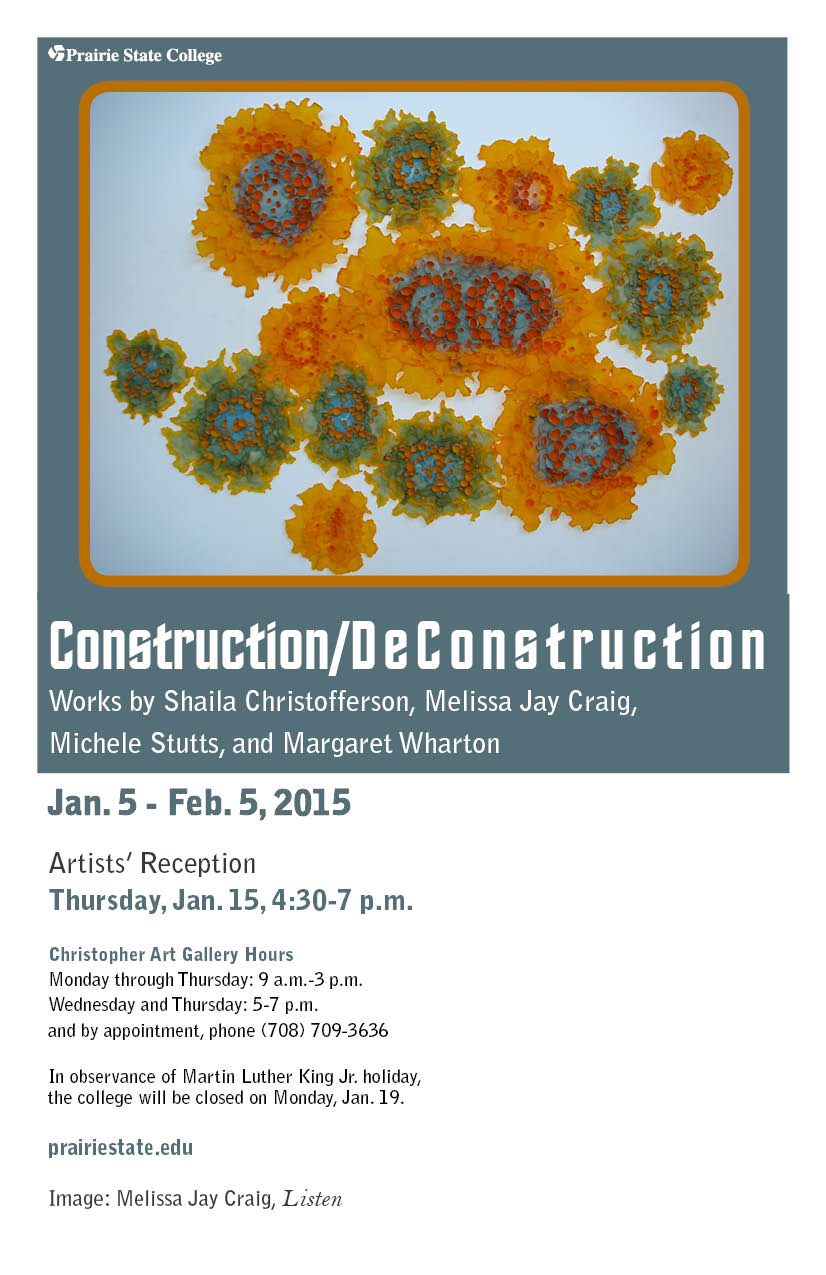 sculptures from deconstructed chairs. Their creative practice is defined by transforming one thing into another through both construction and deconstruction. While their process is similar in their shared interest in making a whole from parts, their creative output varies significantly from abstract to humorous, and from organic to symbolic.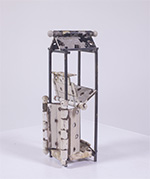 Foreclosed by Stutts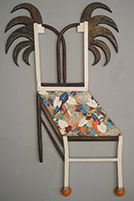 Essence of Chippendale 1985
by Wharton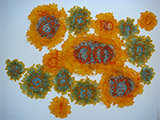 Listen by Craig


---
Obsession
Feb. 16 to March 18, 2015
Reception: Thursday, Feb. 19, 4:30-7 p.m.
Featured works by Reginald Baylor, Mary Croteau, and Jordan Scott
The word "obsession" is defined as "the domination of one's thoughts or emotions by a persistent idea, image or thought." In the sense that most artists feel compelled to make the work that they do, we might say that obsession is present in the psyche of many an artist. But the artists in this exhibition seem to personify the idea of obsession, as they create works that involve excessive hours of work, extreme craftsmanship, and often the use of enormous numbers of tiny units to make a whole creation. Whether it be Reginald Baylor's canvases built of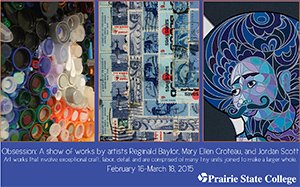 immense numbers of tiny, brilliant painted sections to compile an image, or Mary Ellen Croteau's beautiful images built of prodigious bottle caps, or Jordan Scott's abstract canvases made of colossal numbers of stamps, these works take our breath away not only by their compelling imagery but by the craft and time involved in their creation.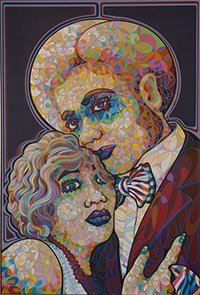 Mr and Mrs Pitch and Peach America by Baylor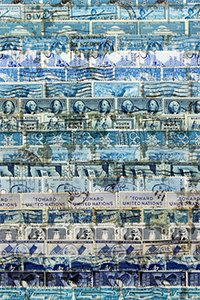 Space Between the Rain Detail
by Scott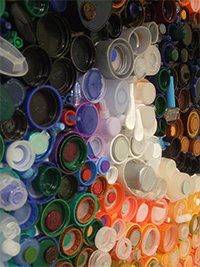 Work by Croteau


---
Annual High School Art Exhibit, 2015
March 26 to April 9, 2015
Curated by PSC Art Faculty, Rebecca Slagle
Reception: Thursday, March 26, 5-7 p.m.
The faculty in the department of Fine and Applied Arts extends their congratulations to the 50 artists selected to exhibit their work in this year's annual competition for high school students.

Students who attend high schools within the Prairie State College district were invited to submit entries in various media, including drawing, painting, photography, graphic design, computer art, mixed media, best electronic media, and sculpture. There were 120 entries received, and the works selected to be part of this annual juried exhibit represent the collective talents of students from Beecher, Bloom, Bloom Trail, Homewood-Flossmoor, Marian Catholic, Rich Central, Rich East, and Rich South high schools.

From these works, one was selected as Best in Show, five were selected as "Best of Category," in drawing, painting, photography, graphic design, and sculpture and three other works received special acknowledgment and were presented with "Merit" awards. Best of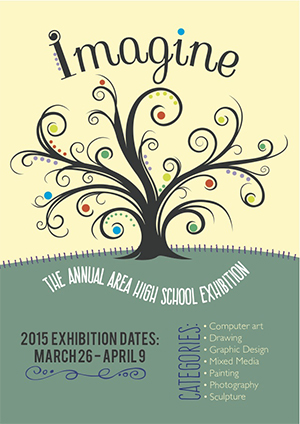 Category award winners receive a free class at Prairie State College. We applaud those who received these special honors, and all students whose work is part of this exhibition. These students represent an outstanding example of the talent being developed in the high schools in this district, and we are proud to showcase these artistic endeavors.
---
Graduate Students Exhibition 2015
April 27 to May 21, 2015
Curated by PSC Art Faculty, Paul Rinaldi
Reception: Wednesday, April 29, 12-2 p.m.
2015 Graduate Exhibition Catalog
The Fine and Applied Arts program is pleased to present the 2015 Graduate Exhibition. This year's exhibit showcases works in drawing, painting, photography graphic design, and mixed-media by students completing degrees in Fine Arts, Multi-Media and Photography. Our thirteen graduating students participated in PSC's capstone Portfolio Seminar, where they gained a greater awareness of professional standards, developed an artist statement addressing their creative interests and process, and produced a cohesive body of new work that is exhibited here.

The scope and depth of the work speaks to a growing level of commitment, exploration and visual discovery undertaken by each student. Some of our students are working with abstract compositions involving color and

Card image designed by Nicolas Naliwko
shape structures, while others interpret things directly observed or remembered from the environment. All are engaged with weaving together visual structures that speak to individual experience and purpose.

The diverse backgrounds and creative interests of our students bring vitality to our visual arts program. Their achievement is embraced and supported by the Prairie State College administration, art faculty, and staff—all of whom believe in the necessity and relevance of the arts and culture in the lives of our students and our community.
---
Expansive Visions
June 1 to July 9, 2015
Reception: Thursday, June 11, 4:30-7 p.m.
Featured works by members of Fused Encaustic Group
Encaustic, (a Greek word meaning "to fuse or burn", from "enkaustikos") the use of heated wax to which pigment is applied, is a versatile medium that allows for a wide variety of expression. Artists use encaustic to create all kinds of work, both abstract and figurative, with all kinds of moods and subject matter. This exhibition, Expansive Visions, intends to show the wide range of work that can be envisioned and created in encaustic. The work includes many of the members of an encaustic collective, FUSEDChicago, a group that meets to further the medium of encaustic, exchange ideas and techniques, and to create exhibits that feature the medium.

Encaustic technique involves heating wax made of resin and beeswax so that it is kept molten, with or without colored pigment added; the wax is applied to an absorbent surface (like a prepared wood panel, canvas or other surface) and then reheated to allow colors to fuse. Marks can be made with brushes, sticks, or other tools, and wax can be built up to create layered and sometimes transparent surfaces, or can be scraped away to reveal what is in the previous layer. The wax becomes the pigment binder, and allows for creating three-dimensional sculptures as well. Encaustic allows, too, for all types of textural surfaces from polished to a deep even sheen, to roughly expressive due to brush marks made by applying wax, to incised gouges, lines and dots.

Because of encaustics' emphasis on surface, color and softened layering, it is a seductive medium of art. Colors can be bright and richly saturated, with seemingly liquid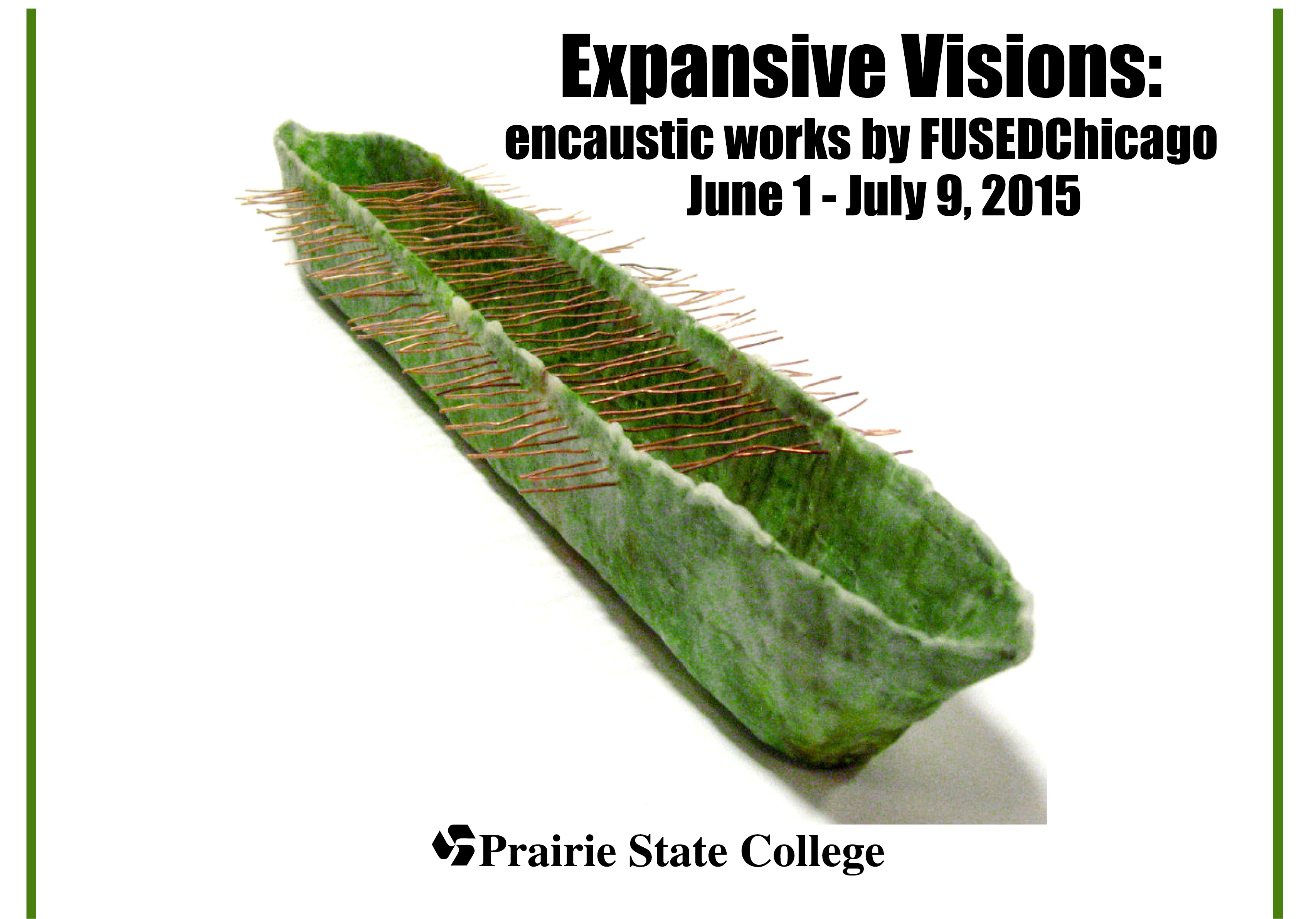 Card image by Alicia Forestall
blending and fusing, or can be softly obscured to create sensuous overlays of color. Due to its technique involving layering of pigment, images and transparency, it can create a mood of mystery and fragility not shared in other types of paint. Layers of wax can reveal new colors, (when the top layer is scraped away) or can hide imagery as if it is in another picture plane, creating an unparalleled depth of space. Works can be soft and hazy, (as in Ahavani Mullen's work) or bright and geometric, with defined edges (as in Shelley Gilchrist's work). Artists can mix in other media to create contrasts between soft, buffed wax surfaces and strong hard metallic surfaces (as in the work of Mary Krebs Smyth). Some artists collage in images, which are then layered with wax to soften the image (as in the work of Katsy Johnson).

Expansive Visions enables the Christopher Art Gallery to present a wide range creativity by the exhibition's participants, but also emphasizes the encaustic medium's feeling of "expansion" by its ability to create deep imagined space and the illusion of color as a fluid and moving element in the work. We are pleased to show the profuse variety of works by FUSEDChicago, with its bounty of color, shape, form and idea.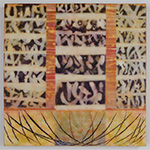 Bar Code by Lagger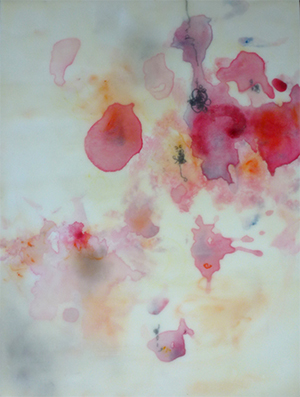 Inside the Hallowed Temple
by Mullen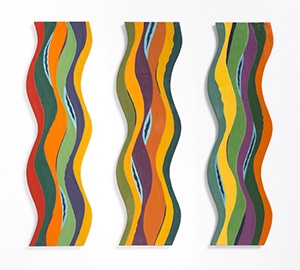 Willows 1-Essex
---